The Washington Capitals held the 26th overall pick at the 2016 NHL Draft, and like every year, there was plenty of speculation as to who the team would select. Before the draft even seemed to be in full swing Capitals General Manager Brian MacLellan made headlines by making the first major splash of the day by acquiring his much-needed third line center in Lars Eller from the Montreal Canadiens. In return, the Caps relinquished their second round picks in both 2017 and 2018.
MacLellan stayed true to his word by upgrading his bottom-six forward group, something that he asserted was the main focus of the off-season for the Capitals. One of the other main objectives of the summer for Washington was to add speed and skill to their lineup.
Though these players won't immediately impact the team, MacLellan and company did just that with their draft selections. This indicates that the organization is certainly shifting their style to more of what the entire league saw from the Pittsburgh Penguins during the 2016 Stanley Cup Playoffs.
Dynamic Defense
Their first selection was Kelowna Rockets defenseman Lucas Johansen. The brother of Nashville Predators center Ryan Johansen saw time paired with current Capitals prospect Madison Bowey in recent years before the latter moved up to the professional ranks this season. Branded as a two-way defenseman, Johansen packages a high hockey IQ with strong mobility on the back-end.
After posting eight points in his first 65 games with the Rockets two seasons ago, Johansen made huge strides in his second season in juniors, scoring ten goals and adding 39 helpers in 69 games.
If you watch his highlights it is clear that Johansen can not only set up his teammates from all areas of the ice, but also effectively jump into the rush and bury the puck himself. Late first round draft picks tend to either come in the form of a safe pick or a high-risk, high-reward pick. With Johansen, not only did the Capitals address a need with what looks to be a future NHL player, but also one with what could be a very high ceiling. All eyes need to be on Johansen next year when he returns to Kelowna.
With their sixth round pick, the Capitals selected Chase Priskie. The defender out of Quinnipiac University appears to be a potential diamond in the rough for Washington, something that is not unusual with this team. Much like Lucas Johansen, Priskie is a mobile defender who can jump into the rush with ease while not compromising his defensive responsibilities.
Priskie had a very successful freshman season with the eventual NCAA runner-ups, posting four goals and 22 assists in 42 games. It is unusual for a freshman to have such a large role on a team that makes it to the National Championship. Priskie will have at least a couple more years to develop his game at Quinnipiac, and if his current trajectory holds, he could become one of the better defensemen in all of college hockey before he moves up to the professional level.
Size Isn't Everything
The first forward selected by the Capitals at the 2016 draft was 87th overall pick and Kamloops Blazers forward Garrett Pilon. At five-foot, ten-inches, he might seem a bit undersized to some. However, as we have grown accustomed to, speed and skill regardless of size are becoming much more attractive features in a player as opposed to huge and gritty.
Pilon is just that type of player, and also brings along a high hockey IQ as well. The crafty forward scored 15 goals and tallied 32 assists last season despite being stuck behind several other forwards on a stacked team. His role should grow next year, and everyone will get a much better feel of what his ceiling as at that points.
The Capitals also selected the draft's best-named prospect in Axel Jonsson-Fjallby. Standing at six-foot, 170 pounds, the forward plays a much bigger game than his size indicates. He is also lightning-fast, and is an extremely hard worker on both ends of the ice. If the left winger can develop his hands a little bit more and add a finishing touch to his game, he could prove to be an extremely valuable depth forward for the Capitals down the road.
Building for the Future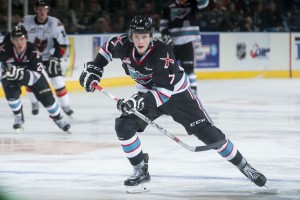 Not every pick of the draft for the Capitals was covered here, but it is clear that the organization came into the draft with a plan and stuck to it. They clearly targeted intelligent players that were good skaters, which was exactly what caused their demise in the playoffs. Although none of these draft picks are going to make an immediate impact in with the big club, it shows just how strongly the Capitals organization feels about adding a new dynamic to their game.
Their draft strategy differs even from last year's, where the first skater taken by the team was defender Jonas Siegenthaler out of Switzerland. Siegenthaler certainly has a future with the Capitals, and could very well be a good player. However, the team's intentions in drafting him were slightly concerning.
#Caps also believe that Siegenthaler will benefit from spending some time in the orbit of similarly built and styled Brooks Orpik.

— Mike Vogel (@VogsCaps) June 27, 2015
The organization should more or less be phasing the style of play that Brooks Orpik possesses out of their lineup. Siegenthaler displayed a bit more of a scoring touch this year than in years past, so it is still a work in progress.
The Washington Capitals had a successful draft, and picked up some prospects that fit their scheme moving forward. Now, it will be all about sticking to that philosophy as the organization chases their first Stanley Cup.