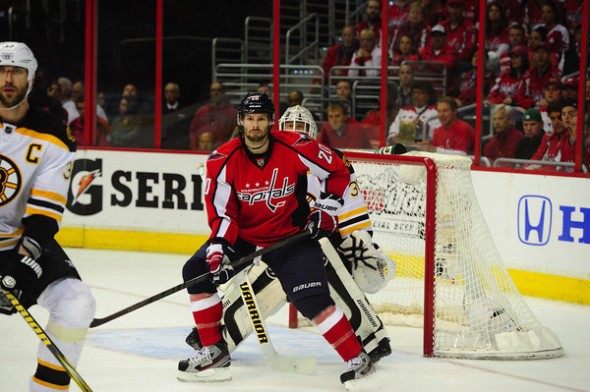 Like many Capitals fans, I have been generally baffled by Adam Oates' decision to bury left winger Martin Erat on the fourth line. As an established top-six forward—for whom the Caps traded top prospect, Filip Forsberg—it just seemed like a waste. Therefore, like many Capitals fans, I was happy to hear the report out of Friday morning's practice that Erat had been moved up to the second line where he probably belongs.
However, while Oates made the correct decision in promoting Erat, he made the wrong one in demoting Mikhail Grabovski to the third line to make room.
To be fair, Grabovski, like everyone else on the team not named Alex Ovechkin, has had a rough start to the season. After a four point performance in his Caps' debut, Grabovski has tallied only two assists in the six games since. To this point, the lackluster play of the Caps' second line, centered by Grabovski, has been one of the primary reasons why the Caps' have been so abysmal at even strength.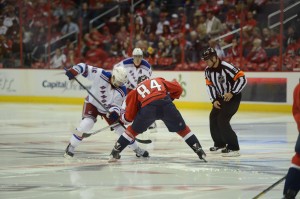 But Grabovski, like Erat, is a bonafide top-six forward. In fact, after Ovechkin and Nicklas Backstrom, Grabovski and Erat have, by far, the highest career per-game scoring rates of any of the other Caps forwards, at .59, and .65 ppg., respectively. Bad start to the season or not: With three 20 goal, and two 50 point seasons under his belt, Grabovski deserves more than a seven game trial period.
And so the question becomes: Who should take the fall? To me, the answer is simple: It has to be Troy Brouwer.
At the end of the day, I put more stock in past results, than I do in future potential. Brouwer may have performed well last season, but until he proves that he can be a regular offensive contributor, he has no business skating on the second line.
Many players have had one, or two good seasons. Remember when Jonathan Cheechoo won the Rocket Richard trophy with 56 goals in 2006? Remember how, after that season, his goal total steadily dropped until it bottomed out at 5 in 2009? Sure, as of last year he was still playing top line minutes, but it was with the Oklahoma City Barons.
Before last year's 33 goal, and 57 point pace during the lockout shortened season, Troy Brouwer had never demonstrated the offensive prowess that should be expected of a second line winger. Take away last season's performance, for instance, and statistically speaking, Brouwer is much more comparable to Caps' teammates—and career third liners—Jason Chimera and Eric Fehr. Like Chimera and Fehr (and unlike Grabovski), Brouwer has hit the 20 goal plateau only once, and has never even come close to 50 points. Prior to last year, his most productive season was 2009-10 when he scored 22 goals, and 40 points for the Chicago Blackhawks. Essentially, last year was the only time that Brouwer has ever performed at a top-six level.
This isn't to say that Brouwer isn't capable of scoring 30 goals; maybe last year was just a preview of many productive seasons to come. But if I have to choose between a player that has had one good season, and a player that has had several (namely, Grabovski), I'll take the latter every time.
In order to be successful, the Capitals need their second line to start scoring. Moving Erat up was a step in the right direction, but dropping Grabovski down was a step back.
Please, Troy Brouwer, prove me wrong.