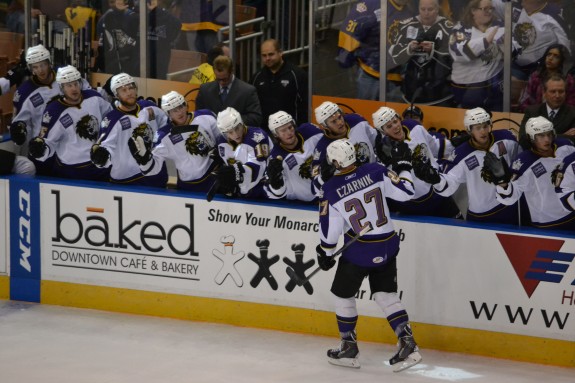 MANCHESTER, N.H. – If one didn't know any better, you'd think getting their games to a shootout was in the Monarchs' game plan.
It obviously isn't. In fact, it's probably the last thing that Manchester head coach Mark Morris wanted to see yesterday, with his team up 4-3 late in the third period.
But nevertheless, here we are. Another shootout, another victory for the Monarchs. Ho, hum.
Such was the case for Manchester's home opener against the Providence Bruins at Verizon Wireless Arena last night, the teams fifth shootout through their first six games this season. Needless to say, it's a position that Monarchs head coach Mark Morris doesn't want his team to be in at all. Especially when his enters the third period with a significant lead.
"It's pretty stressful," Morris said. "We did some good thing but I thought our start was very sluggish and disorganized.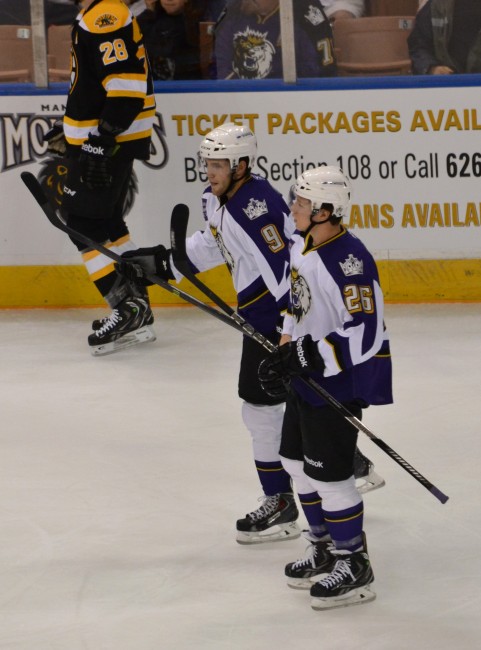 When we finally gained some momentum, again we got a lead and had a hard time hanging onto it. Some risky plays, some poor decisions that had an impact in the game. We got the two points, but it wasn't exactly how we drew it up."
"Five times out of six games, I don't think that's ever been done before," said defenseman Andrew Campbell, who played his first game as captain in front of home crowd yesterday. "That's the second time we've blown a two goal lead in the third period, we got to get rid of that. But it was big, coming back to win in the shootout is a big boost."
But even with the struggles holding on to a lead, and even with their struggles on the power play (which allowed a shorthanded goal against and fell to 2 for 26 this year) the Monarchs emerged victorious 5-4 with goals from Andy Andreoff and Tyler Toffoli in the shootout to give Manchester their fourth win of the season, just like it happened a week ago against this same team. They improve to 4-0-2, and are atop the Atlantic Division.
Still, it'd be nice if the Monarchs could finish a game in regulation.
"It's just these small breakdowns," said veteran defenseman Jeff Schultz. "I think we're starting to get the D-zone coverage. We're just getting late on coverage, or missing coverage and other teams are capitalizing. There are some great players in the league, they can make great plays. And when your defense is slow other teams are going to expose that."
D Andrew Bodnarchuk and C Jordan Weal each had a goal and an assist for the Monarchs in the victory. C Robbie Czarnik and LW Tanner Pearson each added goals of their own, and goaltender Martin Jones earned his fourth win of the season, making 34 saves.
"It seems like it's been like that for the whole season so far," said RW Tyler Toffoli. "You just have to figure out a way to play a full 60-minutes and not have to go to the shootout."
After some sustained pressure by the Bruins early in the first, the Monarchs caught a break on a move by Jordan Weal through the neutral zone, finding a streaking Tanner Pearson for his third goal of the season at 14:51. Weal and Brandon Kozun got the assists as Manchester took an early 1-0 lead.
Providence finally took advantage of their initial offensive surge two minutes later, as D Kevan Miller took a wrist shot from the right point that found its way through a screen of bodies in front of Jones and into the net, tying the game 1-1.
Manchester's defense seemed to settle down in the second period, and the offense responded in kind. Andrew Bodnarchuk moved towards the middle and took a wrist shot from the high slot, putting the Monarchs ahead for the second time. Bodnarchuk picked up a secondary assist on Manchester's third goal of the game at the end of the second, a deflection by Brian O'Neill off a Vincent LoVerde slap shot that found its way past Svedberg for the 3-1 lead.
But once again, as has been the story all year, the Monarchs allowed Providence back into the game. This time, it was with a shorthanded goal by Justin Florek, who deflected a shot from a sharp angle by Alexander Fallstrom into the net to bring the Bruins back within one.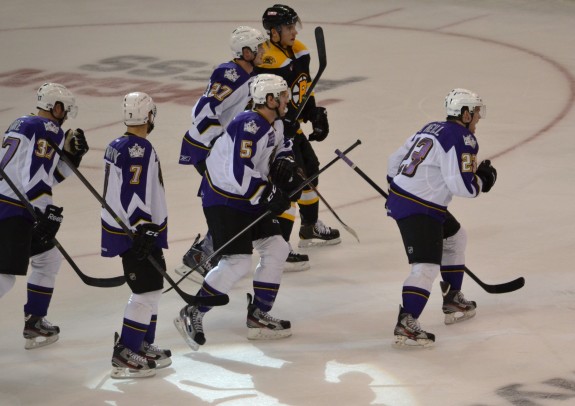 Then, Bruins right wing Seth Griffith found a rebound at the side of the net to tie the game at 3-3. Just like that, the Monarchs were right back where they started.
O'Neill made a move around the net and found Robbie Czarnik in front of the net, who slapped it into the top right corner to secure the win for Manchester, giving the Monarchs the lead once more. In the final minute of regulation, the crowd of 7,004 took to its' feet looking forward to enjoying Manchester's first home win of the season.
But after a Bruins timeout and Niklas Svedberg to the bench, Seth Griffith found Matt Fraser in the slot for a slap shot that beat Jones on the right side. Another game into extra time, the fifth time this season for a team that can't seem to finish a game in regulation.
"At least we have the talent to win in the shootout," Campbell said. "Hopefully we can start pulling out some more wins in regulation."
"Our systems are in place, if we execute them they work," Morris said. "But we seem to want to deviate at some pretty important moments during the game. Each game has its' defining moments and we've caved in a little bit. We have to get more mentally tough and find ways to extend our lead instead of sitting back on our heels."
The Monarchs will have that chance to pull out a more decisive win tomorrow, as they face Wilkes-Barre/Scranton at home at 3 p.m.
GAME DAY NOTEBOOK
Andrew Campbell was named the 10th captain in franchise history, a void left by the departed Marc-Andre Cliche who now plays for in the Avalanche organization.
Jean-Francois Berube will make his first start of the season when the Monarchs take on Wilkes-Barre Scranton.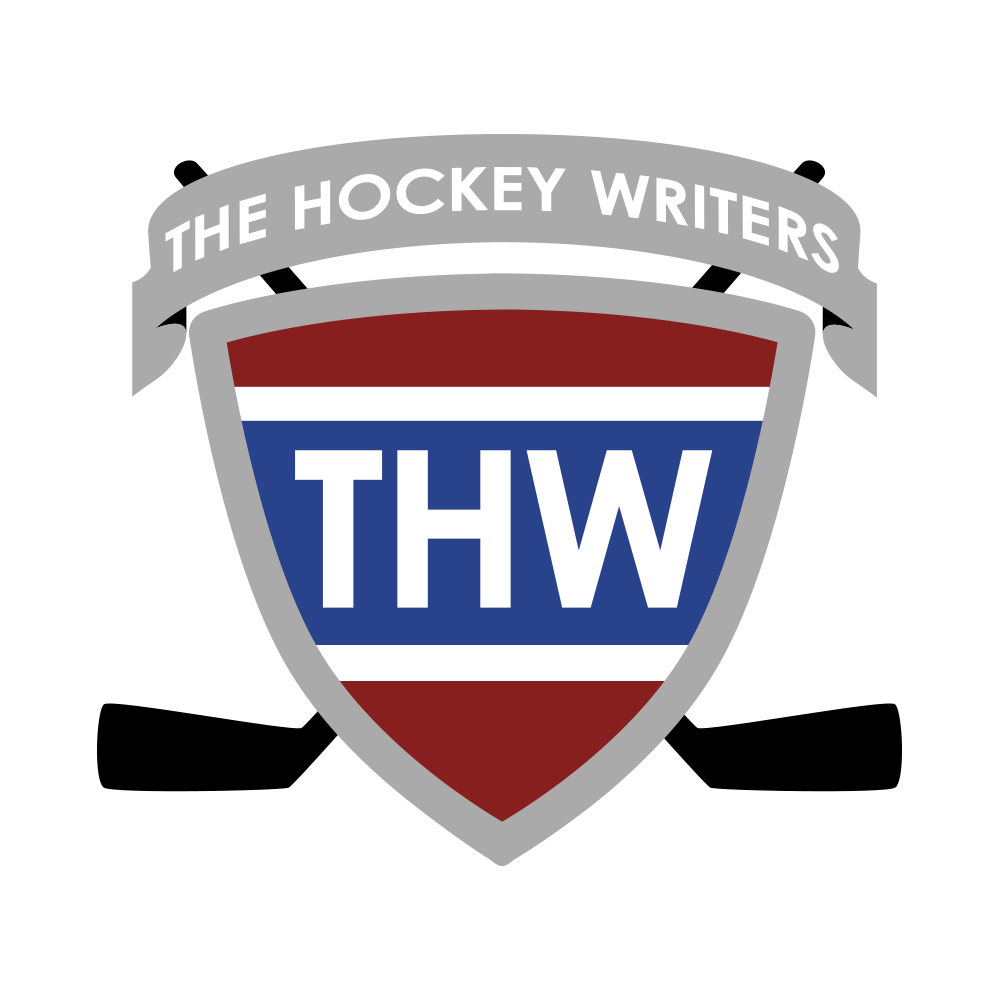 The Hockey Writers is:
1) A top-tier hockey media company delivering a top-notch, in-depth look at the NHL
2) A collective of some of the best hockey writers anywhere
3) A multimedia provider with daily podcasts and YouTube shows
4) Well-respected and widely-cited NHL prospect and draft resource