The Hershey Bears hit the road for their second and third road games of the year this weekend, and picked up two points with Mike Haviland's first win as head coach for the Chocolate and White. They were out-shot in both games and have been out-shot in every game this season, by a combined total of 31.
Friday Night
Hershey dropped the first game of their two game set in Canada against the IceCaps, falling 5-1. Alternate Captain Jeff Taffe scored unassisted to start the scoring, his first of the season on Hershey's first power play goal of the year. The Bears' lead would not last for long however.
St. John's scored five straight goals following Hershey's opening market, including J.C. Lipon's power play goal 28 seconds into the second period, after Tyson Strachan's tripping penalty only 15 seconds into the period. Ben Chiarot, Jason Jaffray, John Albert and Austen Brassard all scored third period goals for the IceCaps.
Hershey goalie David Leggio (0-2) made his second start in goal this season for the Bears, recording 35 saves on 40 shots. The former Rochester American holds a 4.00 goals against average and .882 save percentage in his first two games.
Saturday Night
Hershey finally notched its first win for new head coach Mike Haviland, in a four goal shutout victory. The Bears registered a power play goal for the second straight night, going 1-3 on the man advantage. Peter LeBlanc, Derek Whitmore (PP), Dmitry Orlov and Casey Wellman all tallied goals for Hershey.
@TheHersheyBears scratches: Brouillette, Brittain, Walker, Rechlicz, Segal, J.Mitchell, Wellar, Kundratek. Orlov in on D.

— Scott Stuccio (@ScottStuccio) October 19, 2013
Washington Capitals goalie prospect Philipp Grubauer (1-1) quickly earned his first shutout of the year, stopping all 30 St. John's shots on goal. The German native has already reached half of his shutout total from last year (2), with his third career AHL shutout. He has a 1.95 goals against average and .933 save percentage through two games.
Orlov led Hershey offensively on the night, racking up three assists to go with his second period goal. He has four points and a plus two in his first two games. The Bears' penalty kill was strong again, stopping all five St. John's power play opportunities. All Hershey skaters registered a shot on goal with the exception of Tyson Strachan, Cameron Schilling and Captain Dane Byers.
| Date | Opponent | Shots For | Shots Against | Shot Differential | Result | YTD Shot Differential |
| --- | --- | --- | --- | --- | --- | --- |
| Oct. 5th | Adirondack | 28 | 30 | -2 | 4-3 OT Loss | -2 |
| Oct. 12th | Wilkes-Barre/Scranton | 19 | 28 | -9 | 3-1 Loss | -11 |
| Oct. 18th | St. John's | 25 | 40 | -15 | 5-1 Loss | -26 |
| Oct. 19th | St. John's | 25 | 30 | -5 | 4-0 Win | -31 |
Up Next
Hartford Wolfpack (October 26th)
Record: 5-0-0-1 (1st in Eastern Conference entering Sunday)
Team Leaders: Danny Kristo (6 GP, 4 G, 3 A), Aaron Johnson (6 GP, 1 G, 6 A) and Brandon Mashinter (6 GP, 5 A)
Goalies: Cam Talbot (4-0-1, 2.49 GAA, .924 save percentage) and Jason Missiaen (1-0, 3.00 GAA, .885 save percentage)
Norfolk Admirals (October 27th)
Record: 3-1-0-2 (5th in Eastern Conference entering Sunday)
Team Leaders: Alex Grant (6 GP, 3 G, 1 A), Rickard Rakell (6 GP, 3 G) and Devante Smith-Pelly (6 GP, 2 G)
Goalies: John Gibson (1-1-2, 1.88 GAA, .938 save percentage) and Frederik Anderson (2-0, 0.96 GAA, .971 save percentage)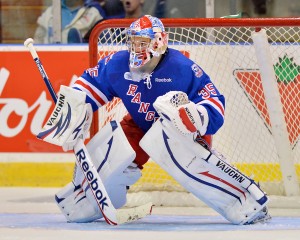 Chocolate Crosschecks
1. Hershey has registered points in both games Grubauer has started
2. The Bears are 1-2-1 when getting outshot this season, and have yet to register more shots than their opponent
3. Orlov leads the team in scoring with four points, four players are tied with two points
4. Derek Whitmore and Tyler Ruegsegger are tied for the team lead with ten shots on goal
5. Garrett Mitchell, Nathan Walker, Mat Watkins, Jamie Johnson and Dane Byers have yet to register a point
You can follow Matthew on twitter @m_speck and email him at mspeck21@yahoo.com with any questions or comments.