Washington Capitals goaltender Braden Holtby is a streaky goalie to say the least. The Capitals are hoping he's starting something big after some tough games to open the year. He turned away 37 of Columbus's 38 shots on goal in Washington's 4-1 win over their new Metropolitan Division opponent, the Columbus Blue Jackets.
The 24 year old net minder picked up his second win on the year, improving his record to a 2-4 mark. He's stopped 71 of 74 shots his past two games, giving him a 2.91 goals against average and .913 save percentage though seven regular season games.
"I think we still had our moments that we obviously have to clean up," Oates said after the win. "[Holtby] came up big for us which was great."
The newly united line of Brooks Laich at center, with Martin Erat and Troy Bouwer on the wings played dividends for the Caps. Erat totaled three assists in 17:49 of ice time, a season high. He was on the ice for Washington's two even strength goals. The former Nashville Predator also earned 54 seconds of power play ice time.
"They obviously had a great night. Marty with three helpers, [Brooks] got one, [Brouwer] got one. They played very strong. Marty's a good hockey player and has been in this league. When we brought him in last year, Brooks was hurt and then he (Erat) got hurt. Sometimes the pecking order gets affected and we lost a couple in a row and had to make some changes. He stepped in there and played great for us."
"He and I talked a couple weeks ago and we had a heart-to-heart conversation. It was difficult. I know he talked to [general manager] George [McPhee]. He played great for us tonight, and that's what being a pro is all about."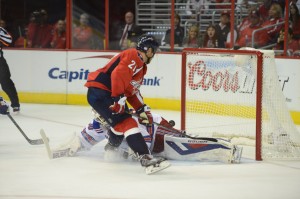 Forwards Joel Ward and Alex Ovechkin tallied power play goals for Washington's lethal man advantage unit and Laich and Brouwer chipped in goals during five-on-five play, something that's been missing for the Capitals. Artem Anisimov registered the lone goal for Columbus, scoring his second of the season with 4:55 remaining in the third period, assisted by former New York Ranger Marion Gaborik.
The Capitals went 2-4 on the power play and killed of all three Blue Jacket's power plays. Washington outshot Columbus by a 39-38 margin, including a 14 shot first period that didn't result in any Caps' goals.
Brooks Laich led Washington in the faceoff dots (13-25), winning 52% of his draws. Free agent addition Mikhail Grabovski won half of his draws (5-10) as he shifted down to the third line center spot.
John Erskine and Jay Beagle were scratched for Washington.
Various Game Recaps: NHL.com and Japers' Rink 
You can follow Matthew on twitter @m_speck and email him at mspeck21@yahoo.com with any questions or comments.