The Washington Capitals' power play unit sits atop the National Hockey League, converting at an alarming 30.8% rate. That has been the best phase of the game for the team led by head coach Adam Oates, which is the glaring problem. They have scored as many power play goals (8) as even strength goals (8).
"We've got to focus on five-on-five (play)," said goaltender Braden Holtby after the loss on Wednesday. "If we play like that we're not going to win games, it's as simple as that. Our preparation in this locker room has to get better.
Their penalty kill has also been solid through seven games, 11th in the league at an 84% clip. The even strength play on both sides of the ice is the issue that must be amended. The Capitals are averaging .5 goals per every goal against during five-on- five play, 28th in the NHL, tying them with Buffalo and slightly ahead of the New York Rangers. They're averaging 30.3 shots on goal to 32.3 shots against per game and most advanced statistics make the team look substantially more inefficient during even strength play.
| Metric | Rate |
| --- | --- |
| GF/60 | 1.45 |
| GA/60 | 2.9 |
| Corsi % | 51.60% |
| Shots For % | 48.30% |
"We got to take care of our own end better," said head coach Adam Oates after the Capitals' 2-0 shutout loss to the New York Rangers Wednesday night at Verizon Center. "We obviously want to score and want to get down the ice, but until we cross the blue line we can't."
"We could be a little bit more aggressive closing on guys, winning some battles and know what we're supposed to do with the puck when we get it. A lot of times we get that first play and we don't put it in the right spot to keep the guys going in the right direction."
The forwards are essential in creating offense as well and helping out defensively, and haven't been able to do that. Captain Alex Ovechkin and former Toronto Maple Leaf Mikhail Grabovski are the only forwards with more than one goal on the season, and Grabovski's three goals all came opening night against the Stanley Cup Champion Chicago Blackhawks. Veterans Troy Brouwer and Brooks Laich each have a meager one point on the year through seven regular season games.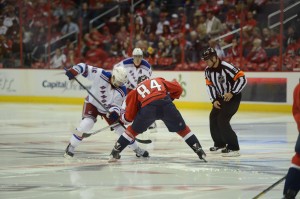 "I think we're coming in and we're one and done," Washington veteran winger Troy Brouwer said. "We're unable to sustain a whole lot of pressure in the offensive zone. We've got to find a way to recover pucks and get in and make better reads on puck recoveries and where they're going to be."
No player has more than 16 shots on goal with the exception of Alex Ovechkin (50 SOG) and Marcus Johansson, Martin Erat and Jay Beagle each have totaled three shots on goal apiece.
Washington finishes off their five game home stand Saturday night with a matchup against a newer divisional opponent in the Columbus Blue Jackets (2-4), who currently sit fifth in the Metropolitan Division. They then hit the road for five straight games away from Verizon Center, beginning in Winnipeg and ending in Philadelphia.
"It's not what we expected to start and we got to figure a way to dig ourselves out," Oates said.
Columbus by the Numbers
Goals per Game: 2.33 (20th)
Goals Against per Game: 2.83 (20th)
Five on Five Goals For/Against: .78 (20th)
Power Play: 27.3% (6th)
Penalty Kill: 83.3% (13th)
Shots on Goal per Game: 31.8 (9th)
Shots Against per Game: 31.8 (18th)
You can follow Matthew on twitter @m_speck and email him at mspeck21@yahoo.com with any questions or comments.