Not only did the Washington Capitals advance to 2-0 on the season and win their third straight home opener with a dominant 6-1 win over the Montreal Canadiens, but the team also made history as well.
Washington managed to score three goals within the first three minutes of the game and, despite 39 shots from Montreal, the Capitals often dominated and controlled the momentum of the game. The team got a lot of offense from Alex Ovechkin, including a first-period hat-trick and another goal in the second, as well as Nathan Walker, who not only became the first Australian NHL player but became the first Australian to score an NHL goal.
"It's first goal," Ovechkin said. "He's going to be remember that for his whole life."
An Ovechkin Ovation
Ovechkin was responsible for two of the Capitals' first three goals and then completed the hat-trick later in the first period. He would carry that offense into the second, which marked the fourth four-goal game of his career and his second against Montreal — he last tallied four goals against the Canadiens in a 5-4 overtime victory back in 2008.
Not only that, the Russian winger also became the first player in 100 years to record hat-tricks in back-to-back matchups, a feat that was last accomplished by three players back in 1917.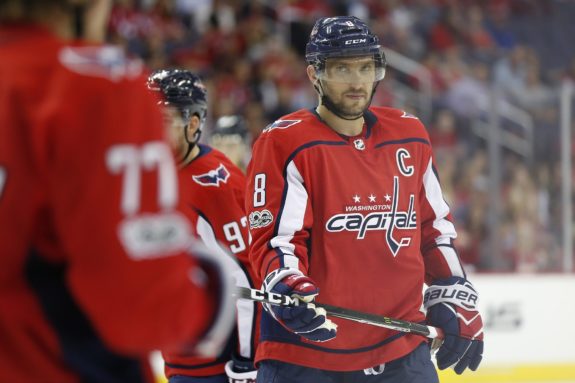 "It's first time ever to do that in my career," Ovechkin said. "Again, special moment. I think I have a lot of feeling right now."
Not only did Ovechkin manage four goals on the night, Evgeny Kuznetsov picked up four assists, and now, he has an assist on each of Ovechkin's goals this season; six of those are primary helpers.
"Again, I think we been skating since day one together," Ovechkin said of the duo's dynamic. "Obviously, we have lots of talk on our line. What we have to do, especially when we come into zone, it's important that we have connections."
Kuznetsov also mentioned post-game that the Capitals' captain is eager to shoot the puck and score more goals this season, and that is something that may add more edge and offensive ability to that unit.
"You can see maybe he's more hungry," Kuznetsov said. "I can see this in his eyes."
Walker Shines in Debut
In front of his mother and father, who came from Australia to watch him make his NHL debut, Nathan Walker made history at Capital One Arena. He became the first Australian to play in the National Hockey League, which he admitted was a dream come true.
"Yeah, it was amazing," Walker said. "As a kid, you're always thinking of playing in the NHL one day, and you know, just be there, I just tried to take it all in and enjoy myself."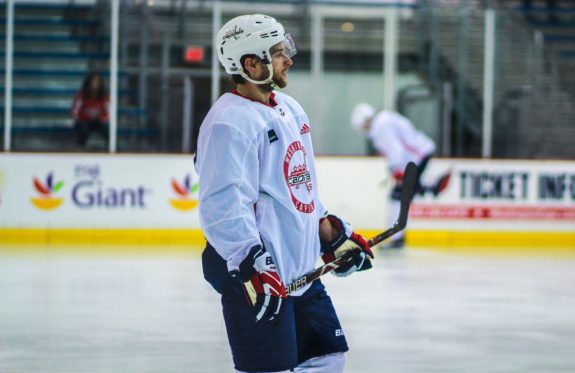 The 23-year-old also picked up his first NHL goal in the victory; a shot from Devante Smith-Pelly bounced off of Walker's body and into the net while he was acting as a screen in front.
"I'm at a loss for words," Walker said. "It's incredible. It was a really special moment and proud moment, too."
"It was amazing," Walker continued. "The whole family was here — fiance as well — it was really special. I mean, to play on a stage like this, it's really incredible."
Holtby Stands Tall
With Washington's scoring frenzy, Braden Holtby's performance managed to get a bit lost in all the action. He had an outstanding night in goal, though, and was a huge reason that Washington escaped with a 6-1 win. In the victory, the 28-year-old managed to stop 38 of 39 shots, including 20 in the second period.
"Obviously, it was a busy second," Holtby said. "We had to kill some big penalties. They have a pretty skilled power play – a lot of options, a lot of weapons. I thought our guys did a great job of limiting it."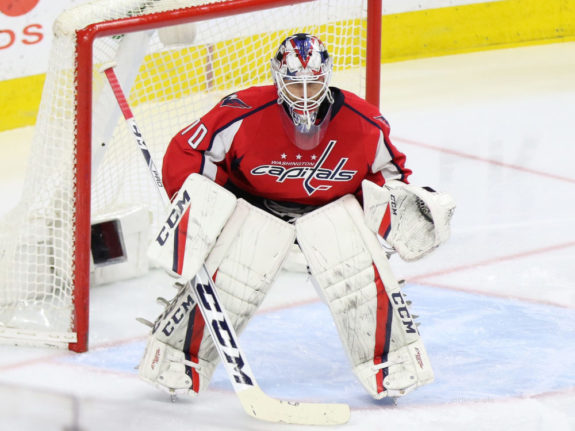 Despite the fact that the Capitals stopped all four of the Canadiens' power-play opportunities, and also held them to just one goal, the Habs did get plenty of scoring chances and shots on goal. And ultimately, Holtby believes there is still room for improvement, despite the impressive win.
"There's definitely a lot of positives, but at the same time, we have some stuff we have to clean up," Holtby said.