From growing up in Australia, which has just 30 ice rinks, to traveling all over the world in pursuit of his hockey career, Washington Capitals winger Nathan Walker will make history the moment his skates hit the ice of Capital One Arena Saturday.
When the Capitals open their 2017-18 season against the Montreal Canadiens, the 23-year-old will become the first Australian player in NHL history. And not only will his mother, Ceri, and father, Wayne, be in attendance, but he has an entire nation watching him. In fact, it is even possible that Australian Ambassador to the U.S. Joe Hockey will be at the game as well.
In addition, a number of Australian athletes worldwide took the time congratulate Walker on his NHL debut in a video publsihed online Saturday, which the Capitals rookie referred to as "unreal."
"Taking the time out of their day to wish me good luck, that really meant a lot to me," Walker said.
Making the Cut
During training camp, the Capitals had many vacancies on their roster that needed to be filled, including quite a few spots on the forward lines. After developing with the Hershey Bears over the last four seasons, Walker was ready to show what he was capable of. And despite competition from players like Jakub Vrana, Tyler Graovac, Chandler Stephenson and Liam O'Brien, he made the most of his opportunity and proved to be one of the team's top wingers through the preseason.
He also suited up for three games, where he picked up a goal and caught the eyes of many, including Capitals forward and linemate Jay Beagle, who has watched Walker's game evolve over the years.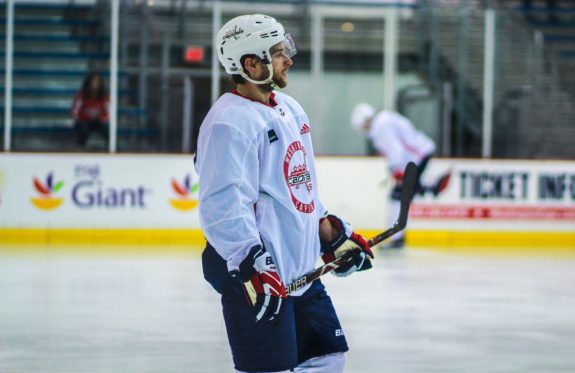 "His puck-handling ability and the way he sees the ice has grown and gotten really really good, and it's fun to play with a guy who brings that much energy," Beagle said. "He's always had that energy, he's always been a little guy who grinds it out and isn't afraid to get in there, get in the corner and win a lot of battles. He's awesome to play with. He's a lot of fun."
Despite the uncertainty of whether or not he'd crack the opening night roster during camp, the 2014 third-round pick remained calm and collected, saying that "at the end of the day, I'm just playing hockey."
"It's something to be proud of, and the hockey community back home would be pretty proud, too," Walker said during camp when asked about making the cut this season.
A Night to Remember
Walker said that he learned that he would make his debut against Montreal Friday, and that he was overjoyed to not only make history, but to reach a goal that he had set for himself years ago.
"The first reaction was a grin ear to ear and a sense of, 'Finally, I get to live out my dream and play in an NHL game,'" Walker said.
He will skate on the fourth line alongside Jay Beagle and Devante Smtih-Pelly Saturday, replacing Graovac on the left side. As he draws in, he said that he is most focused on going out, playing his game and knowing his role on the ice, which includes "bringing energy" and momentum when he can.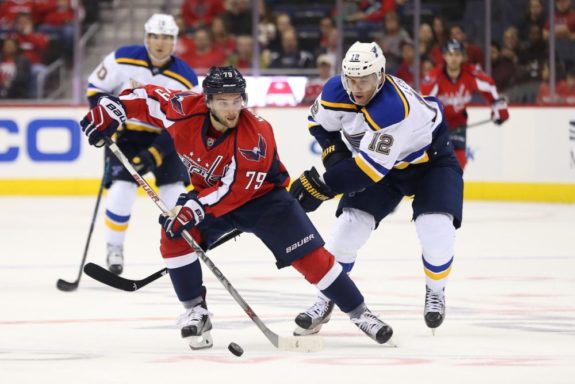 "It's definitely very exciting," Walker said. "I'm going to try to take it all in and do what I have to do to help make the team successful."
When it comes to advice that he would give players looking to follow in his footsteps, especially young hockey players also hailing from Australia, Walker emphasized the importance of persistence.
"Follow your dreams, no matter how big they are," Walker said. "Set goals for yourself and try to meet them in order to pursue those dreams that you want to follow."
Sammi Silber covers the Capitals beat for The Hockey Writers and is an NHL contributor with Sporting News. She has also contributed to USA TODAY College, Huffington Post, FanSided and the Nation Network. Silber has written four books and recently worked on graphics for the film, The California Golden Seals Movie.