For the first 40 minutes of Friday's Game 1 against Pittsburgh, a Washington Capitals victory seemed imminent, especially after they went up 2-0 early in the third thanks to a goal from Alex Ovechkin. However, Sidney Crosby's line generated three unanswered goals as the Capitals experienced yet another collapse after leading by two goals, and fell 3-2.
"It's pretty tough to talk about that right now," forward Evgeny Kuznetsov said. "We all think we played pretty much even game. They have good looks, we have good looks but those three shifts change the game and again, it's our third period, you know, we need to do better over there."
The Capitals came into this series looking to break the same storyline that has plagued them for the past two years, and three times since 2009: they aspire to conquer the Penguins once and for all to make it past the second round and closer to the franchise's first Stanley Cup championship.
"One day it have to happen," Ovechkin said. "If we want success, we have to beat Pittsburgh and move forward."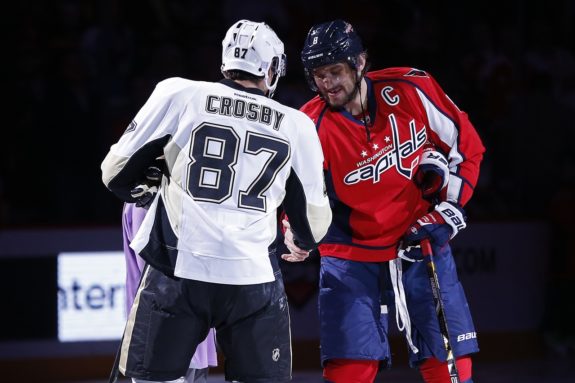 As they head into Game 2 Sunday, Washington knows that they have to make changes to their performance, especially if they want to keep their playoff hopes alive and stop being a punchline when it comes to the conference semi-finals.
Caps Look to Hold Onto Leads
Thursday's game marked the fourth time in seven games these playoffs that the Capitals have given up a two-goal lead and the third time they inevitably lost the game because of it. Despite how strong the team came out to start the game, they couldn't keep their momentum going for a full 60-minutes, and at the end of the day, their ability and performance, no matter how good it was, doesn't have any effect on the final score, or outcome of the game.
"We'll really have to look at that," Trotz said of the team dropping two-goal leads. "[Those games] all have their own unique identity. This one, Crosby's line got three goals on four shifts… I don't think there's a common thread."
Despite yet another game where Washington let go of a two-goal lead,  Kuznetsov said Washington "handled it much better than we handle it against Columbus."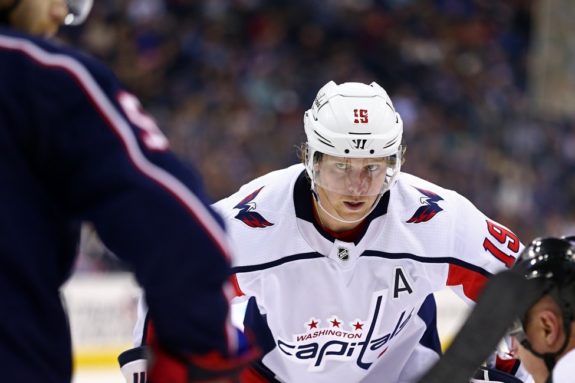 Ultimately, though, defenseman Matt Niskanen thinks the team needs to do one thing when it comes to improving on their play when they're up by two goals.
"Win the game," Niskanen answered bluntly, then later added, "We were okay for Game 1, we just lost focus for three shifts there in the middle of the third."
Caps Keeping Their Heads Up
While their current situation is not an ideal one, especially considering they dropped another lead and trail 1-0 in the series, they are not shaken or fazed heading into Game 2. They still had a lot of positives and played a relatively even game against Pittsburgh, as both teams exchanged chances and limited each other's opportunities. Plus, the goaltenders were outstanding, Braden Holtby again keeping Washington in the game.
According to Holtby, the Capitals will look to quickly put the first game in the back of their minds and analyze what they can improve on so they can tweak certain areas of their game and come back stronger Sunday.
"You just watch the film and go over what you can do better," Holtby said. "[The next day], you come to the rink with a mindset that you're going to become a better player and you're going to be more focused and better prepared."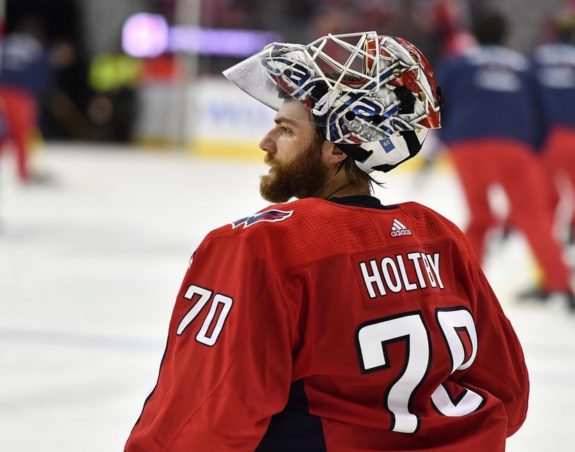 Kuznetsov also said that the loss wouldn't discourage the team from coming back, as there's still a lot of hockey left to play and it was just the first game of the series.
"The good thing is, there's more games coming, we have to regroup, we have to refocus and we have to play second game," Kuznetsov said.
At the end of the day, the team is disappointed with the loss, but they stay confident in their ability and potential in this series, as well as keep their faith in the team they have.
"When you don't win, it's kind of tough, but I love our organization and group," Kuznetsov said. "Tomorrow morning, we all going to be happy, we all gonna be smile it doesn't bother us."