Whether you're of the belief that the Boston Bruins won or merely survived their first-round matchup with the Toronto Maple Leafs, the boys in Black and Gold live to fight another day. A date with the high-octane Tampa Bay Lightning, owners of the Eastern Conference's best record is on the docket, figuring to give the Bruins all they can handle and then some.
Having taken three of four regular season contests from the Lightning should provide players and fans alike with a touch of confidence heading into the series, though anything more than a dash is probably a bridge too far. These are the playoffs, wherein every team and every player get a clean slate at the onset of each new round.
That's an especially good thing for the B's, having been exposed in numerous ways and pushed to their breaking point by an electric and opportunistic Toronto Maple Leafs squad.
Each and every high water mark or peak for the Bruins was met with an equal low point or trough. For as outstanding as Boston looked in Games One and Two, they looked equally inept or "off" for large swaths of Games Three through Seven. Furious third period efforts in Games Three, Five and Seven were preceded by timid, ineffective starts, sometimes lasting 40 minutes.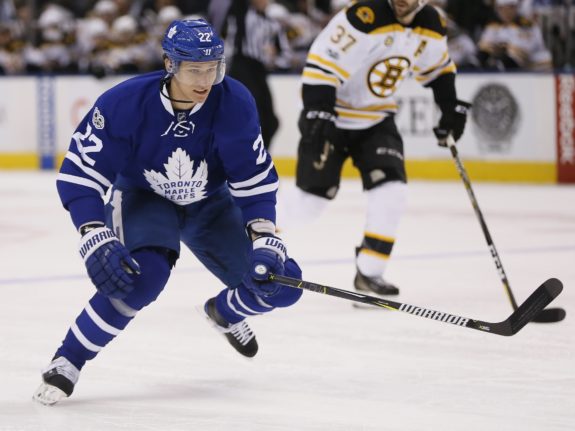 With such a formidable foe standing in their path (as well as the ceding of home ice), Boston will have to be significantly sharper and more consistent with their effort and execution should the team have any designs of playing beyond Round Two.
Here are three keys to victory for the Boston Bruins:
1. An Improved Tuukka Rask
Let's just get this one out of the way.
Boston's resident lightning rod for criticism has once again come under fire for his performance at crunch time. Though the team itself has emphatically asserted their faith and trust in their netminder (what else are they going to say?) fans and some in the media aren't quite so convinced.
Even Rask's most ardent supporters and defenders would admit his series left something to be desired. I myself have time and again sought to quell the malicious and often uncalled for criticism of the man's game, only to run out of ammunition during this past series.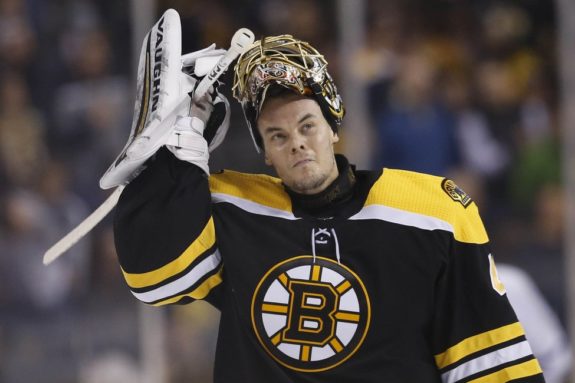 For as excellent as he was in Games One and Four (and make no mistake, he was excellent in those contests), he was equally leaky and unreliable in Games Five and Seven. Those who all-too-frequently point to his inability to "win the big one" were morbidly delighted to watch as the Finn conceded eight goals on 37 shots between the two tilts with elimination on the line.
Now, many of the goals he allowed were hardly soft. There were deft tips, breakaways, top-corner snipes…defensible goals allowed for sure. But when one finds themselves making excuses for every one of the four goals allowed on 13 shots (which occurred in both Games Five and Seven), it begs the question: Tough shots or not, wouldn't it be great if the $7 million man in net stole one of those goals away from the opposition?
With Frederik Andersen standing on his head in the opposing crease, stealing goal after goal away from Boston with one miraculous save after another, the scrutiny on Boston's netminder only intensified.
As Goes Rask, So Go the Bruins
NHL teams that receive anything less than excellent goaltending in the playoffs are dead in the water; ask the Philadelphia Flyers and their fans about that.
Off the top of my head, I can't think of a single NHL team that ever won the Stanley Cup in spite of its goaltender. Hell, Jean-Sebastien Giguere even captured the 2003 Conn Smythe Trophy in a losing effort. The 2011 Bruins probably don't even make it out of the first-round against Montreal (much less win the Cup) without Tim Thomas. And the 2013 Bruins certainly don't reach Game Six of the Final without the stellar play of the man in question here.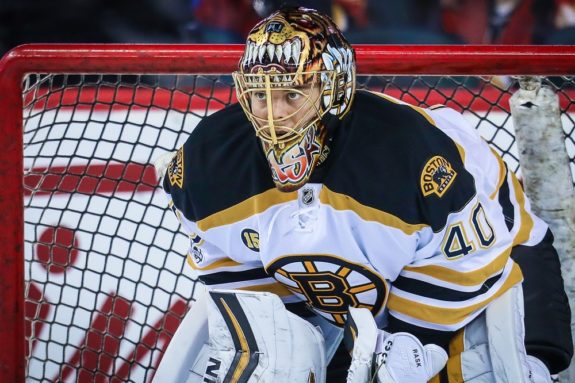 The Lightning are every bit as lethal and electric (pun intended) offensively as the Maple Leafs, if not even more so. They also boast a significantly better blue line and one of the best netminders in the world in Andrei Vasilevskiy. Even more responsibility will fall on the shoulders of Boston's 31-year-old goaltender to account for the uptick in competition. If he can play simply as well as Vasilevskiy Boston's chances to advance improve drastically.
2. Boston's Best Must Outplay Tampa's
For large swaths of Games Three through Seven against Toronto, Boston's top line of Patrice Bergeron, Brad Marchand and David Pastrnak looked surprisingly mortal. After running roughshod on the entire NHL for the better part of 82 games (as well as the first two games of the playoffs), Toronto coach Mike Babcock must have found some kryptonite in an old sock of his.
Boston's top guns were held off the scoresheet entirely in Games Three, Five and Six, getting badly outplayed at times. Furthermore, the trio were on the ice for six even strength Toronto goals throughout the series, with a seventh goal coming in Game Four while Pastrnak and Marchand were on the ice minus a scratched Bergeron. Considering the line didn't yield an even strength goal until the 38th game of the season on January 2, that's a noticeable (and concerning) statistic.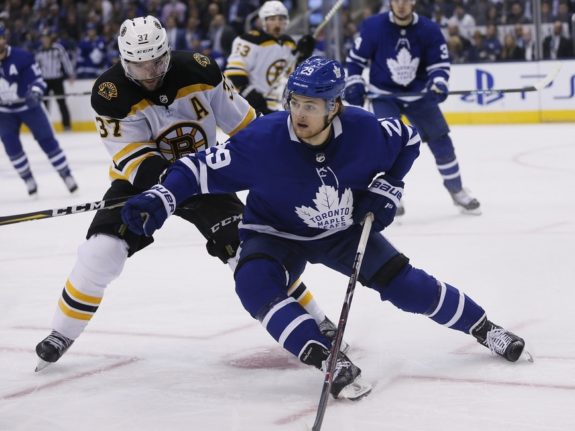 Their struggles at home in Game Five also illustrate that the dip in play was due to more than just line-matching by Toronto. Bruins fans unaccustomed to seeing their matchup-proof top line struggle so mightily against a supposedly mediocre blue line no doubt gave great cause for concern as the series progressed.
With a surefire assignment against an equally-dominant trio of Steven Stamkos, Nikita Kucherov and J.T. Miller ahead of them (not to mention Norris Trophy candidate Victor Hedman), things won't get any easier for the Bergeron line. Tampa's top line amassed 20 cumulative points in their five-game series win over the New Jersey Devils, lead by Kucherov's staggering 10 points.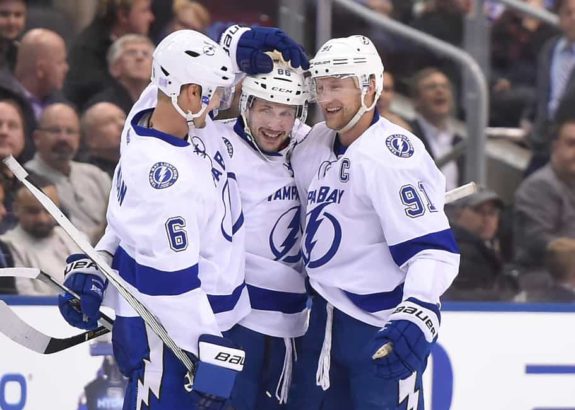 As integral as goaltending, depth and health are toward extended postseason success, Boston's top guns must get the better of Tampa's to extend this season beyond the second round. If they can, Boston's tremendous forward depth will be well-poised to tip the scales in the Bruins' favor, with all due respect to Tampa's own dangerous depth.
Second-Line Consistency
Second-line left wing Jake DeBrusk was probably Boston's best player in their first-round series win, showcasing game-breaking speed and the cool finishing touch of a hardened playoff veteran. Beyond his play, some problems exist on the line.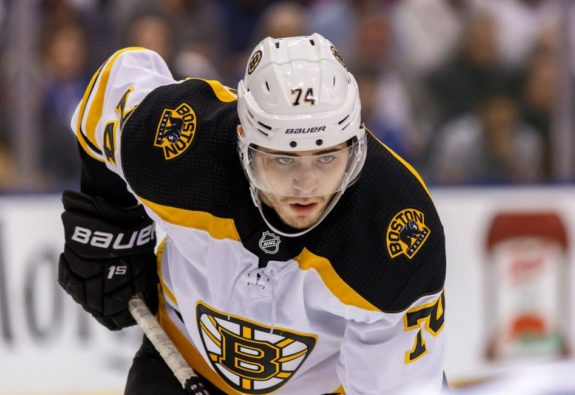 Excluding his huge three-point performance in Game Seven, David Krejci had a largely forgettable series en route to the quietest eight-points I've ever seen in a playoff series. A notoriously-clutch playoff performer, the Czech-pivot's series was marred by costly turnovers, questionable defensive-zone coverage and extended periods of ineffective play.
As for his right wing Rick Nash, even fewer positives can be gleaned from his performance.
Historically, Nash has been as quiet in the postseason as Krejci has been dominant. The man with 437 regular season goals on his resume in just over 1,000 games (an average of 34 per 82 games) has managed just 16 tallies in 84 career postseason affairs. That trend has unfortunately followed him to Boston, as Nash managed just a single goal and two points in Round One.
The chances have been there (24 shots on goal), but the Bruins didn't surrender a surging Ryan Spooner, promising prospect Ryan Lindgren and an additional First Round selection in the 2018 Draft for scoring chances…they did so for goals.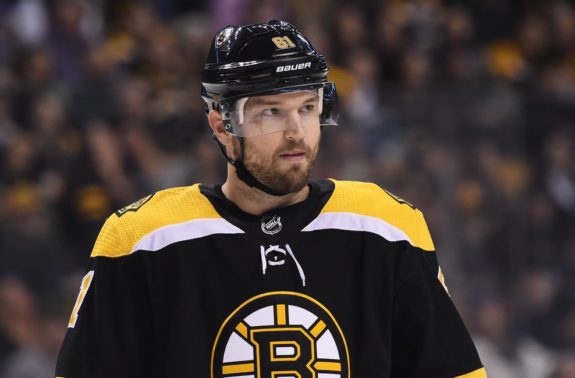 With the Bergeron line set to have its hands full all series long, Krejci and Nash absolutely must elevate their game to meet a significant challenge of their own against Tampa's second and third lines. Brayden Point (32 goals), Yanni Gourde (25 goals) and Tyler Johnson (50 points) can cause fits, while veterans Ondrej Palat and Alex Killorn have "been there, done that" this time of year.
Toss-in a likely matchup against the defense pairing of Ryan McDonagh and Anton Stralman and it becomes obvious that Boston simply needs more out of two of its elder statesmen (especially Nash) in Round Two.
3. Let's Get Physical
In the eyes and mind of this humble hockey writer, it's no surprise that Boston's two best performances of the first round (Games One and Two) also happened to be the team's most physical performances of the series.
Clearly feeding off of the home crowd's excitement and energy at the onset of the playoffs, the Bruins were finishing a check every chance they got. For the first 20 minutes of Game One Rick Nash looked like Cam Neely, drilling two separate Maple Leafs defensemen as they retrieved pucks behind their net. It was a sight to behold.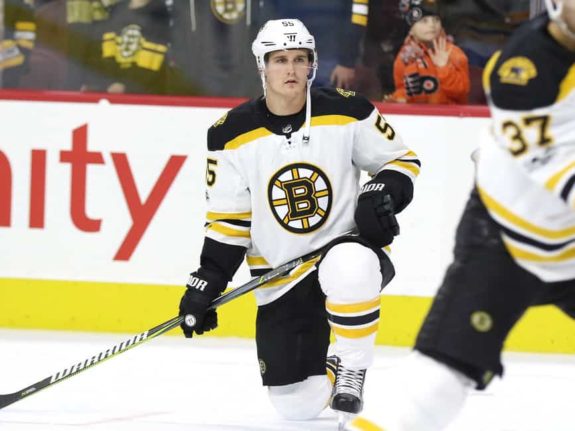 It clearly took Toronto off its game, contributing significantly to Boston's aggregate eight-goal advantage heading into Game Three, where the physicality curtailed substantially.
Before I go any further, I want to clarify "physicality." I'm not talking about running around like lunatics with their heads cut off, hitting anyone and anything with impunity; that's an excellent way to play an entire series shorthanded in the modern NHL. Nor am I suggesting that Boston needs to register more hits every game than their opponent; that's typically an indicator of chasing the play and not spending nearly enough time with the puck.
What I mean here is finishing checks as opportunities present themselves. If there is an opportunity to make your opponent pay a physical toll for possessing the puck it doesn't matter if you're David Krejci or David Backes…finish your check.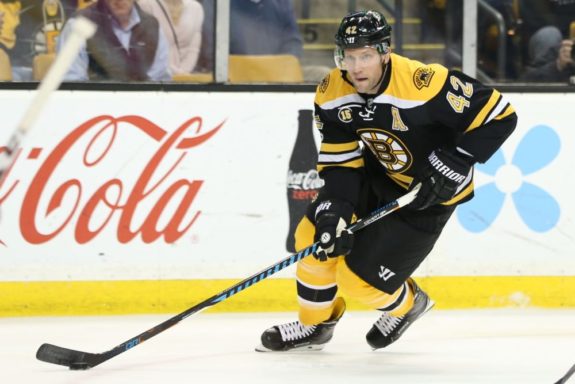 Think of it this way: If you and I were roommates and I tried to slap you in the face every single time you tried to enter the kitchen, it would change the way you enter the kitchen, no? It might not deter you entirely from doing so, and I might not be successful in every one of my attempts, but you would be thinking about it every time you wanted a glass of orange juice.
From Game Three onward, Toronto ceased to pay the price for possessing the puck and as such began to dictate the pace and terms of the series. Their speed was suddenly all Boston could handle, and then some.
Opponents don't need to be lined-up and knocked out of their skates. But consistently finishing checks with authority is an outstanding way to make opponents get jumpy with the puck, leading to juicy turnovers.
Bring the Thunder Versus the Lightning
If Kucherov, Stamkos and company are allowed time to create and push the play there's a great chance Boston will be playing from behind all series long. If Hedman, McDonagh and company are allowed to retrieve pucks without apprehension there's a great chance Boston won't be able to slow down Tampa's transition offense, nor will they be able to score bang-bang goals like this one, forged by nothing more than outworking the opposition in their own end.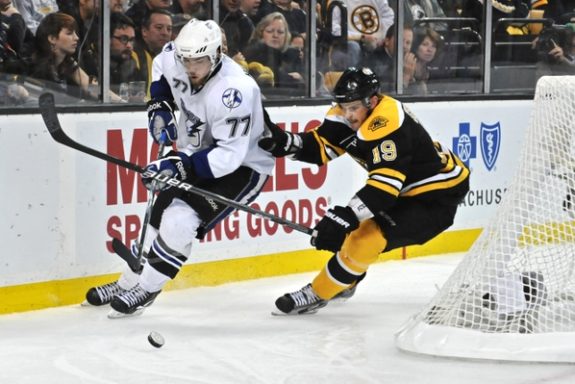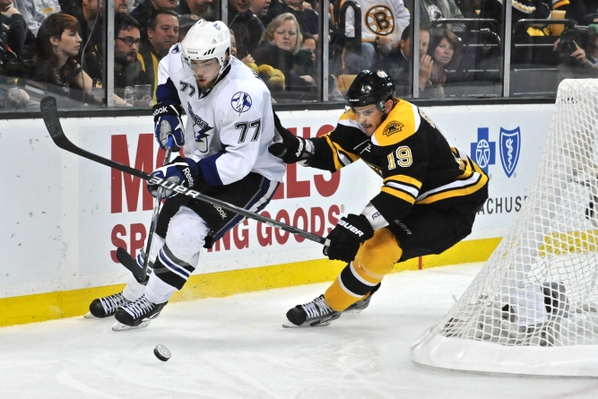 Not only will an uptick in physicality disrupt Tampa's game-plan, it could also go a long way toward frustrating the Lightning into taking retaliatory penalties. Boston's power play was the league's fourth-best this season, whereas Tampa's penalty kill was the league's fourth-worst.
If this Lightning squad has a weakness, it's playing shorthanded. With the league's best power play of these young playoffs (seven goals, 33%), this is an area Boston must take advantage of.
Odds and Ends
There's obviously more to Boston positioning itself well against Tampa Bay than just finishing checks and getting better performances from its goaltender and top six forwards.
There's the issue of Charlie McAvoy's knee, which is clearly still not 100 percent. His mobility and physicality were drastically limited versus Toronto; frankly, he looked like a shell of himself. If his play was more a matter of ailing health than rust, the team might need to consider shuffling its pairings to keep him away from the Stamkos/Kucherov connection.
In related news, the team's play through the neutral zone versus Toronto went from fluid and effortless in the series' first two games to an unmitigated disaster as the series wore on.
Sometimes when the passing lanes are clogged or an opponent is hanging back to congest things on their side of the red line the correct play is to just get pucks in deep and go win a battle. Too frequently, a Bruins team which excelled through the neutral zone this season was frustrated into making an extra pass, trying to make the perfect play instead of just the right play.
Once Boston got back to basics and started getting pucks deep in the third period of Game Seven the tide of the game (and series) swung to Boston's favor.
Regardless, if the Bruins can get physical with Tampa Bay and receive better play from their netminder while also winning the battle of "best versus best," there's a great chance Boston's season will move one step closer to the history books.
Despite being New England's Son (hailing from the Great State of Connecticut), Joe currently resides in Los Angeles, California. One of his earliest memories is of the Bruins losing in the 1990 Stanley Cup Finals, setting up a lifetime of crushing disappointments. He feels genuine sadness for those without a passion to rival his unwavering love for the greatest game on earth.