Washington Capitals winger Tom Wilson has made himself a name in the NHL, not only carrying a reputation but playing with grit and physicality that has made him a fan favorite and important part of the team on and off the ice. Many were nervous that the restricted free agent was still unsigned heading into August, but the Capitals were able to finally reward him and lock him up to a long-term deal.
The Capitals inked Wilson to a six-year, $31.02 extension Friday. The deal carries an average annual value of $5.17 million.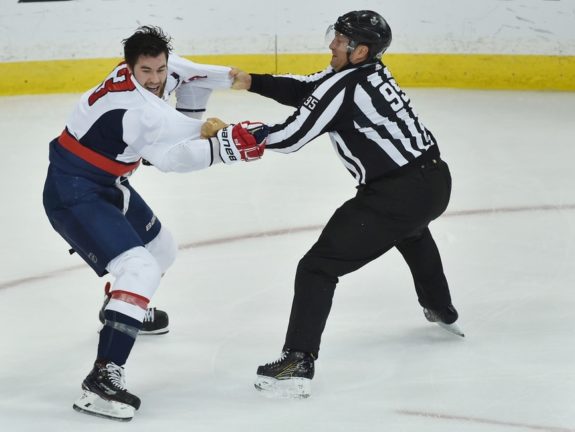 "Tom is an invaluable member of our team, and we are pleased that he is committed to sign a long-term deal at this point in his career," general manager Brian MacLellan said. "Tom is a unique player in this league, in that he plays a physical game, leads by example and contributes in every facet of the game. At 24 years of age, he is just entering his prime, and we believe that he will only continue to excel and improve as a player."
After an impressive 2017-18 campaign that saw him taking on more responsibility, the contract is an incentive for him to keep elevating his game. However, some are skeptical if the long-term deal and high annual salary will be enough for the enforcer, who is still trying to increase his production. While it may be a gamble for Washington, Wilson is still working on his game and has plenty of time to grow, and with a contract this big, he will likely put in the work to prove that he deserves this type of deal.
Wilson's Career Year
Prior to this year, Wilson was putting in physicality, registering hundreds of hits, but he couldn't seem to compliment his toughness and penalty minutes with much-needed offense. He only put up seven goals and 19 points in 2016-17, spending most of his time on the fourth line. However, before the start of the 2017-18 campaign, the Capitals saw the departure of many key forwards and producers in the offseason, including Marcus Johansson, Justin Williams and Daniel Winnik. With these forwards out of the picture, there were a few vacancies in the top-6 and throughout the lineup, and players like Wilson were expected to earn promotions and take on more responsibility.
"That's part of being a mature player… continuing to grow every season and adding aspects to your game and being more confident and comfortable out there," Wilson said of stepping up to the task and filling those voids on offense.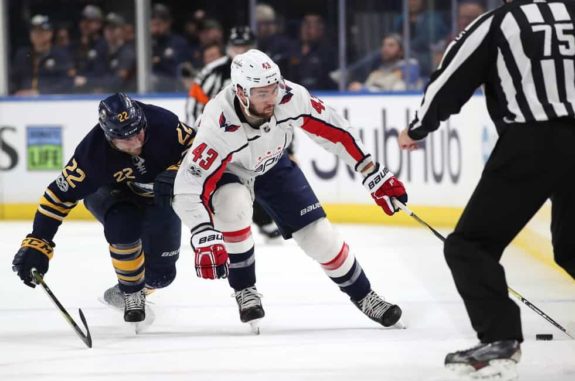 The 24-year-old did just that, and in 78 games, Wilson put up a career-high 14 goals and 35 points, doubling his goal production and showing much more offensive ability. He also registered career highs with 123 shots and 15:59 TOI, and in addition, he made himself an asset on special teams and eventually became a staple on the first line alongside Evgeny Kuznetsov and Alex Ovechkin.
"It was cool that the coaches had that trust in me," Wilson said. "Obviously, if you're playing with two of the best players in the world, you're going to be all right. It doesn't matter where I'm playing in the lineup, I'm going to help the team any way I can."
Not only was he able to add more offensively, but the 6-foot-4, 218-pound forward was still able to play a physical game, recording 250 hits and 187 penalty minutes, while also drawing 37 penalties.
"I think for me, it's just keeping my feet moving, creating energy, creating an element that's hard to play against… getting in on the forecheck and winning puck battles, Wilson said of adding more to his game, especially when playing on the top line.
Wilson's Playoff Success and Potential
Wilson capped off his career season with a strong playoff performance, racking up a career-high five goals and 15 assists in the postseason. He had four multi-point performances and registered a point in nearly half of the Capitals' postseason games, while also leading all playoff skaters with 100 hits. And after years of heartbreak, he said it was a "surreal moment" to finally help his team win a Stanley Cup for the first time in the franchise's 44-year history.
"It's extremely hard to win. You need a little bit of good fortune, you need a little bit of everything, you need the perfect storm, and I think we got to the playoffs and there's letdown and you keep pushing forward and trying to win," Wilson said. "Eventually we did, and no one can take it from us now."
'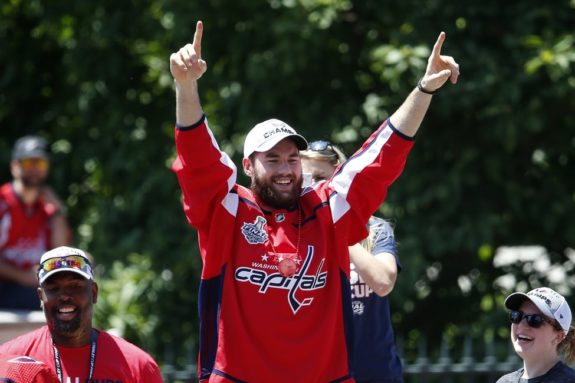 However, two preseason suspensions and a three-game suspension spanning to the end of the series against Pittsburgh highlighted  one of Wilson's major flaws: his physicality has been proven to go too far, which has led to discipline from the league, a number of suspensions and the league putting him "under the microscope," as he said he was in the series against the Penguins..
"Obviously I'm a repeat offender, and I got to be adapting, I got to be changing with the times here," Wilson admitted.
But ultimately, looking at Wilson's career year and strides in his game, he continues to elevate his game and has proven to be a player that has chemistry on the top-6 and can add a lot of offense and edge to the lineup and become a top contributor. And, with this deal, he will have to work to live up to it, and his work ethic speaks to the fact that he will.
Sammi Silber covers the Capitals beat for The Hockey Writers and is an NHL contributor with Sporting News. She has also contributed to USA TODAY College, Huffington Post, FanSided and the Nation Network. Silber has written four books and recently worked on graphics for the film, The California Golden Seals Movie.