There has never been a player in the Edmonton Oilers storied history quite like Reijo Ruotsalainen. The talented blueliner suited up in just 26 regular season games for the organization but still managed to leave a mark on the 1987 and 1990 Stanley Cup winning clubs. Not too shabby for a player who was here for a brief cup of coffee and one that Glen Sather ultimately stole from the New York Rangers.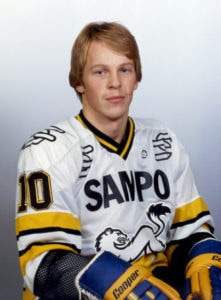 After being selected with the 119th selection in 1980 NHL Entry Draft, the young Finn put together five impressive campaigns to start his career. Though he was predominately used on defence during his time with the Rangers, the club decided to give Ruotsalainen a "look-see" at forward during the 1984-85 season. Despite being thrust into a different role, he managed to post career-highs of 28 goals and 73 points playing upfront.
With that said, he would finish the year with a career-worst plus/minus rating of -27 and though the stat is no longer viewed with the importance it once was, that number looks just as ugly today as it did 30-odd years ago. After playing a starring role under former bench boss Herb Brooks on Broadway, the native of Oulu, Finland fell out of favour with new head coach Ted Sator and made his back to Europe following the 1985-86 campaign.
An odd decision considering during his five-year stay in the Big Apple, Ruotsalainen never registered less than 51 points in a season and was a plus player every year except the aforementioned 1984-85 campaign. Losing him was a major blow to the Rangers offence and one that would go on to hamper the club for years to come. He possessed a skill-set only a handful of players in the league had and was among the very best skaters in the game.
Ruotsalainen A Rare Breed
Outside of Paul Coffey, no one came close to matching his smooth and seemingly effortless stride and like the Oilers No. 7, Ruotsalainen routinely left fans in awe with his breathtaking end to end rushes. Whereas Coffey would typically take the puck right up the middle of the ice, the man teammates affectionately referred to as "Rexi" would glide up ice and routinely fly by opposing players along the side boards as if they were stuck in the mud.
With Ruotsalainen wasting away over in Europe and seemingly nothing more than an afterthought to the Rangers organization, Sather recognized an opportunity to swoop in and grab a high-end talent for pennies on the dollar. To his credit, he would go on do exactly that and the Oilers already loaded lineup became that much better.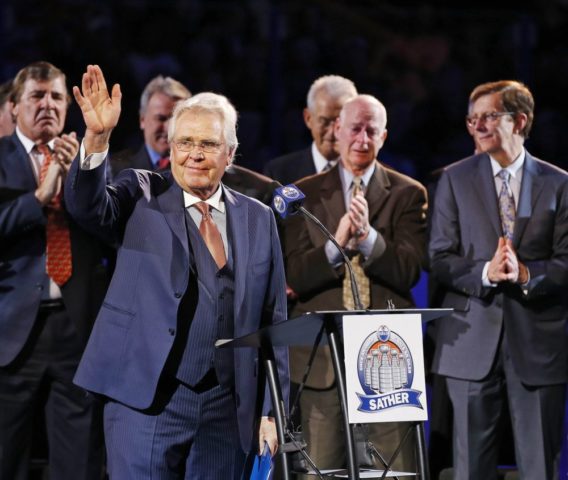 In acquiring Ruotsalainen's NHL rights, along with Clark Donatelli, Vile Kentala, and Jim Weimer, Edmonton agreed to part ways with veteran defenceman/tough guy Don Jackson, Mike Golden, Miloslav Horava and future considerations, which turned out to be Stu Kulak. In other words, it was highway robbery at its finest and viewed by many to be one of the very best trades Sather constructed during his time as general manager.
A Glen Sather Special
Jackson was a fan favorite and loved by teammates for his willingness to do whatever was required of him during his four-plus years with the organization. However, he would play just 22 games for the Rangers in 1986-87 before calling it quits and of the other three players Edmonton gave up in the deal, only Horava went on to play any significant time in the NHL and he scored all of five goals in 80 career games.
After completing his season in the Swiss League with SC Bern, Ruotsalainen joined the Oilers and played in 16 games during the 1986-87 season and was his usual prolific self. The 27-year old scored five times and put up thirteen points to close out the regular season and chipped in another seven points during the playoffs, dressing for all 21 of Edmonton's games en route to earning Lord Stanley's mug for the third time in four years.
On this date in 1987, #Oilers Reijo Ruotsalainen scored his 100th career #NHL goal.

— Jen (@NHLhistorygirl) March 6, 2017
After winning his first cup, Ruotsalainen decided to return to Europe and played the next two years over in Sweden and Switzerland. Prior to the 1989-90 season, the itch to return to North America had come back to surface but his NHL rights belonged to the New Jersey Devils after he was claimed from the Oilers during the 1987 Waiver Draft. His stay with the Devils lasted just 31 games before being shipped back to the Alberta capital.
Ruotsalainen Returns
Sather had to give up Jeff Sharples in order to get the trade done, who ended up never playing another game in the NHL following the 1988-89 season. After trading away Coffey during the 1987-88 season in a blockbuster deal for a Craig Simpson, the Oilers ability to transition the puck up ice was never quite the same. While they still won another championship in 1988, with Wayne Gretzky no longer part of the equation, Edmonton was in dire need of a presence on the point on the man advantage and Sather looked to an old friend for an answer.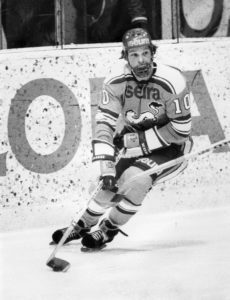 Though he would be used sparingly after coming over from New Jersey, dressing for only ten games, he still picked up eight points in limited duty. Having just turned 30-years of age a day after the team's season finale, the hope was the veteran defender could kick it up another notch for one final playoff run, just as he did during his previous tenure in Oilers silks.
Ruotsalainen would once again go on to play in all of Edmonton's playoff games, finished up with 13 points in 22 games and tied Jari Kurri for the second-best plus/minus on the club at +13 during the post-season. Unlike the team that won in 1987, no one expected the Oilers to win it all in 1990, which made it that much sweeter for everyone involved and the Ruotsalaninen angle was icing on the proverbial cake.
Glen Sather managed to pull a cat out of the hat for a second time, in what was another brilliant move and it paid off in spades. It was a win-win for both the organization and player and one that will forever link the Edmonton Oilers to one of the most talented and underappreciated European players of his era in Reijo Ruotsalainen.