After being sent down by the Washington Capitals in January, 28 year old defenseman Steve Oleksy struggled mightily following a demotion. He never was able to find his game like he did when he first joined the AHL's Hershey Bears on an AHL contract. He's looking to rebound and make the Washington Capitals next fall who will be under new leadership in the 2014-15 campaign.
"It was a challenging season," the rugged defenseman explained. "Obviously being up there (Washington) it's a great experience, coming down here it's an adjustment. I think it took me a little longer to adjust than I wanted it to. The people around me here are great and help me out a lot."
The Lake Superior State product played in 30 games at the American League level, totaling six assists in a defensive minded role. He brings a physical element to his style of play, but it never showed after his arrival with the Bears in 2014. Oleksy was even scratched seven times after joining Hershey, including three straight games from February 15th-22nd.
"To be honest I'm really looking forward to this summer, working on my game a lot," Oleksy explained. "Taking a few breaths after a season like this and refocusing. I'm looking forward to getting back at it, getting on the ice and working on that side of the game. Getting in the weight room is something that I think is going to help me get the confidence back and hopefully get me back to where I want to be."
There are parts of his game that Oleksy needs to improve if he ever hopes of playing in the NHL again. He becomes an unrestricted free agent after next season and could be relegated to an AHL regular for the rest of his career if he can't return to previous form. With the heightened emphasis on speed from the defenseman position, Oleksy faces tough odds. He's looking forward to a summer of training to improve his game.
"It's something in this business you go through every year, no matter who you are or where you're at. You go through that situation every year. Especially to start the season in training camp there's so many good players trying to make a living playing hockey. Each and every year there's more and more guys joining the rink so it gets tougher and tougher. You continue to go through it year in and year out, it's something each year you learn a little bit more and you can prepare a little better."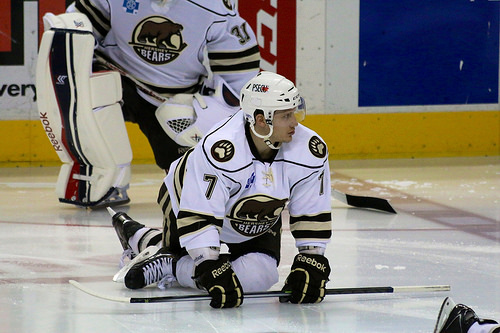 Even with the current absence of a General Manager and head coach, Oleksy isn't focused on proving himself to his new coach next training camp in Washington D.C.
"As a player you can't really worry about that stuff, I got to take care of my game and get that back where I want it to be. I got to refocus and worry about myself."
The Michigan born blue liner was a two sport athlete at Lake Superior State, playing baseball throughout his youth. He sees the Detroit Tigers as a World Series contender this season in Major League Baseball (MLB).
"It was a crazy, crazy ride. Obviously baseball was a large part of myself and I had an opportunity to pursue that straight out of high school. Education was always big for me so when that was sitting in front of me I took the opportunity and after playing a year of college baseball I realized that my love for hockey was much stronger than I thought. I took a chance, went back and played a year of Junior and luckily I was able to pursue college hockey as well."
You can follow Matthew on twitter @m_speck and email him at mspeck21@yahoo.com with any questions or comments.
Matthew Speck covers the Washington Capitals organization for The Hockey Writers. He provides coverage of both Washington at the NHL level and prospect related content. Matthew also covers local sports for the Lebanon Daily News in Central Pennsylvania. You can email him at mspeck21@yahoo.com with any questions or comments.