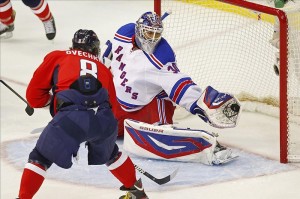 The Rangers and Capitals will face each other in the NHL Stanley Cup playoffs for the fifth time since 2009, and the ninth time overall. I'd expect this series to be a long one as three of the four previous series have gone seven games.
In 2009, Washington beat an underdog Rangers team in the first round of the playoffs in seven games. In 2011, the top-seeded Caps ran the eighth-seeded Rangers out in five. In the next coming years the Blueshirts won their next two meetings, both in seven games.
The top-seeded Rangers team beat the seventh-seeded Capitals in the 2012 second round. And in the 2013 first-round, the sixth-seeded Blueshirts knocked out third-seeded Washington.
The Series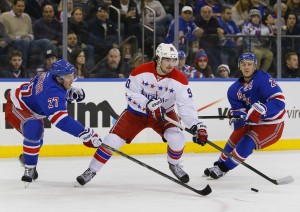 Tortorella was the Rangers' coach in all four of their recent series, including a water bottle toss into the stands in a 4-0, Game 5 loss in Washington in 2009 that drew a one-game suspension, and his amusing comments directed toward a reporter who was unable to get a word in before Tortorella snapped back with a conversation stiff-arm of "stop coachin' Pat", following a 2-1 Game 6 loss in 2012.
The Caps however have had their fair share of coaches throughout their playoff series' with the Rangers. Bruce Boudreau beat the Rangers in 2009 and 2011, Dale Hunter lost to Torts in 2012, and Adam Oates failed in 2013.
The Washington-Rangers rivalry is certainly intense, and after several meetings through the regular season this year with the Rangers having won three of four regular season meetings with the Capitals, outscoring Washington 13-10 and a rich history of playoff rivalry, expect this series tie-breaker to be nothing less than explosive.
"Playing the caps again in playoffs creates something special..it's going to be tough series..we have to step up our game"- Lundqvist, Tuesday morning after the teams practice in Tarrytown.
Tied At 8
 Each team has won four series heading into the 2015 Eastern Conference semifinals:
2013: Quarterfinals; Rangers win, 4-3
2012: Conference Semifinals; Rangers win, 4-3
2011: Conference Quarterfinals;  Capitals win, 4-1
2009: Conference Quarterfinals; Capitals win, 4-3
1994: Conference Semifinals; Rangers win 4-1
1991: Division Semifinals; Capitals win, 4-2
1990: Division Finals; Capitals win 4-1
1986: Division Finals; Rangers win, 4-2
What To Expect
This will be the first time AV and Trotz will meet in the playoffs as head coaches of their new teams but not their first encounter with each other in the playoffs. Both coaches have met in the playoffs, memorably during AV's season with the 2011 President's Trophy Canucks that went on to win the Stanley Cup. Vigneault's Canucks outscored Trotz's Predators only 14-11 in a six-game series that included one overtime decision and another in double-OT.
"They were the team that was ready for the playoffs before everyone else was," goaltender Braden Holtby said. "We're facing the Presidents' Trophy winners but we don't feel like we're over-matched at all. We feel like it's going to be extremely good hockey and a series we're capable of winning."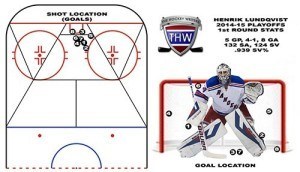 "I think this year we're a lot more prepared," Holtby said. "We're a team that really wants to win, wants to keep playing, wants to keep this team together, because we're all having a lot of fun being here."
"this year is no different than the past with Washington, they have a great power play so you have to be disciplined" Captain McDonagh said.
Each team has a game plan and is set on sticking to in. I expect a strong, long fought series between the two.
"We have a good feeling" said Lundqvist; when your star goaltender is feeling good about the series the rest of the team will follow nyrange.rs/1KutjRe 
Superstition
Every pro sports team has their share of superstitions and the Rangers aren't taking any chances, whether it be in the locker room, on the ice, or their twitter page.
so we meet again #nyr

— New York Rangers (@NYRangers) April 28, 2015
The Rangers are refraining from using all forms of capitalization as they prepare to face the Washington Capitals in round 2 of the playoffs.
back to work! #nyr pic.twitter.com/chFWCk4Pdz

— New York Rangers (@NYRangers) April 28, 2015
Also, Happy Birthday Dan Girardi!
happy birthday to #nyr dan girardi!!! pic.twitter.com/OWJn6xVl5U

— New York Rangers (@NYRangers) April 29, 2015
.
Michael is in his first year with the Hockey Writers covering the latest news on the New York Rangers. Michael is employed by the Madison Square Garden Company, having worked with the New York Rangers Hockey Administration Department and with the New York Knicks organization.