The NHL Draft is one of the most unpredictable exercises in all of hockey, and every year there are players drafted with high expectations that they sometimes fail to live up to. Many former highly touted junior hockey players heard their name called and began their professional careers with dreams of becoming an NHL star, but more often than not, players fail to make their mark in the league.
One of the biggest obstacles players face in a physical game like hockey is the constant threat of injury. While many prospects who suffer an untimely injury early in their career are able to bounce back and continue to progress towards the NHL, some prospects also succumb to these injuries and fall behind their peers. Many high-profile players, such as former first overall pick Rick DiPietro, have suffered injury problems at the NHL level after achieving varying levels of fame, altering their promising career paths. However, many highly skilled prospects suffered injuries or illnesses before making their mark in the NHL. The following list profiles players who, as former highly-touted first round picks, suffered injuries or illnesses that prevented them from reaching their full potential.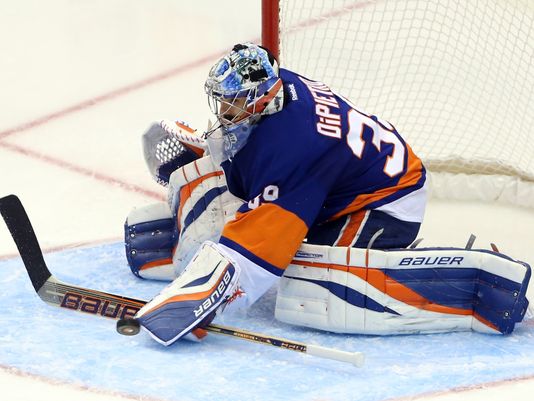 Luca Cereda, 24th overall in 1999 (Toronto Maple Leafs)
The first Swiss player ever drafted by the Maple Leafs, Luca Cereda was a strapping young centre whose strong frame and impressive offensive ability dropped the collective jaws of Toronto's fans and staff. At 6'2″, 200 pounds, Cereda was the youngest player in the Swiss League A in his draft year, tallying an astonishing 16 points in 38 games playing against grown men much older than him. Cereda also participated in both the World Under-18 and Under-20 Championships, scoring a combined 11 points in 13 games as the best player on a thin Switzerland squad. This report from Hockey's Future in 1999 shows just how big of an impression Cereda made on scouts alike:
It becomes evident that Luca is a smooth, strong skater which belies his
thick, lower-body. Even though contact is minimal, it also becomes
apparent that he has good balance and strength on his skates in traffic.
Cereda also exhibits a strong level of confidence with the puck. During
2-on-1 and 3-on-2 drills, he holds the puck until the last second, opening
up the ice for his teammates.
Unfortunately, Cereda was not afforded the opportunity to develop into the Leafs' second-line centre behind Hall of Famer Mats Sundin, as he was diagnosed with a congenital heart condition in late 2000 and sat out the 2000-2001 season. He attempted to return, playing parts of three seasons with the St. John's Maple Leafs of the AHL before returning home to Switzerland and playing sparingly for three more seasons before retiring for good in 2007.
Dan Blackburn, 10th overall in 2001 (New York Rangers)
While the Rangers already had none other than current superstar goaltender Henrik Lundqvist already in their farm system, Dan Blackburn was a promising young goalie that New York could not pass on with the 10th overall pick in 2001. He quickly made his way to the NHL, playing sparingly in 2001-2002 as the backup to Mike Richter. His pedigree and impressive accolades throughout junior, including being named the Canadian Hockey League's top goaltender in 2001, made many consider Blackburn one of the most promising and talented young goaltenders in the NHL.
Despite starting the 2002 NHL Youngstars Game, Blackburn suffered a nerve injury to his left shoulder in September 2002, rendering him incapable of rotating his glove hand. He suffered through a underwhelming and abbreviated 2002-2003 campaign before missing the entire 2003-2004 season, and the extent of his injury was not yet apparent to the Rangers or New York Fans. He underwent nerve surgery during his time away from the game, and Blackburn attempted a comeback at professional hockey, sporting a unique equipment setup with two blockers instead of the traditional blocker/catching glove combo. His comeback did not gain much traction, however, as he never played in another NHL game after his lost season. Blackburn retired in 2005 as a member of the ECHL's Victoria Salmon Kings.
Angelo Esposito, 20th overall in 2007 (Pittsburgh Penguins)
After exploding onto the scene with a 98 point rookie season in 2005-2006 for the Quebec Remparts of the QMJHL, Angelo Esposito was considered one of the front-runners for the top pick in the 2007 NHL Draft. He suffered an underwhelming season, however, and his stock dropped him to the 20th pick, where the offensively stacked Pittsburgh Penguins were ecstatic to add him. Esposito continued a fantastic junior career, culminating in a World Junior gold medal with Canada in 2009. Esposito shone amongst other young star players, scoring the gold medal-winning goal in the final game of the tournament.
However, Esposito battled constant injury problems throughout his career, as he underwent knee surgery in 2009 and struggled to improve upon his breakout rookie season. He was dealt during his final QMJHL season to the Atlanta Thrashers in return for Marian Hossa, which would have presumably opened up a bigger opportunity for Esposito to show off his skills without Sidney Crosby or Evgeni Malkin in his way. He suffered another knee injury the following season, however, ending his season after just 12 AHL games and 4 points. Esposito played another two partial seasons shuffling between the AHL and ECHL before being let go as a restricted free agent and signing a deal in Finland. Esposito has continued his well-travelled ways, playing in Italy and Austria before appearing in just one professional game last season with the ECHL's Fort Wayne Komets.
Joey Hishon, 17th overall in 2010 (Colorado Avalanche)
Hishon burst onto the scene in his second OHL season, registering 81 points in 65 games and being voted the OHL Western Conference's top playmaker and stickhandler in the OHL Coaches Poll. Entering his draft year, Hishon was widely seen as a potential top-10 draft pick, and many thought he could improve upon his breakout sophomore OHL season and give frontrunners Taylor Hall and Tyler Seguin a run for a top pick in the 2010 Draft. However, Hishon missed more than 20 games due to injuries and suspensions, and his points per game average fell. He was taken by the Colorado Avalanche 17th overall, and many referred to the pick as a "reach".
Hishon exploded the following season, tallying 86 points in just 50 games and leading his Owen Sound team all the way to the Memorial Cup with an astounding 24 points in 22 playoff games. However, it was during the Memorial Cup that Hishon's promising career trajectory careened in a different direction.
Brayden McNabb of the Kootenay Ice leveled Hishon with a hit to the head, dealing Hishon a concussion and knocking him out of the remainder of the Memorial Cup. Hishon then suffered from post-concussion syndrome for upwards of the next year, missing 22 months of hockey action (including the entire 2011-2012 season). While Hishon is still young and recently collected his first NHL goal, the promise shown as a scoring star in the OHL by Hishon has been drastically altered due to the serious injury Hishon suffered in the 2011 Memorial Cup.
With 210 players selected in the NHL Draft every year, many hopeful junior players never realize their dream of becoming NHL stars. However, when these prospects suffer serious injuries, the question quickly becomes not what went wrong, but what if? What if these players stayed healthy? Hockey is a physical game, but when injuries take their toll, they can veer a highly touted player off of a promising career path. Can you think of any more former top prospects whose careers were dramatically hindered by problems with injuries or illness?