The Columbus Blue Jackets are still looking for a defenseman, after all.
Per Aaron Portzline of the Columbus Dispatch, the Blue Jackets have had discussions with free-agent defenseman Christian Ehrhoff. The talks have been serious enough that if Ehrhoff stays on the market long enough, the Blue Jackets could sign him. Due to salary cap concerns, the price would have to come down for the Blue Jackets to sign him.
Ehrhoff appeared in just 49 games last season for the Penguins. He recorded three goals and 11 assists, while missing a good portion of the season due to a concussion.
Would Ehrhoff consider Columbus as one of his preferred destinations?
Portzline points out that, according to sources close to the situation, Ehrhoff would like to sign with the Blue Jackets, if money is found somehow. Given what a healthy Ehrhoff brings to the table, the Blue Jackets need to find a way to make this happen.
Ehrhoff has appeared in 741 career games for four different teams, including the Sharks, Canucks, Sabres and Penguins. He has scored 72 goals and 255 assists. His career plus/minus rating is plus-59.
His impact goes way beyond his numbers. Take a look at Ehrhoff's HERO chart.
Ehrhoff is a legitimate top-pairing defenseman, something the Blue Jackets could use. He is good at both shot generation and shot suppression, while still able to effectively produce offense. He is just as good at scoring as he is setting up his teammates. Ehrhoff's presence gives the Blue Jackets an added dimension of stability on the blue line.
Ehrhoff can also quarterback this power play. He is an effective puck mover, but isn't afraid to shoot it when the opportunity is there. He can also kill penalties.
Given everything Ehrhoff brings to the table, the Blue Jackets must find a way to sign him. Despite his injury history, he is worth taking a chance on.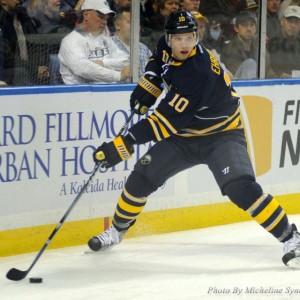 If the Blue Jackets are able to sign him, here is what the defensive pairs would look like to start:
Ehrhoff – Ryan Murray
Jack Johnson – David Savard
Fedor Tyutin – Dalton Prout
Other options are available as well, including Kevin Connauton and Cody Goloubef. Signing Ehrhoff allows the Blue Jackets to immediately insert a top-pair defenseman in their lineup, while balancing out the rest of the pairs. Johnson and Savard can each play over 20 minutes. Tyutin and Prout are a formidable third pairing. If this signing happens, the Blue Jackets on paper become an instant Stanley Cup contender.
Money is a real issue here. The Blue Jackets do have approximately $3.6 million in cap space, most of which is the cushion needed in case bonuses are paid out. Could we see a trade to clear space? Will some current players end up in the AHL? Will Ehrhoff's price come down far enough so that none of that happens?
No matter how it happens, this signing needs to happen. There's too many good reasons to let this opportunity pass by.