The story behind Ville Leino's NHL run is an interesting one.
In 2008, the 24-year-old Leino was playing for Jokerit of the Finnish Elite League. He lead the team in scoring with 77 points in 55 games, was second in the league for scoring, and won the league's MVP award, The Oskanen Award. His play was enough for him to be wooed by a few different teams the NHL.
Red Wings scouts were impressed by Leino's play, and figured he had matured enough to move into the North American game, so they offered him a one year, entry-level deal. He made the switch to North American hockey, and started the year in Grand Rapids. In 56 games, he put up impressive first year numbers; 15 goals and 31 assists, while being a "plus" player at plus-2. Upon his call up to the Red Wings, he fit in just fine with nine points in 15 games (five goals, four assists).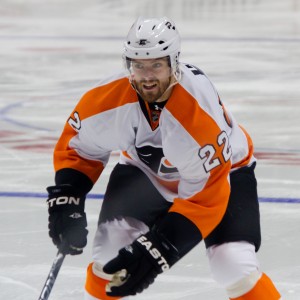 The next season is where the wheel's started to fall off the Ville Leino wagon. The 2009-2010 season saw Leino sign a two-year extension, post some weak numbers, and fall out of graces with the Red Wings coaching staff. He had six goals on the season and they came incredibly spread apart: October 2nd, October 10th, November 11th, not again until December 31st, March 3rd, and finally March 28th. Out of the 42 NHL games he played that season, he played under 10 minutes in 11 of them, he ended the season with a minus-10 rating, and played 14 games without even taking a shot.
By the time February rolled around, the Red Wings had enough and shipped Leino off to the Philadelphia Flyers, who are seemingly always willing to take on struggling players.
Detroit receives
Ole-Kristian Tollefsen

5th Round pick in 2011 (Mattias Backman)
Philadelphia receives
When the Red Wings made this trade, Johan Franzen was ready to come off of the IR, so the Wings immediately waived their recently acquired asset, Tollefson to make room for the Mule. Franzen ended up having 18 points in 12 playoff games for the Wings that post-season, so it seems as though they made the right choice.
What makes this trade even more interesting is what happened with the other asset that the Red Wings received, Mattias Backman. Backman didn't touch North American ice until 2013-2014, where he played two games with the Griffins, posting 0 points. The next season, he played in 18 games for the Griffins, put up four points and then was traded to Dallas. What the Red Wings got in return for Backman (and other pieces), was Erik Cole.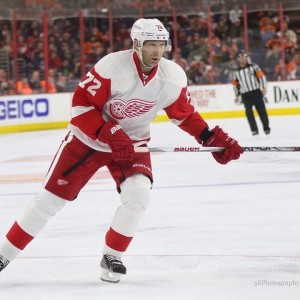 Now, Cole didn't have an amazing time with the Red Wings either. He had six points in 11 games, but was brought in for secondary scoring along with an intense physical edge, which he provided until he was injured and out for the rest of the season and playoffs.
Leino had one good season with Philadelphia, where he had 19 goals and 53 points, but followed that up with seasons with eight goals, two goals and zero goals. After his time with the Flyers, Leino was signed to a six year, $27 million dollar contract. He only played out two of those years, and combined for two goals in those two seasons. During his last season in the NHL, his contract was the worst valued contract in the NHL (along with another familiar name to Red Wings fans).
Safe to say, the Red Wings come away as winners for this trade. The Flyers got a season and a half out of Leino, and got just over 20 goals. The Red Wings used the space created by Leino to bring back Johan Franzen, who had a great playoffs for the Red Wings, and then they flipped the pieces for someone who scored more goals in 11 games than Leino scored in his last two seasons combined. Leno may not be remembered fondly in Detroit, but the results of his trade sure should be.