It's a feeling deep in the pit of the stomach, a nervousness that leaves an uneasy dread circulating throughout the body yet is relieved ever so slightly with every save and every goal for. Everyone is well aware that this could be Montreal's last game. It's the same feeling that lingered in two games against Boston and it is the same feeling that was alleviated by the end of game 5 in Montreal against New York. It is the feeling of knowing how Montreal is staring down the barrel of elimination, but through it all it is layered with a belief that this is not the end for Nos Glorieux.
That is the feeling I have now on the cusp of Game 6 and Montreal's fourth elimination game in these playoffs. While the NHL lines at Topbet.eu are favouring the Rangers, I can say with certainty that I believe. I believe in these Montreal Canadiens, but more importantly these Habs believe in themselves and each other.
Don't Flinch
When Montreal stared down the barrel against Ottawa last year, the feeling was much different. It was a feeling I recalled from the series against Philadelphia in 2010; one of dread, anxiousness and certainty that we'd all be put out of our misery. Yet that was then, and this is now. This Montreal Canadiens team even without Carey Price is a team built upon a foundation of character, heart and willpower. In their previous three elimination games, Montreal has played their best hockey and outscored their opponents 14-5. In game 6, facing elimination against Boston, the Canadiens played their best hockey of the post-season and beat the Bruins with Price earning a shutout. They then repeated that performance in game 7, winning 3-1 in Boston. While the NY comeback in game 5 to tie the game up after the Habs had initially gone up 4-1 on their original six foes panged everyone with a sense of dread for a moment, Rene Bourque scored the Habs 5th goal, his 2nd of 3 and what would ultimately be the game winning goal as Dustin Tokarski shut the Rangers down in the third period. Montreal won 7-4 yet more than that, they brought the NY Rangers back to earth. More than that still, they instilled in Henrik Lundqvist a reminder that Montreal is his worst enemy and that he might've had the Habs in his grasp in this series, but that may just be changing now.
What's more concerning for NY and uplifting for Montreal is how the Habs are getting hot at precisely the right time. One of the aspects of Montreal's game that helped it sweep the Tampa Bay Lightning in the first round was the balanced scoring attack from all four lines. Every line had players that got points up and more importantly there did not look like a single Habs player was just "floating" out there. Even Thomas Vanek who has been maligned in this series for his poor play was skating a little harder, a little faster and with a little more purpose and he was noticeable on the ice in a good way for once. Most importantly perhaps of all is how Tokarski weathered a brutal second period and did not crack under the pressure. He battled through it, kept his composure and most importantly helped Montreal stave off the Rangers last ditch attempts to take the game back. No time more noticeable than during a 5 on 3 power play for New York where he made a couple of big saves to keep the score at 6-4. A New York goal at that moment, down by one with yet still more power play time could have changed the face of that game.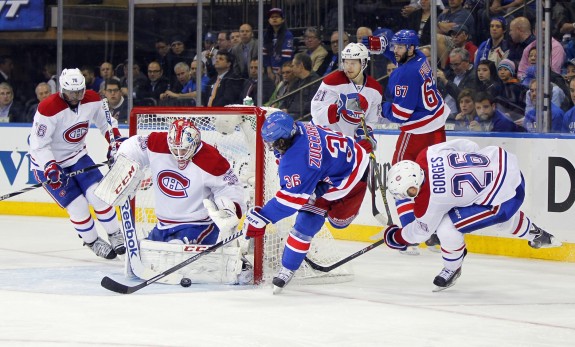 What we now have heading into game 6 is a Montreal team that is firing on all cylinders once again, and a rookie goaltender who survived the New York onslaught of goals and whose confidence must be at an all-time high. After all, here he is, helping lead the Montreal Canadiens into game 6 of the Eastern Conference Finals. Therrien said he's a winner, and while he seemed like a gamble at first there is no question without Tokarski this series would have already been over.
Time To Dig Deep
The Habs have also played the least amount of playoff games of the final four teams at 16. Chicago is a close second as they've played 17, Los Angeles and New York have now both played 19 apiece. This is where Montreal's sweep of Tampa Bay has to come in handy. The Habs have to pull that extra bit of fight and spirit from within themselves and not only survive but defeat what is sure to be a fired up New York Rangers team inside their home building and take it one step closer to ensuring that New York does not see another NHL game this season. At just under 9 minutes of ice time in game 5, there is one player who possesses the ability to change this series. It was another game 6, this one against Boston where Thomas Vanek scored two goals in Montreal's 4-0 victory over the Bruins. Now is the time for Vanek to once again bring his scoring prowess to the ice in Madison Square Garden.
Needs to be more serious on the ice. RT @LaMorty: So serious! #GoHabsGo pic.twitter.com/fHxEA0PKB5

— All Habs (Canadiens) (@AllHabs) May 28, 2014
As noted, Vanek appeared to be battling harder than he had in previous games this series in game 5 and assisted nicely on one of Bourque's goals. He must continue to show determination and take a lesson from the heart and character with which fellow Habs like Brendan Gallagher and David Desharnais show each and every single game. Another offensive showing in another game 6 from Thomas Vanek will certainly help Montreal force a game 7, yet this does not preclude the others who've started showing a proclivity for finding the back of the net to stop now. For the Canadiens, just as it took every man wearing the CH to pull their weight to overcome Boston, so too must they now pull together to overcome New York.
Yet this is precisely the position Montreal can take advantage of. They are now the clear underdogs despite their victory in game 5, yet more than that there is a lot of bad blood and emotion in this series. Just as the emotions threw Boston off their system, these emotional issues were clearly evident as New York has begun to unravel since the Prust hit on Stepan in game 3. With John Moore now suspended for two games and the clear frustration displayed by Rangers players like Chris Kreider and Derek Dorsett showing it either by looking dazed and confused on the ice after a Torkarski save or by losing their cool as Dorsett did at the end of game 5.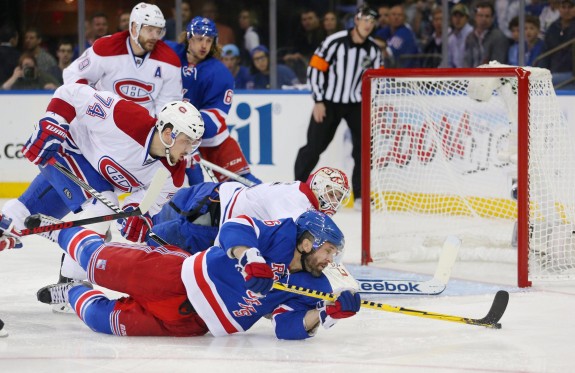 Whatever mental advantage the Rangers had after taking a 2-0 series lead in Montreal is now clearly gone, and the Habs have begun to annoy the Rangers to the point that they are no longer playing as well as they were. While it's often noted that Lundqvist rebounds from bad games well, he is not perfect from them and it will be up to all the Canadiens pulling together and getting to him early to ensure that the doubts that he can defeat Montreal are properly reinstalled into NY's King. With the Habs close to being completely in the Rangers head, there is no composure or discipline and this is where the Habs can take advantage. Emotions got the best of Boston and now they may get the best of a New York Rangers squad who's already been through two grueling seven game series. Stay smiling Montreal and let the Rangers frustration and negative emotions boil over and cost them.
Besides, after Pierre McGuire and then Dustin Tokarski, who else can we look forward to P.K. Subban kissing after a victory?