Week six of fantasy hockey marks the official quarter mark of most standard fantasy hockey leagues. With 25% of the year over and many injured superstars already beginning to occupy their owner's "IR" slots, this season has not gone as planned for many fantasy fans. At the same time, success comes from an owner's ability to rise above the injuries and roadblocks and improve their teams through high leverage weekly performers and sneaky free agent pick-ups. Every week I focus on the top performers across the seven-day period who have helped push their fantasy teams to the top of their league's rankings. Here are your week six fantasy hockey major award winners:
Every week I focus on the top performers across the seven-day period who have helped push their fantasy teams to the top of their league's rankings. Here are your week six fantasy hockey major award winners:
Fantasy Hart Trophy – Michael Cammalleri
GP:3 G:4 A:4 Pts:8 +/-:+2  PPP:3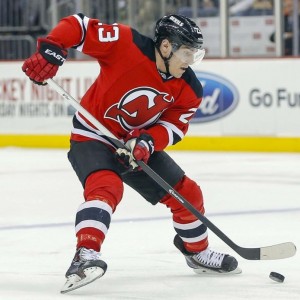 Will somebody tell Mike Cammalleri this isn't 2008-09 (he scored a career-high 39 goals that season) because he seems to have forgotten? The Fantasy Hart Trophy is awarded to the week's most valuable player and the New Jersey Devils' left winger was far and away the most deserving of this award in week six.
Fantasy owners of the veteran are hoping the often banged up Cammalleri never comes back down to earth after putting together one of the best fantasy weeks league-wide after coming off a six-game injury stint just prior to this week.
After last week's disastrous injury to superstar Taylor Hall, the New Jersey Devils were in desperate need of an elite offensive source to fill in while their superstar was on the mend.
Cammalleri is doing what a healthy Cammalleri has been known to do over his 14-year career, and that is stepping up in a way in week six to lead all fantasy players.
Owners who picked up the veteran forward because of his time increase had themselves a week full of fantastic stats as Cammalleri's eight points across three games was the best in the league by a two-point cushion. His four goals were also a league-best while his three power-play points had him second only to Edmonton's Leon Draisaitl.
While Cammalleri is healthy and on this current hot streak, he makes a great daily fantasy option as well as a waiver wire pickup for those in need of scoring for the time being. Keep an eye on the veteran forward as he has always been a reliable source of stats regardless of the lack of talent that normally surrounds him.
Cammalleri could be the difference in a good chunk of categories over a week if you need the extra body on your roster. Do not expect him to post weekly numbers like he did over the past seven days; but for weeks like number six, and the upcoming weeks, enjoy what his first line and first power-play eligibility gives to owners as the veteran is often forgotten as an effective fantasy contributor.
Honourable Mentions: Milan Lucic, Connor McDavid
Fantasy James Norris Trophy – Brent Burns (2)
GP:4 G:2 A:4 Pts:6 PPP:2 SOG:11
The Fantasy James Norris Trophy is awarded to the week's most valuable fantasy defenseman.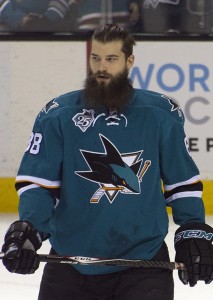 It took six weeks but we finally have our first repeat award winner. It's not surprising that Brent Burns of the San Jose Sharks has earned himself the weekly Fantasy James Norris award for the second time this season.
After signing an 8-year contract extension earlier in the week, Burns seemed bound and determined to prove to the Sharks why they forked out an average annual value of $8 million to keep their bearded leader around.
With two goals and four assists in four games, Burns's six points led all defenseman in weekly points by a margin of two. His two goals were tied for best league-wide among defenders with three other players. As well, his contributions on the power-play were good for second best for defensemen making Burns a multi-category contributor for yet another week.
Burns has always been an elite option for shots on goal as he is on pace for 339 shots this season, 14 less than he put towards the net a year ago. With 11 shots on goal this week he continues to lead the NHL, including forwards, with 91 total shots on net.
He is widely considered one of the best fantasy options on the back-end and is proving it again this season as he has been the most valuable fantasy defenseman to date leading in both points and goals. With his 20 points through 22 games, Burns continues to give his owners elite forward-like counting stats while occupying what has been a very weak fantasy defenseman position this year.
On a team like San Jose where Burns is always the number one option in all scoring situations, his fantasy stock has never been higher. As the Sharks continue to improve on their 23rd ranked offense, expect Burns to continue and potentially even improve his elite fantasy numbers as he continues to surprise many by leapfrogging Ottawa's Erik Karlsson as fantasy hockey's top blueliner.
Since it only took Burns six weeks to become the first double Norris winner, expect him to continue to compete for this award week by week as he dominates the 2016-17 season.
Honourable Mentions: Colton Parayko, Victor Hedman
Fantasy Vezina Trophy – Craig Anderson
GS:4 W:4 L:0 GAA:1.25 SV%:.960 SO:1
The Fantasy Vezina Trophy is awarded to the week's top goaltender.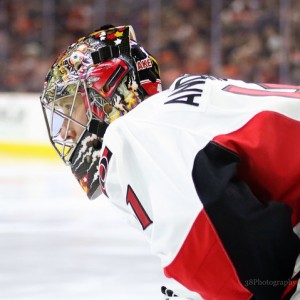 Craig Anderson is playing inspired hockey for the Ottawa Senators and is deserving of this award. With four wins in four starts in week six, Anderson is looking more like a 25-year-old version of himself rather than the 35-year-old, 14-year veteran that he is.
Anderson closed out week six by rewarding his owners with a 33 save shutout on Sunday against the league's scoring leader, the New York Rangers. The shutout tied Anderson with four other goaltenders who achieved the feat in week six. Anderson's .960 save percentage was nearly .07% better than the next best starter in San Jose's Martin Jones while his 1.25 GAA ranked him tops among starters with more than a single start on the week.
Fuelled by personal life battles he is on pace for one of the best seasons of his long career. His .936 save percentage is second best to his .941% lockout-shortened season in 2012-13, proving through the first quarter that he is, in fact, on top of his game.
A surprising fantasy goaltender on many nights, those holding Anderson should stay aware of his workload as the season wears on and he continues to get the bulk of the Senators' starts. At his age, it seems unlikely his elite stats will hold as the wear and tear of the regular season can get to a goalie taking on this amount of the workload. He has started an impressive 17 of a total 22 games and will continue to lead the Nation's Capital as he fights for the Overall Vezina award rather than just the weekly fantasy honour itself.
Yet another perfect showing by @CraigAnderson41. pic.twitter.com/kjk89okWL5

— NHL (@NHL) November 28, 2016
None the less, do not be surprised if the veteran goalie finds himself in the weekly fantasy award column a couple of times this season as he is playing some of the best hockey of his career.
Honourable Mentions: Chad Johnson, Pekka Rinne