With less than 10 games left, it is at the point in the season for many teams where wins become a necessity rather than a luxury. The same goes for all you poolies out there, who are competing in playoffs right now. It might be time to cut ties with that slacking vet on your squad, for a lesser-known player on a hotstreak. One goal could make all the difference between fantasy bragging rights, or a heart shattering second place finish.
With that in mind here is this weeks edition of weekly roundup.
In this article we take a look at the last seven days of hockey in the NHL. The article will focus on players who have been putting up solid numbers and are likely still available in fantasy pools. We also look at the stars of the game who aren't getting on the score sheet for their team.
Putting up Points
Cody Eakin – Owned in 8% of Yahoo leagues
Cody Eakin falls trying to celebrate his awesome goal 😆 #stars pic.twitter.com/gbylZ2Nbtr

— Shnarped Hockey (@shnarpedhockey) March 14, 2016
After Tyler Seguin posted a gruesome photo to twitter displaying a severe cut to his Achilles tendon, it became clear that someone would be filling in on the top unit in Dallas. Eakin happened to be that player, and has had fantasy success since taking over. In his last four games, Eakin has six points and has a rating of plus-two. Eakin is closing in on 40 points for the year and if he continues to play on the top line, he is surely to reach that number. He looks to be a reliable pickup for the end of the season, as any player's stats will surely benefit from playing on a line with Jamie Benn.
Devante Smith-Pelly – Owned in 10% of Yahoo leagues
Devante Smith-Pelly has made an immediate impact with the #NJDevils tallying seven goals in nine games.https://t.co/WT2VHqoBSZ

— New Jersey Devils (@NJDevils) March 21, 2016
In the nine games he has played with the Devils, since his trade from the Canadiens, Smith-Pelly has 10 points. He is also averaging over two shots a game over that span. With only 22 points on the season, this pace would be extremely tough for Smith-Pelly to keep up, however, he is hot right now, and might be just what your fantasy team needs to make that championship push.
Nino Niederreiter – Owned in 11% of Yahoo leagues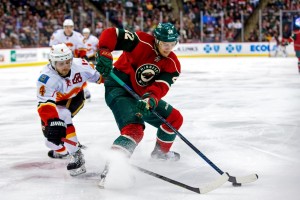 Niederreiter has scored seven points in his last five games for the Wild. El Nino has also averaged nearly three shots a game and just over one hit per game over that span. This is just the kind of fantasy depth that many fantasy owners, especially those in category leagues, want on their team. With 40 points in 73 games this year, Niederreiter has already passed his previous career season best 37 points, and looks to close in on 50. The Wild have nine games left this season, and if he maintains this pace, Niederreiter could reach both the 20 goal and 50 point plateau.
Not Producing
Brad Marchand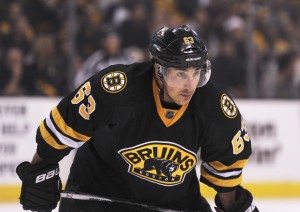 After an extremely impressive hot streak over the last few weeks, it appears Marchand is finally slowing down. He has no points over his last five games and is a minus-one rating over that span. Despite this, Marchand has still been productive in other fantasy facets, averaging over three shots and one hit a game over those same five games. While his scoring streak may be cooling off, Marchand still holds value as a fantasy player overall and should continue to start if he holds a spot in your lineup.
Mats Zuccarello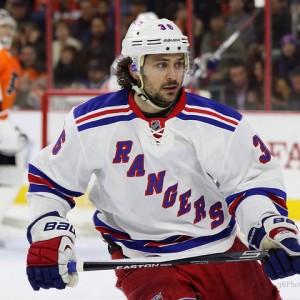 The Rangers have struggled to find the back of the net lately, with four wins and six losses over their last ten games. With the recent return of Rick Nash, the Rangers surely expected to see more wins, especially with the added offensive threat of Eric Staal. However, that has not been the case as Nash has no points in the five games he has played in since returning from injury. To add, Zuccarello, who leads the Rangers in points with 53 this season, has no points in his last four contests. With four games this week, look to the slumping Rangers to turn things around, as they prepare for what they hope is a long playoff run.
Brent Seabrook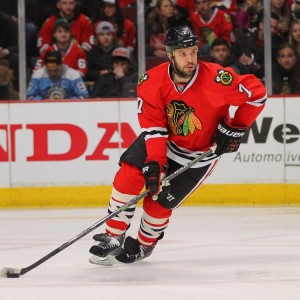 With 42 points in 73 games, Seabrook is fifth on in scoring on an extremely talented Blackhawks squad. His production has tailed off lately, as he has managed only one point over his last eight games. Chicago is one of the best overall teams in the league, and there are a number of talented players surrounding Seabrook. Despite his recent lack of production, he still holds value as one of the best defencemen in the league, and should turn his game around for the final stretch before playoffs.
I am a recent Carleton Journalism graduate with experience working as a sports reporter for The Charlatan, Carleton's campus newspaper and as an editor for Journalists for Human Rights.