Weekly Fantasy Roundup
This is the tenth edition of weekly roundup. In this article we take a look at the last seven days of hockey in the NHL. The article will focus on players who have been putting up solid numbers and are likely still available in fantasy pools. We also look at the stars of the game who aren't getting on the score sheet for their team.
Putting up points
Jordan Staal – Owned in 10% of Yahoo leagues
[HIGHLIGHT] Jordan Staal's GWG for the #Canes over the #CBJ in OT Saturday. https://t.co/TJXTy1mjEw

— Carolina Hurricanes (@Canes) January 10, 2016
The Hurricanes forward has had a relatively slow season so far but with six points and a plus five rating in his last three games, Jordan Staal looks to be heating up. Staal has only amounted to 50 points in a season once in his career, and this season he is currently on pace for 40 points, the same amount he reached two seasons ago with the Hurricanes. Staal is a solid top six player and 40 points are by no means terrible numbers, but he just hasn't been consistent enough to be worth a pick up in keeper pools. However he is riding a current hot streak and might be worth a shot in weekly pools.
Tobias Reider – Owned in 8% of Yahoo leagues
His Arizona teammates, Max Domi and Anthony Duclair, have received well-deserved attention this season, however Tobias Reider has also been an unnoticed star for the team. This is only his second season playing NHL hockey. In his first season with Arizona, Reider played 72 games and 21 points, and he has already surpassed that total this year with 26 points in 41 games. Reider is currently playing top six minutes and is also getting time on the power play. While players like Domi, Duclair and even Shane Doan who was mentioned in last week's roundup are likely all taken in leagues, Reider may still be available.
Brayden Schenn – Owned in 35% of Yahoo leagues
Brayden Schenn undresses Brodin to setup MDZ's first goal. https://t.co/NRR8KrKOmG

— Flyers Nation (@FlyersNation) January 8, 2016
Brayden Schenn has not let the recent trade of his brother to the L.A. Kings affect his play. Or at least that is how it looks. In his last five games, Schenn has a solid six points, putting him at 21 points in 38 games this year. Schenn is currently on pace for approximately 45 points, which is right around where his point totals have been over his last two seasons in the NHL. Schenn is a talented young player with a lot of potential and despite his teams struggles this season, they have won their last three games, scoring 12 over that span. Philadelphia has a lot of talented offensive players and it would be a good idea to pick up a top six forward from their team while they are hot.
Not Producing
Dustin Byfuglien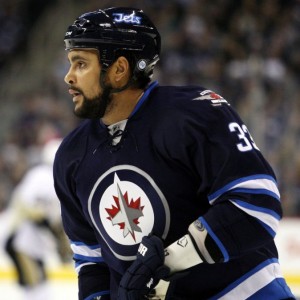 The Jets defenceman has been struggling of late, putting up only two assists over his last ten games. With 23 points in 42 games this season, Byfuglien is currently on pace for 45 points if he stays healthy for the rest of the season. This would be his worst season from a point per game perspective since his 2009 season with the Blackhawks. Byfuglien is still a fantasy stud because of his hits and all the PIMs he racks up, however his point production is down significantly this year.
John Tavares
Tavares has made an appearance earlier this season as a non-producer in the weekly fantasy roundup. At that point he had 23 points in 28 games and was on a cold streak. However this time around Tavares has only managed six points in eleven games since then, for a total of 29 points in 39 games this year. Tavares has built a reputation as being one of the best players in the league and has averaged nearly a point per game most seasons, if not more, over his career. He is extremely talented, and while 29 points at the halfway mark of the season for a pace of approximately 60 by the season's end is by no means bad, Tavares has made it clear he is an elite player and is far more capable than the numbers he is putting up.
David Backes
David Backes is an interesting fantasy player. He doesn't put up point per game numbers season after season, however he is still a coveted option because of his grit. Backes is a player who averages just above 50 points and gets tons of PIMs and hits. However this season, his point production has slowed. In 45 games for the Blues this season, Backes has only 24 points. He is on pace for around 44 points, which is a fairly notable decrease from his previous two seasons of 57 and 58 points. What is even more frustrating for fantasy owners however, is the fact that Backes PIM production is only at 39 right now, a pace that would suggest he will finish the season with 70 PIMs. That is a huge difference between the 100+ PIMs he has put up over the previous two seasons. On the bright side, the season is just at the halfway point and Backes still has plenty of time to turn his season around.
I am a recent Carleton Journalism graduate with experience working as a sports reporter for The Charlatan, Carleton's campus newspaper and as an editor for Journalists for Human Rights.