Weekly Fantasy Roundup
This is the fourteenth edition of weekly roundup. In this article we take a look at the last seven days of hockey in the NHL. The article will focus on players who have been putting up solid numbers and are likely still available in fantasy pools. We also look at the stars of the game who aren't getting on the score sheet for their team.
Putting up Points
Ryan Callahan – Owned in 28% of Yahoo leagues
600 games. One Ryan Callahan.

Take a closer look at @therealcally24's @NHL career thus far ⬇️ pic.twitter.com/bPiwE7GK9r

— Tampa Bay Lightning (@TBLightning) February 17, 2016
Captain Cally has been on fire lately for the Lightning. He has eight points in his last nine games. Callahan has only eight goals and 22 points on the year, but he also has three of those goals over his last four games. Callahan is seeing time on the first line with star forward Steven Stamkos, and is also playing on the first power play unit. He has never amassed more than 54 points in a season, and is on pace for a significantly lower 31 points. However his talented linemates and recent surge in production is certainly worth noting.
Jason Pominville – Owned in 21% of Yahoo leagues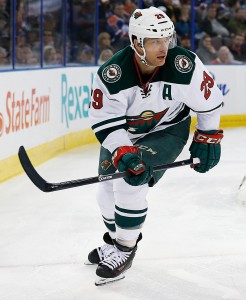 The speedy winger has made an appearance this season in the not producing section of the weekly roundup, however this time he is on the good side of things. With six points in his last three games, Pominville is looking like his old self. That puts him up to 27 points in 59 games on the year, putting him on pace for 38 points, significantly less than numbers he has put up in the past. The thirty three year old certainly has talent and has put up impressive numbers in the past, however his production looks to be slowing down. Minnesota is on a four game winning streak and Pominville has looked great over that span, he is a talented pick up if you need a winger in any format.
Richard Rakell – Owned in 15% of Yahoo leagues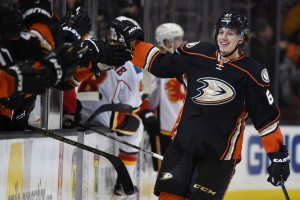 The Ducks started the season horribly, but have found their game and are looking very strong as of late. Along with the usual scorers such as Getzlaf and Perry, a new name has emerged in Anaheim that many may not be familiar with, and that name is Richard Rakell. He has nine points in his last 10 games and 33 points on the year, tied for third on the team with Ryan Kesler. The 22 year old is on pace for 46 points, the highest point totals of his short career. He has already passed his previous best of 31 points.
Not Producing
Nathan Mackinnon
The young Colorado Avalanche star has been cold lately, putting up only three points over his last ten games. He is also a minus five rating over that span. The talented playmaker still has a solid 44 points in 62 games and is on pace for around 57 points. That would be a step up from his disappointing 38 point campaign last season, however the twenty year old has shown flashes of brilliance and fantasy owners are likely expecting more out of him at this point.
Mike Hoffman
The Senators sniper has struggled to find the back of the net lately, scoring only two goals and four points over his last ten games. He is a minus five rating over that span. Hoffman still has managed a strong 24 goals over this season and is likely to hit 30. He is also likely to surpass his career best 48 points he put up last season. In short, Hoffman is not having a bad year by any means, he has just struggled lately for the inconsistent Senators.
Gustav Nyquist
Nyquist has had an unproductive season for the Red Wings. After scoring 28 goals and 27 goals in his last two years, Nyquist has only 14 this season and will be hard pressed to reach 20 by the end of the year, let alone closer to 30. He is also on pace for 44 points, which would be a step down from last year when he put up nearly 60 points. Owners should consider dropping Nyquist if there are strong wingers available, as he is not scoring like he can.
I am a recent Carleton Journalism graduate with experience working as a sports reporter for The Charlatan, Carleton's campus newspaper and as an editor for Journalists for Human Rights.