This is the third edition of weekly roundup. In this article we take a look at the last seven days of hockey in the NHL. The article will focus on players who might not be a franchise star, but have been lighting the lamp for their team. We also look at the stars of the game and which of them aren't getting on the game sheet.
The Point Getters
Drew Stafford – Owned in 31% of Yahoo leagues
Stafford has been very inconsistent this year. He started off the year hot, managing seven points in his first eight games. He then went ice cold, recording no points in his next 11 games. The Jets forward had no trouble finding the net last week, scoring two goals and two assists in three games. He had a particularly strong game against the Canucks where he had three points and was a plus three. Stafford played on the second line in that game alongside Mathieu Perrault and Mark Scheifele and it appears he will stay on that line for the time being. The upgrade in linemates along with time on the second power play unit will help Stafford. He may be a good buy low option in weekly pools, but is not worth picking up in keeper pools just yet. Keep an eye on his production as he heads into the week with 11 points in 22 games.
Ryan Getzlaf – Owned in 97% of Yahoo leagues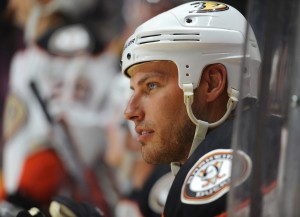 While Getzlaf may be a star player, his production this year has not been indicative of that. Heading into last week Getzlaf had only five points in thirteen games. Getzlaf may finally be back to his old ways as he finished the week with four points in four games giving him nine points on the year. Getzlaf and the Ducks have been struggling and will look to come out with some wins against fellow division rivals Arizona and Calgary. They then head onto a harder opponent in Chicago on Friday. Getzlaf is a star and is looking to be playing that way consistently for the first time this year.
Tomas Fleischmann – Owned in 14% of Yahoo leagues
RT @hometownhockey_: GOOOAALLLL! @CanadiensMTL take the lead thanks to a beauty goal by Fleischmann #NYIvsMTL pic.twitter.com/AH2FyKVMzA

— Sportsnet (@Sportsnet) November 23, 2015
Fleishchmann had four points in four games and a plus three rating last week for the Canadiens. He scored a shorthanded goal against the Islanders. Fleischmann has not scored on the penalty kill since 2012. He has 15 points in 22 games this year and is a plus eight. Fleischmann has showed flashes of being a great player, and is currently on pace for approximately 55 points.
Who is Struggling
Eric Staal
Staal had no points in three games last week and only has 12 points in 20 games this year. He is an unrestricted free agent in the offseason and his fate could be decided by the end of the month according to Sportsnet's Damien Cox. Staal expressed interest in staying with Carolina during an interview with the Hockey Central panel, however fellow teammate Cam Ward's contract situation is also something that the Hurricanes need to deal with. Staal could be headed to a team looking to make a playoff push later this year and if that happens his production should improve. As of right now however, Staal is not worth using in weekly pools when there are so many other productive forwards to choose from.
Andrew Ladd
Heading into last nights game Ladd had no points in four straight appearances. He managed one assist in the 4-1 loss and now has 13 points in 22 games this year. Ladd, who managed 62 points in 81 games last year is still a fantasy asset, with over 40 shots and hits so far this year and 15 penalty minutes. Ladd plays on the top line and top power play unit, so he should break out of this slump.
Alex Pietrangelo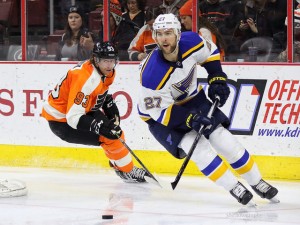 Pietrangelo has evolved over the years into one of the best defencemen currently in the game. Despite this, he has not scored a point in his last six games and has been a minus seven over that span. The Blues are one of the best teams in the league and the return of star forward Paul Stastny can only help Pietrangelo's offensive output. The two play on the power play together and Pietrangelo plays point on the first defensive unit. Pietranglo is capable of putting 50 points, but in order to do so this year, he needs to pick up his play in the offensive zone. Owners in keeper pools should not worry, however he is currently not a reliable option in weekly pools.
I am a recent Carleton Journalism graduate with experience working as a sports reporter for The Charlatan, Carleton's campus newspaper and as an editor for Journalists for Human Rights.