There were a number of big weeks in fantasy hockey last week from players across the NHL, including Chad Johnson, Ryan Kesler and Mike Hoffman. From hat tricks to shutouts, fantasy owners were biting at the bit to get some of these players on their roster.
But this week's fantasy stud comes from the Philadelphia Flyers and while he wears the 'C' for Philly, he may not be first on some fantasy depth charts. Regardless, Claude Giroux had a big week for the Flyers and fantasy owners last week and comes in as this week's top fantasy player.
Flying as a Team
In the midst of a six-game win streak, four of those Flyers' wins came during the past week for Philadelphia. Playing a large part in that was Giroux.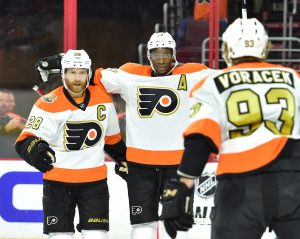 Over the week that saw the Flyers play four games (and win all of them), Philadelphia notched 13 goals and only gave up seven to their opponents. They played some relatively significant teams, including Boston, Ottawa, Nashville and Chicago.
With the four wins – and six in a row – the Flyers find themselves sitting in the first wildcard spot two points ahead of Washington and just one point out of the top three positions in the Metropolitan division.
Certainly it helps when you get players like Wayne Simmonds, Steve Mason and Giroux playing at the top of their game with the help of rookies like Travis Konecny.
That being said, here's a look at just how productive Giroux was over the past week.
The Week That Was
For Giroux, his four-game week couldn't have gone much better. He averaged a point per game scoring three goals and four points over that span – including a multi-goal game on December 1 in Ottawa helping the Flyers to a 3-2 win.
Heading into the week, Giroux had a respectable four goals and 19 points in 23 games this season. Now, he sits at seven goals and 25 points in 28 games.
His seven goals have him third on the Flyers list, while he sits first and second on the team's assists (18) and points (25) lists respectively. His 25 points also have him tied for 11th on the NHL's scoring list and he's tied for fifth in the league with his 18 assists.
After a slow start by Giroux's standards, the 28-year-old Philadelphia captain is trending up over the past two weeks. Even still, Giroux's ownership has dropped 0.1 percent going into this week and his place on active rosters has also dropped by just over two percent, according to Fantrax.com.
For those of you that track banger stats like hits and blocked shots, don't fear. Giroux still adds something to the table. While it's minimal, his three hits and five blocked shots still make him a valuable asset.
Giroux's Week: 4gp, 3g, 1a, 4pts, +5, 2pim, 14sog, 2ppp