This week there were a number of players who could've taken home the honours as the fantasy stud from the past seven days. In fact, it would've been easy to write something about the three stars of fantasy hockey this week. However, there was one player who stood out among the masses.
Ottawa's Craig Anderson was having a week to remember with a four-win week and one shutout to go along with it. Matthew Tkachuk helped lead the Calgary Flames to one of their best weeks of the season with his three points in four games. He also notched significant banger stats for those leagues that use them.
But the player that had the biggest impact for his team this past week is neither of those two. Rather, he's a player who not only returned from personal leave, but one that did it with a breakout effort. The fantasy star from the past week is New Jersey Devils' forward Mike Cammalleri.
Mike Cammalleri named second star of the week by the NHL. He was first in our fantasy leagues edging out Craig Anderson. Congrats Mike!!!

— Chris Wassel (@ChrisWasselDFS) November 28, 2016
The Return
After being away from the team to tend to his ailing daughter, Cammalleri returned to the Devils lineup on November 23 in time to take on the Toronto Maple Leafs. Prior to that game, the Toronto native missed six games in which the team posted a 3-3 record without him.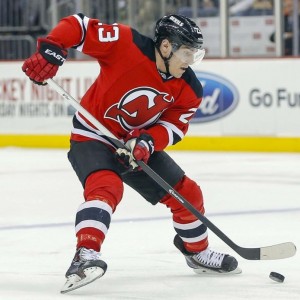 On top of that, before his extended absence, Cammalleri was off to a sour start to the season with just three goals and three assists in 12 games. But it didn't take the 34-year-old long after his return to get back on the score sheet – and he did it more than once in his first game back.
Cammalleri scored a goal and added three assists on nine shots in his team's 5-4 win over his hometown team. He added a plus-two rating and saw just over 23 minutes of ice time in his return – including nearly three minutes on the power play.
The Week That Was
But his week of success doesn't stop there (obviously). After his four-point effort against Toronto, Cammalleri added a goal and an assist two days later against Detroit in a 5-4 loss for New Jersey and followed that up with another two-goal performance in Pittsburgh the following night.
Overall, he double his season total in points in just two games this week and showed that age hasn't kicked in just yet for him. Clearly he can still be a productive fantasy option in deeper leagues and while his statistical value in the hits and blocked shots columns aren't great, he does add some special teams points for leagues accumulating those stats.
His 14 points this season (7g-7a) have him ranked 20th among left wingers in scoring. He makes for a good third or fourth winger at his position for fantasy owners struggling to fill that hole.
According to Fantrax.com, ownership on Cammalleri has spiked by over 19% with almost 35% more owners having him on their active roster for the week to come.
Cammalleri's Week: 3gp, 4g, 4a, 8pts, +2, 2pim, 17sog, 3ppp