The Toronto Maple Leafs are currently flying high. They soundly defeated the Washington Capitals this past Saturday night and will now head out on a western road trip where they will visit the Edmonton Oilers, Calgary Flames and Vancouver Canucks.
The Canucks game should be one to watch based on what happened the last time these two teams crossed paths. Matt Martin, the former New York Islander, incurred the wrath of the entire Canucks roster by going after rookie defender Troy Stecher. That brought about a melee of players that even featured Canucks goaltender Ryan Miller leaping into the fray.
Besides the coming road trip, the Maple Leafs also have a plethora of interesting news surrounding the franchise.
Matthews Breaks Scoring Slump
Here's the thing that people need to understand. When Auston Matthews was in a scoring slump, he was still one of the best forwards on the team. He continued to do all the little things right, which he knew would eventually add up to him scoring some goals.
Auston Matthews makes it 3-0 Leafs against Washington. #TMLtalk pic.twitter.com/Ug08AUc2QU

— Toronto Maple Leafs (@MapleLeafs) November 27, 2016
He was generating chances and trying to set up linemates, and many people lost count of how many crossbars and posts he hit. He was able to bust out of his slump by scoring a pair of goals against the New Jersey Devils this past Wednesday night. He followed that up with a goal off a rebound against the Capitals to give him four points in his last two games.
Matthews now shares the Leafs' goal lead with Nazem Kadri and James van Riemsdyk. All three players have nine. Matthews is also one point behind both of those Leafs teammates, Mitch Marner and the Jets Patrick Laine, for first in NHL rookie scoring.
Magic Mitch Continues to Impress
Mitch Marner was facing questions in training camp with regards to if he was big enough, strong enough or tough enough to survive in the NHL today. Those doubts can now be rightly put to rest.
Marner has been arguably the most impressive Maple Leafs player so far this 2016-17 season. He has shown flashes of the high-octane scoring threat that he can become in the future. In addition, Marner has shown his tenacious side; whether it's keeping a play alive or stripping a member of the opposing team, the former London Knight has done it all.
He's also had an incredibly impressive month of November, scoring 12 of his 18 points in the second month of the season. Those 18 also tie him with van Riemsdyk for first in Leafs scoring and with Laine for first in overall NHL rookie points. It's a great start to his career and Marner has certainly made many fans extremely happy.
Garret Sparks Suspended
In an incredibly odd incident, the Toronto Maple Leafs have suspended Marlies goaltender Garret Sparks indefinitely. The reason for the suspension is that Sparks violated team policy in regards to a social media post.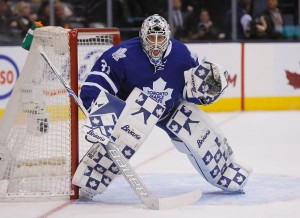 Members of a Facebook group were insulting a person with a disability. Sparks took offense to the nasty comments being said and responded to one member, "I want to go to open hockey with you, drag you out to center ice and beat you into a (expletive) pulp until you can't run that (expletive) little mouth of yours. God, you sound like a 13-year-old girl."
Every action has a reaction. The netminder's heart was in the right place, but the way he went about defending this person was wrong. It's a tough lesson to learn, but as a professional athlete, he needs to be aware of how he handles himself on social media.