There are 12 games on the NHL schedule on Tuesday and some interesting matchups to boot. I'm keeping my eye on a few games in particular. First, two very young and exciting teams will square off as the Edmonton Oilers take on the Toronto Maple Leafs. Next, in a mismatch on paper, the Ottawa Senators host the Buffalo Sabres. After that, the rest of the contests appear to be some fairly evenly matched teams trying to gain ground in their respective divisions.
Yesterday's Games
There were only two games on the schedule yesterday and the night was owned by the Dallas Stars, specifically Jamie Benn, who had a goal and two assists. He added five shots on net and a power play marker to do extremely well for fantasy owners. Tuesday should be a much more lively scoreboard with some players earning some big fantasy points.
Tonight's Games
Carolina Hurricanes at New York Rangers
Tampa Bay Lightning at Columbus Blue Jackets
Boston Bruins at Philadelphia Flyers
Buffalo Sabres at Ottawa Senators
Dallas Stars at Detroit Red Wings
New Jersey Devils at Winnipeg Jets
Florida Panthers at Chicago Blackhawks
Nashville Predators at Colorado Avalanche
Toronto Maple Leafs at Edmonton Oilers
Arizona Coyotes at San Jose Sharks
Minnesota Wild at Vancouver Canucks
Montreal Canadiens at Anaheim Ducks
Centers
Connor McDavid ($8700)
He's pricey, but how can you not pick Connor McDavid who is red hot with 10 points in his last five games. The Oilers have not put on a strong display in their last two games, but McDavid has been fantastic. He was literally 0.000001 seconds away from another goal in overtime on Friday (I was at that game and it may have been closer than that). He's got 29 shots in his last ten and he leads the NHL in scoring.
Forwards
Milan Lucic ($5800)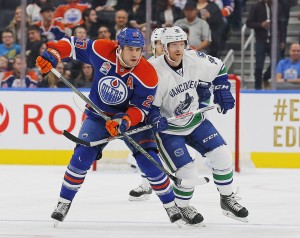 If you believe what I believe, which is McDavid will continue to produce for fantasy owners, then Lucic isn't a bad insurance policy. Lucic has been much more productive lately after returning to the top line. He has two goals and four assists on a four-game point streak. He's got 16 points in 23 games, so overall, there has been some consistency issues with his play, but the Toronto Maple Leafs rank 28th in goals-against per game (3.19), and Lucic shouldn't have trouble using his size (6-foot-3, 233 pounds) against their younger forwards.
Patrik Laine ($7000)
The question if you are considering Laine, is how long can a goal scorer go without scoring? Laine is in the midst of a six-game goal drought, but the Devils have allowed at least four goals in four of their past five games. While he's gone through somewhat of a slump, Laine should be able to snap out of his mini funk and get back on track. He has scored 10 of his 12 goals this season at home and the Jets are looking to win two in a row.
Defense
Oliver Ekman-Larsson ($5400)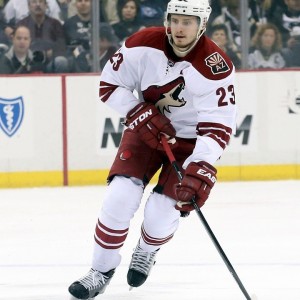 Ekman-Larsson has had two strong showings against the Oilers in the past two games. He didn't completely shut McDavid down, but he was effective against him, stopping him from going on an offensive tear. He added assists in the past two games and he's looking to back to his typical, productive self. His 10 points in 20 games is somewhat of a disappointment for the star defender, so fantasy owners should look at him as a possible player ready to break out.
Victor Hedman ($5700)
Hedman has had four very strong games in a row with points in each contest. He's now got 17 points in 23 games. Hedman continues to tip the scales across all categories and his 17 points, 42 shots and 35 blocked shots this season make him a very safe and reliable play for fantasy owners.
Goaltender
Corey Crawford ($8100)
I like the Chicago matchup against Florida. As NHL.com wrote in their fantasy profile:
Florida is reeling after a tough 3-2 loss at the hands of the Carolina Hurricanes on Sunday and the subsequent firing of coach Gerard Gallant. The Panthers have scored two or fewer goals in five of their past six games, and Crawford has allowed two or fewer in three of four. Chicago is 9-2-1 in its past 12 games against Florida, and Crawford is 5-1-0 with a 1.58 goals-against average and .935 save percentage against the Panthers in his career.
Currently, Crawford is 10-6-2 with a .924 save percentage and a 2.31 goals against average. Crawford is also rested having gotten Saturday's game off. He'd much rather be playing and fantasy owners will not find many better options in net, especially against the offensively challenged Panthers.