The NHL trade deadline is just five weeks away, and while some speculate the salary cap era has put a stop to in season trades, last year's record breaking twenty-four deals will surely attest otherwise.
And just like last year, the Toronto Maple Leafs will be sellers.  And just like last year, there are some burning questions that will surely be answered within the next month and a bit.
Last year Mats Sundin, Bryan McCabe, Darcy Tucker, Pavel Kubina, and Tomas Kaberle (or the Muskoka Five as they were unaffectionately referred as) put the brakes on any rebuilding plans the Leafs and then GM Cliff Fletcher had.
Another year.  Another GM.  A different cast of players for the most part.  Still some of the same questions.
And while Kaberle and Kubina are the biggest names the Leafs are looking to move, all discussion as to the moves the Leafs may make at the trade deadline begins with a certain Nik Antropov.
A hulking Centre, Antropov will draw attention from plenty of teams looking to add a strong, skilled power forward type.
At 6'6" and 230 lbs, Antropov would be a solid addition to any team looking for size down the middle, or looking to establish a net presence either on the powerplay, or during five-on-five play.
An impending free agent and lack of a no trade clause will make Antropov the most likely to be dealt heading into the deadline.
Of course, anything can happen in the next five weeks.
In the days leading to the Christmas break, Leafs GM Brian Burke was not thrilled with the offers he was receiving from other GM's.  Burke went on to call the trade proposals "garbage" and said he wouldn't give away his players.
Of course there are plenty of questions marks for the Leafs as they head into deadline day.  Not the least of which are Alexei Ponikarovsky and Jason Blake.
There is no doubt Burke would like to move Ponikarovsky.  A winger with size and skill, the other half of the twin towers doesn't use his size nearly enough, and hasn't shown the ability to be a consistent scorer at the NHL level.
At this point it isn't a question of whether or not the Leafs would like to move him, it becomes whether or not there is anyone willing to trade for him.  Though it is hard to gauge what sort of return a player like Ponikarovsky would bring in return, one shouldn't expect more than a mid to late round draft pick or a project prospect.
Blake is another intriguing option.
An aging winger signed to a bloated contract, Blake has shown signs of life this season, no doubt bumping his trade value up a notch.
While there are some who feel Blake's strong play as of late is reason to keep him on the team, there is no doubt this may be the best chance to get rid of him in return for a late round draft pick, simply to get him off the salary cap.
Getting back to Kaberle and Kubina.  The Maple Leafs will try, for the second straight deadline day, to deal their two Czech-born defenders.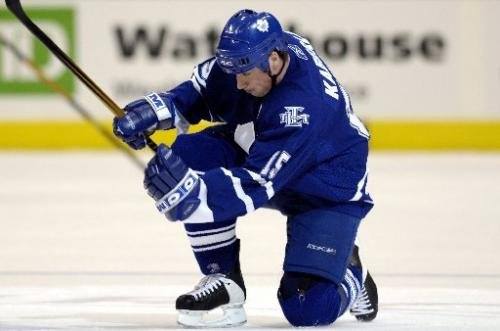 Kaberle denied any deal outright last year, while Kubina went down to the final hour before deciding he didn't want to leave Toronto.
And while there is still lots of time to go before the deadline day of March 4th, Burke is already applying a certain amount of pressure in an attempt to gain leverage of the situation.
Burke has said publicly he won't ask players with a No Trade Clause to waive them.  On the surface this seems like a nice thing to do, a kind gesture from a player's GM.
However, looking deeper into the context and it's clear.  What Burke has done is put the ball in the players' courts, in hopes they will come to him willing to waive.
Both Kaberle and Kubina, solid two-way defenseman, have caveats in their contract that make their no trade clauses null and void from the entry draft in June until the middle of August, should the Maple Leafs not make the playoffs.
By Burke saying he won't ask the players to waive, it is his kind way of saying 'either you come to me saying you'll go, and have a say in what team it is, or I trade you this summer when you have no control over it.'
There is every reason to believe that either at this year's trade deadline, or in the summer, both Kaberle and Kubina will be shipped out of Toronto, in order to gain valuable return of prospects and draft picks that will surely help the Maple Leafs rebuild move forward.
Although many feel it's in the best interest of the Leafs to try and move the two during the deadline frenzy, when players return is usually inflated by the simple logic of supply and demand.
And while last year's trade deadline was hyped as perhaps the most important in the history of the Leafs, it is arguable that this year's will truly set the tone for the rebuild, as there are less obstacles standing in the way of Brian Burke and his team, who are looking to shape this franchise.
Derek Harmsworth is a freelance writer who covers the Toronto Maple Leafs.  He has written articles for CBS Sportsline.com, as well as Bleacher Report.com and the Toronto-area sports magazine, TOSports.