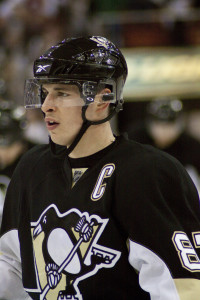 For the first time since January 5, 2011, hockey fans will once again be able to watch the best hockey player in the world as Sidney Crosby returns to action tonight.
At this time a year ago, I'm sure we were all guilty of taking the ability to watch a player like Crosby in his prime for granted. Having had the oppurtunity to watch his brilliance stripped from us for the last eight or so months of hockey; hopefully now we can all appreciate when #87 steps on the ice tonight when the Pittsburgh Penguins take on the New York Islanders.
Although the NHL as expected has carried on without much of a problem since Crosby was sidelined with a concussion last January, there was always something missing in the back of your mind. Yes, the other stars of the league continued to shine and there were even new ones who were created, but the star that shines the brightest was not present and it caused a hole in the figurative galaxy of the National Hockey League.
At the time of his injury Crosby was on a roll that put him as the far and away best player in the world. One game prior to the Winter Classic against Washington, the Pittsburgh captain had a 25-game point streak snapped in a 2-1 overtime loss to the Islanders; the same team he will face in his return tonight. The awe-inspiring streak had him running away with both the goal and point scoring leads with a remarkable 32 goals and 66 points in only 41 games. His dominance over the league was something that hadn't been seen since the days of Wayne and Mario and it appeared that he had finally earned his place in their company for good.
And then like that, it was gone. In what should have been one of the most memorable individual performances in recent memory instead came to an abrupt end on January 5, 2011 in a 8-1 Pittsburgh win over the Tampa Bay Lightning. Three days after he was leveled by an unexpected collision with David Steckel of the Washington Capitals, Sidney Crosby's season came to an end for good after being hit in the head by Lightning defenseman Victor Hedman.
Since then Crosby's head injury and concussion symptoms have been one of if not the most talked about story in hockey. The documentation of his progress and the speculation of his return rarely saw a day off with information and updates on his status coming in on a day-to-day basis. Questions regarding his future were discussed at length with some reports even going as far as indicating that he might never play again. Thankfully that never seemed to be a reality and the only real question was when he would return.
Finally that question has been answered. On November 21st, 2011, Sidney Crosby will play in a hockey game for the first time in nearly 10 months. No matter where your allegiances lie, which team or players you cheer for and against; as a fan of hockey you should relish in the oppurtunity to once again be able to watch the greatest hockey player in the world today.
Welcome back Sidney, we've missed you.