The Toronto Maple Leafs are almost done with the 2015-16 NHL season. With that, decisions are going to be made in the off-season to help with the rebuild. Yesterday, I talked about the Leafs goaltending. Today, the Leafs' defense takes the spotlight.
Listed as with the team on their website are TJ Brennan, Andrew Campbell, Frank Corrado, Jake Gardiner, Matt Hunwick, Viktor Loov, Martin Marincin, Morgan Rielly and Stephane Robidas. On top of those players, you have prospects like Connor Carrick, Scott Harrington, Stuart Percy and Rinat Valiev who have all spent time with the Leafs this season.
Who Sticks Around?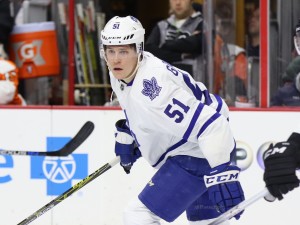 Let's take a look at the contract situations for them. The only regular defenseman signed past the 2016-17 season is Jake Gardiner, who is under contract through the 2018-19 season (Valiev is signed through 2017-18). The other three that are signed past this season are Hunwick, Loov and Campbell. Technically, Robidas also has a year left on his deal but he has effectively been shut down and will not see the ice as a member of the Leafs ever again.
Everyone else is set to become restricted free agents on July 1. Of course, the biggest and most important name to get re-signed is Rielly. A deal will obviously get done. The only question is whether it will be a long- or short-term deal. Now that Dion Phaneuf is gone, next season will be the first full season as the Leafs' undisputed No. 1 defenseman. It will be interesting to see how another season of development will take him.
Who's Coming Next?
There are questions that definitely need to be answered. The Leafs prospects have more than a few prospects that seem to be ready to make the jump to the NHL full-time. Loov and Percy have waited patiently with the Marlies for a few seasons now. Harrington didn't look out of place after making the team out of training camp before being sent down. Carrick looked pretty good after being acquired from the Washington Capitals. He too was sent down. Valiev was a surprise call-up, but is probably still a full season away from making the team.
That's five defensemen that should be making the jump in the near future. That's not even counting recent draft picks like Travis Dermott and Stephen Desrocher. So who's going to move out?
Well, it's a fair bet that Hunwick could be traded at next year's trade deadline. If not, he could be let go as a free agent next summer. Robidas' contract is over after next season. That's two guys that could easily be let go without much thought.
What about others. Everyone else seems that they could be around for a while themselves. Corrado has looked good since he was finally freed from the press box. Marincin is starting to come to his out of his shell and could be the Leafs' shutdown defender in the future.
The problem is that the Leafs don't have any veterans to guide these youngsters. Other than Hunwick, Gardiner is the oldest regular defenseman on the Leafs roster and he is only 25. Sure, the Leafs could go get a veteran d-man in free agency but that brings up the space the Leafs have on their defense.
If their is one word that will describe the Leafs defense this off-season, it's choice. Will the Leafs choose to go with a younger defense as they have this season, or will they look to bring in veterans to help bring along the kids?
Toronto Maple Leafs Writer At The Hockey Writers.