Follow Lukas on Twitter @LukasHardonk for more Maple Leafs coverage.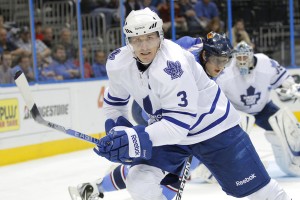 Last season gave every Toronto Maple Leafs fan reason to believe.
Contributions from every player on the team, including those who found themselves skating on the fourth line for much of the year, made for an exciting stretch run that saw the Maple Leafs come as close as three points to the eighth and final playoff spot.
While many would argue that rookie goalie James Reimer, who posted a .921 save percentage and 2.60 goals against average in 37 games, was the one that carried the team beginning with his first start on January 1, some of the biggest contributions came from other minor league call ups.
Joey Crabb and Darryl Boyce both chipped in to help the Leafs. They may not have put up very many points or scored very many goals, but they did try to earn their spot on the team. That paid dividends for the Leafs, who needed guys like that after a poor first half of the season.
However, with Colton Orr ready to play and Nazem Kadri and Matt Frattin set to battle in training camp, it's not very likely that Crabb and Boyce will be back in the lineup full-time again this season.
So, who is going to fill their shoes?
As mentioned, Colton Orr is ready to return. He isn't exactly the most offensively talented guy on the roster, but he isn't afraid to stand up for his team, as shown by the 128 penalty minutes he collected in just 46 games last season.
We also saw that Mike Brown can provide energy. His speedy, give-it-all-you-got style of play had many Leafs fans begging for more.
Orr and Brown could end up being the players that provide the same energy that Boyce and Crabb did last season.
Of course though, on-ice drive was not supplied by just those two.
Phil Kessel had another 30+ goal season, while Clarke MacArthur, Mikhail Grabovski and Nikolai Kulemin all set career highs. All four gave it everything they had, but fans should still expect a bit more out of them this season.
Why? Because of an improved roster.
Tim Connolly is just one reason to believe that the Leafs will be able to put more pucks in the back of the net. That is, of course, if he can remain healthy.
The 30-year-old is a former 65-point scorer who still knows how to feed the puck to some of the game's top snipers in high-scoring areas. You can anticipate him to reach the 60-65 point mark once again if he plays in at least 75 games.
But by all means, you cannot just depend on the forwards to get the job done.
Dion Phaneuf anchored a defence group that struggled at times last season, but one that also showed that it has great potential to shut down some of the league's best offensive teams on any given night.
The 26-year-old played below par for much of last season, but stepped up to be the team's clear-cut leader down the stretch. Not once was this more obvious than after the trade that saw Tomas Kaberle get shipped to Boston.
In 24 games after Kaberle was traded to the Bruins, Phaneuf scored six goals and 15 points. That's 75 percent of the goals and 50 percent of the points that he scored during the entire season.
Phaneuf wasn't the only one that stepped up, though; his defence partner Keith Aulie showed that one day he will be a top-four defenceman in the NHL.
Aulie went minus-1 and had 32 penalty minutes in 40 games last season, which isn't too bad for a rookie defencemen on the league's ninth worst team.
Sophomore Carl Gunnarsson also played relatively well. While he did cough the puck up on a few occasions, the 24-year-old became one of the Leafs' top defencemen.
Perhaps what pleased Leafs fans the most, however, was the development of Luke Schenn, who showed that he really can be a force on the back-end. He continues to become more disciplined, mainly because he has learned how to keep up with the speed of the NHL.
He also set a career-high in points and was right up there with the league leaders in hits one again last season.
And now with the additions of John Michael Liles and Cody Franson, the Leafs are more talented on defence and will likely only get better.
So what can you expect from the Leafs this season?
A speedy team that can score goals, fight and grind it out, but also one that is strong on the back-end and has solid goaltending.
What does all of this point to?
A strong run at the playoffs.
Twitter: @LukasHardonk | Email: lukas.hardonk@gmail.com | Lukas' archive
For every Leafs article on THW, follow @THW_MapleLeafs on Twitter.