Initially drafted in 2006, Patrik Berglund showed the promise of a strong NHL career. As part of the "kid line" with then-Blue David Perron and Olympic star T.J. Oshie, Berglund potted 21 goals to go with 26 assists. For many, this line — and Berglund in particular — was viewed as the nucleus for a new generation of Blues fan favorites. Berglund has averaged about 20 goals per season, which sounds reasonable for a perennial third-liner. The problem is, he's never done anything but that, and many fans are becoming impatient with his apparent passivity and lack of energy.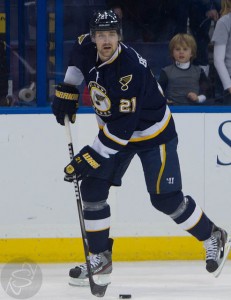 Blues Fans Know What Berglund Can Do
Some fans and those close to the team insist that it's the assignments Berglund draws — playing on the third or fourth lines, and away from players that can help him thrive. To those individuals, this explains why his numbers hit a certain level and never once threatened to go past it. Many on the other side of the fence wonder if it's due to something else that forces Blues coaching to stuff Berglund into those assignments to begin with. Sure, when the Blues top six is staffed with the likes of Vladimir Tarasenko, Jaden Schwartz and David Backes, it's easy to find yourself in the bottom three or six on any given night. But the frustration seems to revolve around the fact that Berglund's performances in international play — along with his breakout rookie campaign — points to a lack of confidence or general laziness at the NHL level. He obviously has enormous skill and is big and strong enough, so is Berglund satisfied with his role? What is it that makes Patrick Berglund such an enigma, and why do fans continually list him first in most trade conversations?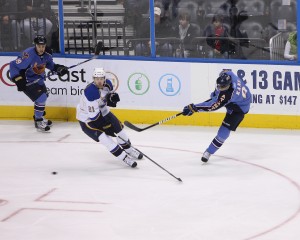 Blues Management Has Tried
Blues coaches and management has done everything from naming him directly as the primary asset in a trade, to assigning his nebulous value in a new contract so other GMs understand his cap hit/worth, to finally putting him on the top line recently to see if his surroundings mattered. The problem is, he's simply too good in his role to get traded. It's hard to find a useful 20-goal scorer in the League as affordable as Berglund's roughly $3M salary. It's therefore unlikely that his "potential" would net the Blues something greater than what he already provides — a big body that annually pots around 20 goals. He's the manchild that mom won't kick out of the basement, because he has a great sense of humor, cuts the grass well and occasionally cooks dinner. He's the salesman that never makes over $40k a year, but his co-workers love him too much for him to get fired. Berglund's value is clearly greater to the team than what the average outsider fan sees, whether than manifests in intangibles on the ice in drawing away attention, or being a positive in the locker room. He's the offensive counterpart, in other words, to Barrett Jackman. As the March 2nd NHL trade deadline comes and goes, we should not be shocked to see Patrik Berglund still in a Blues jersey, because he's found himself a perfect niche on a team that apparently needs him to do precisely what he does — much to the consternation of Blues fans everywhere.