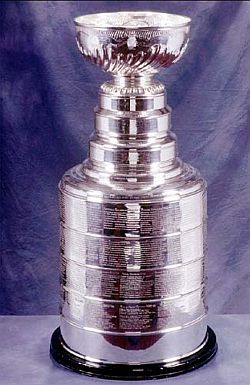 Our "Revisionist History" series continues with the another change of fate question. What if the Calgary Flames had won the 2004 Stanley Cup? The talk amongst  Calgary fans via Twitter was too much to pass up. There is that goal that was not called and according to others the call was the correct one. It literally was a powder keg knowing that the CBA would be up and what no one knew was the loss of a year and "cost certainty". Obviously, the playoff run for the Tampa Bay Lightning was full of peaks and valleys. Considering they were almost eliminated, the sting Calgary fans still feel is understandable. There was a Game 6 ripe for Calgary's taking that fell just short. Tampa ultimately would win in Game 7 thanks to two goals from Ruslan Fedotenko.
Canada was in a pretty long drought of over a decade without seeing one of their teams raise the silver holy grail. The Montreal Canadiens and Patrick Roy were the last to taste that glory in 1993 so Calgary was trying to win it for the "Great White North". They were so close as "The Red Mile" was fired up waiting for a Stanley Cup celebration.
Just think of what it had to be like for a moment. Calgary was on the verge of winning the 2004 Stanley Cup, up three games to two and playing on their ice for that most treasured prize. Then that alleged goal happened or did not happen, depending on your point of view. If the Martin Gelinas goal had counted and Calgary went on to win the prize, where would hockey be now?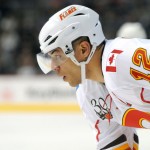 There are some that probably would even suggest the season long lockout never would have been. First off, Jarome Iginla would have been your Conn Smythe winner and not Brad Richards. Gelinas would have been a hero for life all throughout Alberta and maybe Canada. Also, the party thrown probably easily trumps any party Tampa threw. The "Sea Of Red" was a mile long and those fans were ready to celebrate well into the night and the year. Iginla is a 500 plus goal scorer and needless to say a Stanley Cup would have been the icing on his career and a cherished memory forever.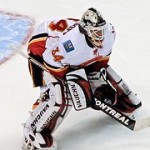 Canada would have found a way to honor the Calgary Flames. First though, Iginla would have been given the "keys to the city". Think about a guy like Miikka Kiprusoff, who would have been literally a champion in just his first (not even full year) run as a starter. He played 38 games that season and then 26 in the second season. Later the goalie would be nominated for the Vezina Trophy. It was a magical season that would have vaulted Kiprusoff into national and international relevance. Now it is not like that didn't happen but a ring is the thing as they say.
The Flames organization really was haunted by coming this close and not winning this one. Darryl Sutter took this one hard, maybe too hard. If the Flames had won, Sutter pretty well could have painted the town red for life. He was the "General Manager" and "Head Coach" simultaneously. Winning the most cherished trophy in sports would have been his first and a feat rarely accomplished. Sutter would have been able to do anything he wanted in Calgary. Yes his ultimate triumph would come with the Los Angeles Kings but Calgary could have been beyond great. Their appreciation of Sutter would not be on the level of Lanny McDonald but from a founder standpoint, maybe the Flames would have erected a bust or statue anyway.
If only that goal was allowed is a mantra I hear from almost every Calgary fan. The reality is if Calgary scores a goal anytime in that third period or overtime, NHL history would have undoubtedly been changed. The celebrations and fan reverence would be a hundred times what you saw in Los Angeles. You can bet the farm on that one ladies and gentlemen. The final question we do ask is was the Gelinas shot a goal or not?
Next time on "Revisionist History", we take a look at what would have if Slava Fetisov did not defect to North America or will it be something else. Look for a poll to go up via Twitter and make your choice known. Thanks again for reading.