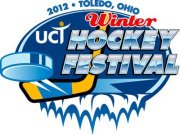 Within the last few weeks the hockey world has had a few out games including the NHL's Winter Classic and having Ohio State University and the University of Michigan playing outdoors; but the outdoor hockey season is not over yet.
The American Special Hockey Association (ASHA) has teamed up with United Commercial Travelers of America (UCT) to bring special hockey outdoors.
ASHA it is a non profit that oversees programs across the country that gives people with physical and developmental disabilities the chance to play ice hockey in an environment that has been adapted to their level of ability. The program helps develop characteristics like dependability, self-reliance, concentration, teamwork, and other life skills to be more successful on and off the ice.
"Some athletes grow up with circumstances that are different from the average hockey player, but that doesn't diminish their love of the game. Special hockey gives them a chance to play and enjoy this frozen pastime – and to feel part of something bigger than themselves," Tony Szymczak the Community Outreach Manager for UCT in Columbus, Ohio, "The UCT Winter Hockey Festival is designed to support this effort by providing special athletes with a unique opportunity to play hockey outdoors."
The UCT Winter Hockey Festival will take place on February 11 and 12 at the Ottawa Park Ice Rink in Toledo, Ohio. The festival is free to the public and games will take place between 9 a.m. and 9 p.m. on Saturday and run from 9 a.m. until noon on Sunday.
Teams from Michigan, Ohio, Pennsylvania, Missouri, and the District of Columbia will be taking part in the festival.
Rink Address:
2200 Bancroft at Ottawa Parkway
Toledo, Ohio
Like ASHA on Face book
Follow ASHA on Twitter @Special Hockey
An avid hockey lover that grew up in Michigan and lived in the Washington D.C. area while going school for Sports Management. Volunteer with the American Special Hockey Association (ASHA); and follows as much SM-liiga and Elitserien as possible along with the vast array of North American leagues.