On April 11, 2016 Michel Therrien, Marc Bergevin and Geoff Molson sat in unity at the year end press conference for the Montreal Canadiens. They discussed the disappointment of the 2015-16 season, preached stability going into next season and outlined a plan for improvement in the offseason.
As that press conference came and went, the fans, media and organization have now closed the book on what was a record season of ups and downs. But one question still remains, what is the biggest concern for the Montreal Canadiens and how can they fix it?
You can point to an injury hampered season for Carey Price and the concern with his ability to stay healthy, or concern over the lack of defensive depth as Andrei Markov isn't getting any younger and Jarred Tinordi flamed out and was traded.
However, there is one concern above all that jumps off the page: The lack of top six scoring.
Top Six Review
Let's look at it this way, the St. Louis Blues who just beat out the Chicago Blackhawks, did it with a complete team effort sure but look at the top six they have compiled. It consists of: Tarasenko, Brouwer, Schwartz, Lehtera, Stastny and Steen. As we stand today, the top six the Canadiens could ice would consist of: Pacioretty, Galchenyuk, Gallagher, Pleckanec, Andrighetto and Eller.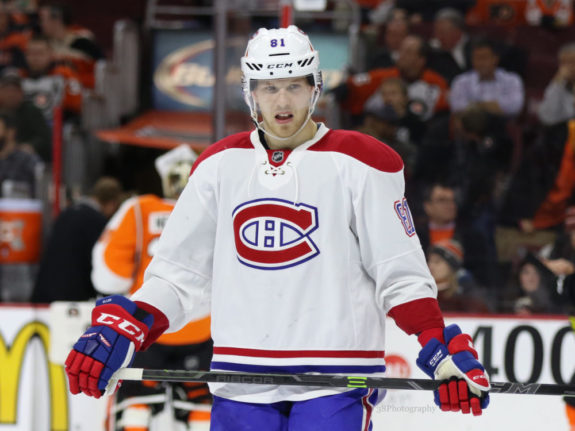 Those two top sixes can't be compared.
However, the Canadiens do have three solid top six forwards in Brenden Gallagher, Max Pacioretty and Alex Galchenyuk. Once we look past those three, the rest are bottom six forwards. Tomas Pleckanec can't score outside of October and is a ghost when it comes to the playoffs. Not to mention his cap hit of six million dollars next season (CapFriendly) which disables the Canadiens with regards to available funds. Lars Eller can be on any team in this league at third line center, not second line wing. Sven Andrighetto is promising but needs some more time to develop, not to mention the lack of size he brings to the table.
According to Yahoo! Sports, the Canadiens rank fifteenth in the NHL when it comes to goals with 216, behind the likes of Calgary (229) and Ottawa (230) respectively.
Shockingly, Marc Bergevin doesn't seem to declare this an issue. It's about time the Montreal Canadiens made a bold statement with regards to their top six. Bergevin has preached draft and preached growing from within the organization. Coming from Chicago when they drafted Patrick Kane and Jonathan Toews in the top five of the draft to Montreal where on average you are drafting in the late teens early twenties, you can't expect to get that elite talent level at those slots. Not to mention the Candiens currently don't have anyone that is of elite talent level currently in their system.
As an NHL general manager you are responsible to know your team, your areas of need and how to act on them. Bergevin hasn't shown any signs that he knows the true issues of the Canadiens.
How Can Bergevin Fix The Problem?
Marc Bergevin, on countless occasions has told the media and fans that they way he improves the Canadiens usually isn't the most popular. He declines to spend in free agency and claims in order to get something of value, you must give up something of value, which he doesn't want to do. How's that working out? Not good. It's time to change that mentality.
Now, the 2016 offseason posses a unique opportunity for Montreal to solve their biggest issue in a popular way. A former first overall pick, one of the most dynamic players in the league Steven Stamkos is a free agent. It's not every offseason that your division rival could possibly let go of the face of the franchise in his prime. Stamkos would bring to Montreal what the Canadiens have coveted for years, a big, scoring, number one center. To have Stamkos and Galchenyuk as a one-two punch for the Habs would instantly push them into contention.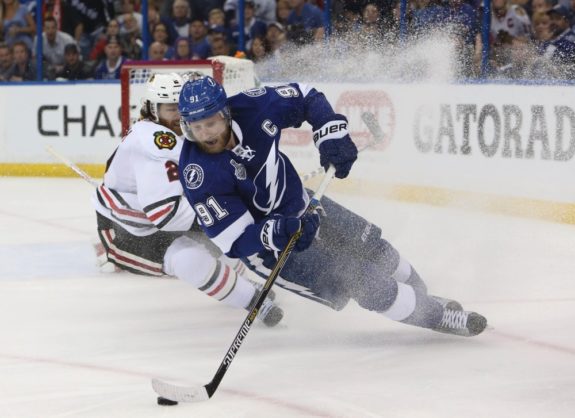 Furthermore, the chance to pair Steven Stamkos with childhood friend P.K. Subban and Hart Trophy winner Carey Price should already have Marc Bergevin outlining the way he wants to approach negotiations to secure that three-headed monster.
If the Montreal Canadiens are indeed going to take that next step, they have to resolve their current biggest concern.
Carey Price can't score you goals, so give this team someone who can.
Nick Guido is a Montreal Canadiens Contributor for The Hockey Writers. You can Follow him on Twitter @nickguidoTHW for his articles, opinions and general Habs talk.