It was December 12th when Pittsburgh decided to go a different direction by firing head coach Mike Johnston and replacing him with assistant Mike Sullivan. It was a move general manager Jim Rutherford had to make. The Penguins were sitting 15-10-3 and looked like they could miss the playoffs. Sidney Crosby only had six goals and 19 points and a shocking 46.5-percent puck possession while his team's shot attempt for percentage wasn't that much better at 48.3-percent.
Since then, Sullivan and Rutherford have rebuilt what previously looked like a decaying franchise into the favorites to win the Stanley Cup. Pittsburgh has now garnered that reputation thanks to their 33-16-5 record since the coaching change, a slew of midseason acquisitions and a system change that has made them the best puck possession team still alive in the postseason.
As for the Washington Capitals, they too have experienced fantastic results under their head coach Barry Trotz. While none of their analytical data has shown that they are an elite team, the Capitals have seen each individual improve dramatically over the last year and a half and it has resulted into a deeper team than in any other time in team history.
Braden Holtby and Alex Ovechkin are contenders for the Hart Trophy while Evgeny Kuznetsov has become one of the best young players in the world. Justin Williams and T.J. Oshie have been perfect replacements for Joel Ward and Troy Brouwer and the additions of Mike Richards and Daniel Winnik midseason has made their penalty kill one of the best in recent team history and one of the best in the league since March 1st.
All the talk will be on Alex Ovechkin facing Crosby for the first time in a playoff series for the first time since 2009, but there are plenty more story lines that will decide who will advance to the Conference Finals.
How did we get here?
http://gty.im/524061786
For one, Pittsburgh is currently without Marc Andre Fleury while recovering from a concussion and has had to rely on Jeff Zatkoff and Matt Murray to carry them past the New York Rangers in the first round. Unfortunately from the Capitals point of view, Murray was able to close out the series by saving 95.5-percent of the shots he faced in the last three games. To go along with that, the four goals Murray gave up were well short of the 8.44 he was expected to give up according to corsica.hockey. Sure, the Rangers were awful offensively all season and Pittsburgh advanced in one of the most lopsided match ups in the entire first round of the Stanley Cup playoffs. Still, that doesn't belittle the dominance the Penguins have displayed in the postseason so far.
That all being said, it was intriguing that the Rangers outplayed them analytically at even strength with 59.6 score-adjusted attempts per hour to 54.4. Clearly, that lack of defense from Pittsburgh won't cut it against a much more talented group of forwards and defensemen from the Nations Capital. Fortunately for the Penguins, they were able to have the advantage in shots on goal (30.6 shots per 60 minutes to 29.6) and high-danger scoring chances (12.0 chances per hour to 10.5). With this emphasis of strong shot quality, Pittsburgh went on to gain the slight edge in expected goals at even strength 10.26 to 9.89.
As for the Capitals, their series against the Philadelphia Flyers was more of dominating the battle on special teams. When winning the first three games of the series, Washington's power play scored on eight of their 17 opportunities while Philadelphia couldn't score on their first 12. In fact, the Flyers would only score once in their 25 attempts all series and Washington ended up closing out the series with strong five-on-five play in the last two games.
During that span, the Capitals dominated in score-adjusted shot attempts 95.8 to 53.7. There is almost no point to go into further detail with shot quality because Washington should have scored 5.98 goals in the last two games of the series instead of the one goal they scored in Game Six. Clearly, Michael Neuvirth was terrific since he came in to replace Steve Mason for Game Four, but the Capitals time and again showed that they were the better team all series.
Usage
http://gty.im/498969008
With two teams that can hit elite levels when they are at their best, this second round matchup could be decided on how each line will be facing each other.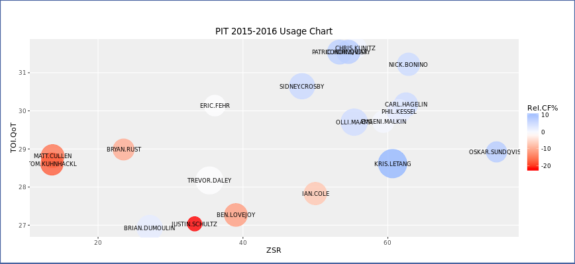 For Pittsburgh, they always love to deploy their top two lines against the best competition but also feed them loads of offensive zone starts while having the bottom lines sheltered as much as possible. This season is no different, but the biggest difference now is that the gap in talent from their top six to bottom six forward groups is dramatically shrinking. Conor Sheary is now part of Pittsburgh's top line with Crosby and Patric Hornqvist while Phil Kessel and Evgeni Malkin are leading the charge in their own lines instead of playing together. While Kessel is with Nick Bonino and Carl Hagelin, Malkin is deployed with Chris Kunitz and former Capital Eric Fehr.
While a fourth line of Matt Cullen, Tom Kuhnhackl and Bryan Rust shouldn't be that intimidating from a possession standpoint, the trio have scored five goals and nine points this postseason. For Washington, it will be important to find weaknesses within Pittsburgh's middle six forward group and force Sullivan to have Malkin and Kessel play together in a scoring line. That way, Pittsburgh will be back to deploying only two talented forward lines instead of a possible three. That may prove difficult as Sullivan's group only had two forwards average less than 10 minutes of even strength ice time per game this postseason.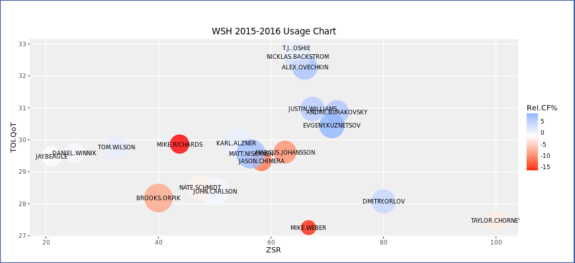 For Washington, Brooks Orpik will still be out for the start of the series as he recovers from a concussion that he suffered in Game Three against the Flyers. That will mean that Taylor Chorney or Mike Weber will be in the fold to replace him and Trotz may have to rely on one of them for more than their eight to nine minutes of ice time per game in the playoffs so far.
Meanwhile, the additions of Winnik and Richards has given Trotz the stereotypical shutdown line that he loves to employ. Previously, that assignment was given to their top line as their zone start percentages were among the lowest on the team while some trio consisting of Jason Chimera and former Capitals Brooks Laich, Fehr and Joel Ward received that mantle the previous season. With the fourth line given that assignment, Trotz has now allowed Ovechkin, Oshie and Nicklas Backstrom to focus more on scoring goals, even if it still meant facing the opposing top lines every game. While Washington's second line has not been able to rack up points this postseason, they are due for some success as they have been the strongest puck possession forward line all season.
Otherwise, the Capitals' top pair of Karl Alzner and Matt Niskanen were probably the best players on the team this postseason as they played a major part in shutting down Claude Giroux and Wayne Simmonds. They will continue to be important assets as they will be hoping to shut down Crosby's line this time around. Along with that, it will be interesting to see how John Carlson and Dmitry Orlov will perform and who they will be playing against while Orpik is still on the mend.
Special Teams
http://gty.im/518746306
The good news for the Capitals is that Pittsburgh does not generate as many shot attempts as Philadelphia on the power play. This season, the Flyers had the eighth best shot attempt rate while a man up at 101.9 per hour while Pittsburgh was 12th in the NHL at 98.1. That all being said, the Penguins can still unleash an efficient power play as they have scored on 20.4-percent of their opportunities in the last three regular seasons. Along with that, their unit went on to score a league-leading eight goals that put the exclamation point in their series with the Rangers.
Not only will Washington have to be careful with limiting Pittsburgh's chances while shorthanded, but they will have to be careful with the puck while they go on their man advantage. While the Penguins are a bottom-half of the league team when it comes to shot suppression while shorthanded, they employ aggressive tactics to strip the puck from the opposition and take high percentage chances when they move the puck the other side of the rink. This season, Pittsburgh was fifth in the NHL in shots on and off target (also known as Fenwick) at 12.3 per hour and have been able to score goals with them at a sixth-best rate at 1.2 per 60 minutes.
While Washington has proven all year that their special teams units have been among the best in the NHL, they can not fall asleep on an underrated bunch that is standing in their way from their third Conference Finals in team history. It will be amazing if Washington ends up going back to their eight-for-seventeen power play rate like they did in the first three games against the Flyers, but I also can't help but feel like Pittsburgh is due for some regression to the mean from their power play as well.
Conclusions
http://gty.im/524061742
This series will end up going down to which team can best exploit the other team's weaknesses at five on five. With Malkin back in the fold, Pittsburgh's depth has now become a strength that almost no team in the league can match. Washington could be one of those teams if their third line can avoid being a complete mess like they have been all season and if their fourth line can find a way to shut down one of Pittsburgh's talented lines that forces some unnecessary changes in Sullivan's line combinations. This series can go either way, and Washington does have a chance of exploiting the gap in goaltender experience if Fleury doesn't return from injury. At the end of the day, it will be quite a challenge for the Capitals to shut down three lines, let alone one in this series. I still feel like Pittsburgh's offense has been white-hot and it will take even more of Braden Holtby's heroics to make this a series win for the Presidents' Trophy winners.
Penguins in Seven