The Ducks must find some secondary scoring to add to the lineup
With last week's little trade frenzy behind us, I could't help but notice that the Ducks still have major holes to fill in their lineup if they want to make the playoffs and go for a deep run again.
As I've mentioned in a previous post, the Ducks are dead-last in scoring this year. https://thehockeywriters.com/duckling-helps-anaheim-fly-north-in-the-standings-this-winter/ They haven't budged from that spot in the offensive rankings since the start of the season. This is a far cry from a team that finished atop the Western Conference standings last season.
What changed?
Let's simply look at the forwards for today. There were notable departures during the offseason like Matt Beleskey and Kyle Palmieri. Although they were not top line players with the Ducks, they took a lot of pressure off the shoulders of Getzlaf, Perry and Kesler to fill the scoresheet.
The Ducks lost a player in Beleskey that could throw his weight around and lay game-changing bodychecks on the opposition. He could also chip in with some offence around the net.
They also lost the services of Palmieri who has broken out into a goal-scoring machine for the Devils this season. He has good pace, a great release and boy has he ever been clutch this season.
The Ducks were obviously banking on Jakob Silfverberg to pick up where he left off in the playoffs, notching 18 points in 16 games. In 41 games this season, he's sitting on three goals and five assists and a minus 9. I'm picking on Silfverberg now, but I can easily go through most of the team and tell you how much they've underwhelmed.
When a problem arises, you must find a solution.
Even though Ryan Kesler is finding his scoring touch again, it's not nearly enough to completely right this ship. GM Bob Murray needs to make a move before the deadline to add some scoring punch to the Ducks bland offence.
Boone Jenner, 22, Columbus
He reminds me a lot of Matt Beleskey. He currently ranks 19th in the league in hits by a forward with 105. He has 14 goals and nine assists in 43 games on a team that can't keep the puck out of its own net. He has the skill to play on a second line with Kesler and plays a lot around the goal crease and in the corners. To get out of this Pacific division, they're going to have to go through the Kings and their aggressive brand of hockey. The Ducks have too many perimeter players up front and that just won't cut it for a team filled with experience. Jenner will be a restricted free agent at season's end. With Seth Jones and Ryan Murray set to be RFA's too, how much money will the Blue Jackets have to offer Jenner?
Wayne Simmonds, 27, Philadephia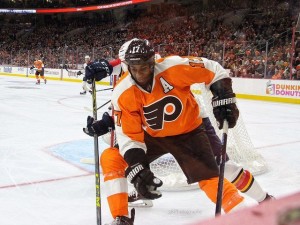 Here's another guy that plays the same style as Jenner, but even better. Simmonds is one of those players ANY team would want in their lineup. He hits like a truck. He's a fearsome fighter. He's one of the best at standing around the blue paint and wreaking havoc for the opposition's goaltender and defence. Oh and the man can play hockey too. He has three seasons of at least 28 goals and is on pace for his fourth 20-goal season. He has 10 goals and 12 assists in 40 games on a lousy Flyers team. Not only is he great at what he does, he also has a very cap-friendly deal that sees him earn $3.975M until the 2018-19 season. The price to acquire him should be high, but the Ducks have shown that they need a solid power forward to make a deep Stanley Cup run. They had one last year in Matt Beleskey and they had on their 2007 Cup win in Chris Kunitz.
Andrew Ladd, 30, Winnipeg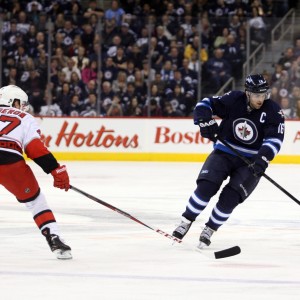 The captain of the Jets has proven his worth throughout his career. He has a lot of Stanley Cup experience, winning it twice — one with Carolina and one with Chicago. He plays a somewhat similar power forward style as Jenner and Simmonds. He has amassed four seasons of at least 23 goals. He has 10 goals, 14 assists and 95 hits in 42 games this season on the worst team in the toughest division in hockey — the Central. His cap hit is $4.4M this season and his set to be a UFA at season's end.
If he decides to re-sign with the Jets during the season, the Ladd suggestion cancels itself out. Here's the fine line though — where does the Jets front office see this team? If they see it the way I do, which is finishing last in the division and probably last in the league standings, they should try and get some assets going into this summer to retool their team.
Let's get back to the Ducks. Simply imagine these two duos — Getzlaf with Perry and Kesler with Ladd. If I'm an opposing team, matching lines against those two pairs becomes a pretty tall order.
The trade deadline is on March 2. Trade talks should start picking up once there starts to be separation in these very close standings.