It's not over 'til it's over. For the Toronto Maple Leafs… it's not over, yet. They've managed to drop both home games and win two on the road to stay behind in the series 3-2. The Boston Bruins seem to be… not the Bruins who dominated the Leafs all season. That being said, the Leafs have let go of opportunities to pounce on the hibernating Bruins.
The Maple Leafs first home playoff game since 2004 went worse than expected. The excitement from the city raging through Maple Leaf square must have made its way into the Air Canada Centre. It was a slip-n-slide kind of first period for the Leafs who looked to have a case of the weak knees before their third date with Boston.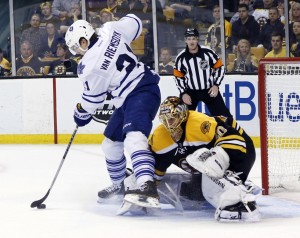 Understandably so, nerves are a part of every game, series, and championship. They happen, and there's no getting used to playing in front of 18,000 fans in the playoffs. What you do get used to is what it feels like. The Bruins went all the way winning the Stanley Cup in 2011 with a team that is still quite intact today. Experience goes a long way in the playoffs. Very rarely are you going to succeed on your first shot. Overcome by nerves and expectations in your first playoff series, those things come to be expected in your second, third, and so on. You no longer are surprised by the nerves you feel and you learn to play through them.
Experience is not something to be overlooked. Sure, you can argue experience isn't the only thing, but we have seen experienced teams take down ones that were thought to go much further. The defending Stanley Cup Champion LA Kings were matched up with The St Louis Blues in a series that would see one very deserving team go home early. LA beat St Louis with experience- knowing when to press, knowing not to get too high or too low- which is an underrated part fans often forget about picking series winners through 8 match-ups.
Where do the Leafs one-up Boston if they don't have any experience? Time and time again it's been said- their speed. When the Leafs use their speed and quick passing it proves to be trouble for the Bruins to defend against. The Bruins have size, and skill. The Leafs possess speed and skill. If the Leafs continue to stay out of penalty trouble, use their speed, and win at least 50% of face-offs they will have a fighting chance to force game 7.
Of course, not mentioning James Reimer would be a disservice to the skill aforementioned. When it comes to the playoffs there are always unlikely heroes that emerge giving your team a boost when they need it most. Reimer was that boost all series, and in game 5 he single handedly kept the Leafs in a game they managed to pull out while surrendering 44 shots on goal. The Leafs managed 33 shots on Tuuka Rask. It's possible 33 shots won't be enough to get two past him again considering Rask has been just as good as Reimer in the crease.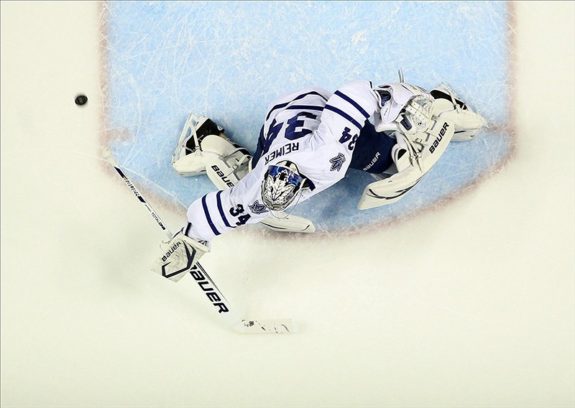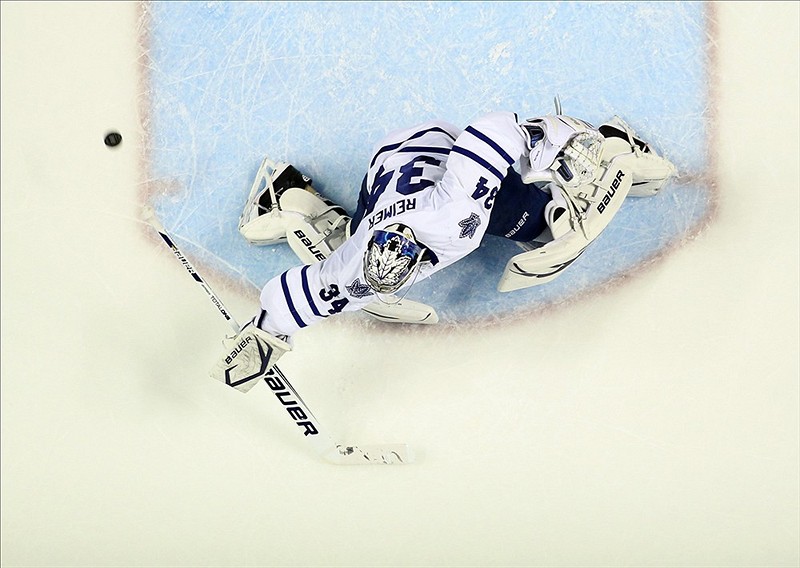 It makes sense that the Leafs are winning important games, even though the most important was dropped in OT in game 4. But what doesn't make sense is the drop off in production as they were rolling before the playoffs began. It happens time and time again to the scoring leaders during the season. Somehow, it just doesn't carry over to the playoffs which is a similar situation the Vancouver Canucks have dealt with.
The top 6 scoring leaders on the Leafs roster this season were: Phil Kessel (52 pts), Nazem Kadri (44 pts), James Van Riemsdyk (32 pts), Cody Franson (29 pts), Tyler Bozak (28 pts), and Dion Phaneuf (28 pts). Through the first 5 playoff games against the Bruins, the Leafs top 6 scoring leaders are: Joffrey Lupul (4 pts), Jake Gardiner (4 pts), Phil Kessel (3 pts), James Van Riemsdyk (3 pts), Cody Franson (3 pts) and Clarke MacArthur (2 pts). Three of the six top scorers in the regular season have continued to contribute to the offense in their first series. If all top 6 scorers continued their offensive production, and the addition of names in the playoffs like Lupul, Gardiner, and MacArthur added to that offense, this series could be entirely different.
Help Me, Help You:
There are some aspects about this series that really need to be analyzed because they're driving me crazy. By aspects I mean aspect. And by aspect I mean that awful goal song the Leafs have decided to stick with. This banger by Steve Aoki and Laidback Luke titled "Turbulence" is actually a shame. I cannot get over how terrible it is as a goal song. It is way better than when they tried to make "Harlem Shake" happen at the beginning of the season, but it is a far cry from the infamous "Chelsea Dagger" the Chicago Blackhawks brilliantly embraced.
My first issue is that "Turbulence" actually sounds like someone put a gold-rimmed mug in the microwave and walked away for 20 seconds before realizing they've just set the equivalent of fireworks off in their kitchen. No, I have never done this before…
Issue number two with the current goal song is the fact that it has no words. Fans are just supposed to stand and applaud whilst listening to an exploding microwave congratulate their team on scoring a goal.
Since the Toronto Blue Jays have gone away from the genius that was using the chorus of The Black Keys "Howlin' For You", it's free game. That's right, roll over a fan favourite from the Rogers Centre a few blocks down to the Air Canada Centre and give the fans something to sing along to while hugs, and glove taps are dispersed amongst Leafs. It's similar to a chelsea dagger, and man did I love belting it out after a Blue Jays homerun. I can guarantee the fans at the ACC would belt out parts of "Howlin' For You" in ways only fans a couple beers deep can. It would add excitement, and a desired form of crowd participation that doesn't include forced clapping by the organist.
Issue number three with the Leafs goal song: Nobody cares.
So, as Adam from Workaholics says, "You ready to get weird…?" because this series has been anything but predictable, you could say it has been straight grizzly. Bear puns.
Katie Flynn is a News Editor at theScore and theScore App as well as an NHL Analyst for H4TV Sports News.