Nikita Zadorov isn't who London Knights fans imagined when hearing their team had drafted a Russian defenseman in the first round of the 2012 CHL Import Draft.
A silky-smooth, offensive-minded, 5-foot-10 blueliner was pictured by many. Instead, Knights supporters found themselves looking at a 6-foot-5, 230-pound mammoth.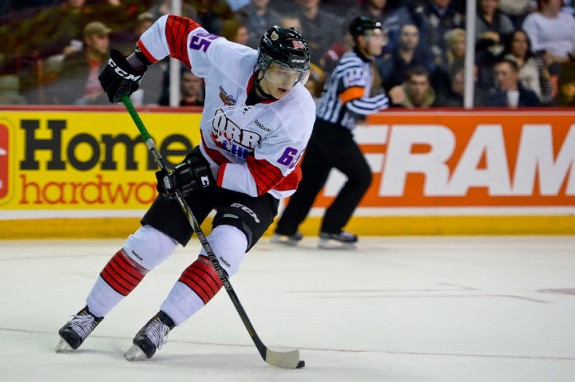 Not that there's anything wrong with that.
NHL Central Scouting's Chris Edwards sees Zadorov as a skater with a great combination of size and agility.
"Nikita is a big man who skates very well," Edwards said. "He has very good mobility and his backwards skating is about the best in this year's draft. He will take the body and battles hard along the boards. He uses his long reach well and is an effective pokechecker."
London general manager Mark Hunter, a former NHLer himself, believes Zadorov is the complete package.
"He's huge, number one," Hunter told NHL.com. "He skates well for a big man. He's got a good shot, he can pass the puck. He's got the whole package. He's just got to round it out and put it together on a game-in, game-out basis."
While Zadorov has the ability to play top-pairing, most envision him as a top-four player who can play in all situations. Hunter feels Zadorov can contribute effectively at both ends of the ice.
"In the NHL he's a top-four guy all-day long, but it's tough to say who's going to be offensive and who's not," Hunter explained to Hockey's Future. "I wouldn't say he's pure offensive — I could see him on the power-play; he's got a shot, he's got a cannon. His hands are great, but he's not going to be a [Pittsburgh blueliner Kris] Letang.
"For a big man, he can turn on a dime and he's gone. In the NHL, that first step and that first pass? It's huge. He's got it — he's got it natural."
Zadorov likes to model his style after semi-retired Philadelphia Flyers defenseman Chris Pronger. But he also attempts to take after the mobility of Ottawa Senators centerpiece Erik Karlsson.
Need an example of Zadorov's ability to go beast-mode, and then back it up? Look no further than London's conference final matchup with the Plymouth Whalers. Zadorov steps up and delivers a huge hit on Whalers forward Tom Wilson, a Washington Capitals first-rounder who's one of the strongest players in the league. Then, when challenged by Plymouth's Mitchell Heard, Zadorov willingly drops the mitts and throws 'em.
And don't forget that the Knights' Russian defenseman fought in both of his first two Ontario Hockey League contests.
What European "soft" stereotype?
[youtube http://www.youtube.com/watch?v=75nSKFR58Y0]
"[Zadorov's] got a good brain for the game," Hunter said. "He's a big guy that can skate and drive the net and do things offensively that a lot of other players are not capable of doing. He's an intelligent kid. He's grown so much — he's so big. We knew he was going to figure it out. He's not scared. He hits people, he finishes his checks. There's so much to like about him it's ridiculous."
"He reminds me of a smaller version of Larry Robinson."
Wait. Larry Robinson? As in the Larry Robinson?
"[Robinson] used to drop his shoulder when he'd get going up the ice and drive the net. … [Zadorov] showed me a couple times he's done that, where he's drove wide and put his shoulder down and drove to the net. He can do that…"
So now it's a mixture of Chris Pronger and Larry Robinson. Oh boy.
Zadorov is expected to be selected within the first twenty picks of the 2013 NHL Entry Draft's first round. If teams looking at a defensive upgrade no longer have the option of a Seth Jones, Darnell Nurse, or Rasmus Ristolainen, Zadorov may find himself off the board very early.
Not that there'd be anything wrong with that.
___________________________________________
David O'Connor is a managing editor with the Sunbelt Hockey Journal. His writing has been on the Los Angeles Times' website, among other places. O'Connor also does some scouting work for the local Junior B hockey club. Please feel free to contact him at davidoconnorhockey@gmail.com.