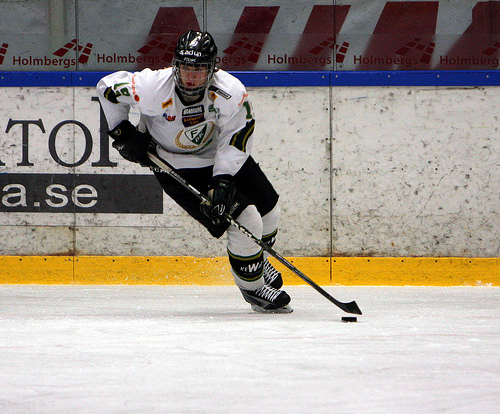 The Edmonton Oilers may be continuously scuffling to make the playoffs and still trying to establish themselves, but they are still the envy of many teams in the NHL for their collection of young talent. With names like Hall, Eberle, Nugent-Hopkins, Schultz and Yakupov all in their early 20's or younger and all with the potential for long productive NHL careers, it bodes well for the future.
All of those names however, have moved past the prospect tag. All have established themselves as NHLers and pros. So the question becomes, what's next in line and are there any more blue chippers out there that can contribute soon in Edmonton.
The system is stocked with depth and intriguing talent on defence, but is lacking a top offensive threat, mostly due to all of their top forward draft picks already in the NHL.
Here's a look at the Oilers top 10 prospect list for the spring of 2013. Criteria used was players in the Oilers system that have maintained their rookie status and are 25 years of age or less.
1. Oscar Klefbom, D, 19, Farjestads (Elitserien)
With Yakupov and Schultz establishing themselves in the NHL, Klefbom once again is the top prospect in the Oilers system. Big things were expected from the Swedish defenseman this year, including playing a bigger role for Farjestads and leading Team Sweden in defence of its WJC gold medal. Things have not exactly gone as planned as his season was derailed early with a shoulder injury.
Still expected to make a push for the Oilers roster next fall, Klefbom spent two weeks in Edmonton during an earlier homestand being around the team and the dressing room, in an attempt to get him acclimatized to NHL life.
He has all the tools to be an excellent defenseman at the next level. He has good size, he's and excellent skater with a big shot, and does not shy away from the physical side of the game. Assuming he recovers without any lingering issues, expect him to be on the Oilers blue line for next season.
2. Martin Marincin, D, 21, Oklahoma City (AHL)
At 6'5 he's big and has a long reach. While he's still filling out his frame and isn't overly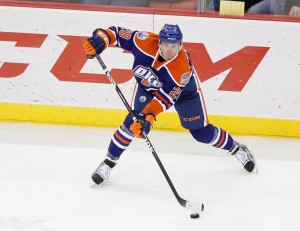 physical, he has shown he can play with an edge. He is extremely mobile for a defender his size and has good offensive instincts. He's an excellent puck mover and effective on the power play.
Aside from Justin Schultz's incredible numbers in OKC during the first half, Marincin has been the Barons best offensive defenceman this season putting up 30 points and quarterbacking their power play in his first full pro season.
He has the ability to play in the NHL, but is still mistake prone and still needs to be more consistent in his own end to make the jump to the next level.
3. David Musil, 20, D, Edmonton (WHL)
As NHL ready as any junior prospect, Musil has the skill set to be a shutdown defender at the next level. He has good size, is very physical and plays a positionally sound defensive game. He's also a good character guy with impressive leadership skills.
He does have some offensive skill and makes a good first pass, but won't light up the scoreboard. He's extremely consistent and reliable, evidenced by his +71 ranking in his WHL career.
4. Tyler Pitlick, 21, RW, Oklahoma City (AHL)
Pitlick has not had the most consistent start to his pro career. Last season started very slow before finishing strong. More was expected of him this season, but again was off to a slow start playing behind many of the NHL locked out forwards in OKC. He was started to pick his game up when a knee injury in January put him out for most of 2013.
The Oilers 2nd round pick in 2010 has the talent to play in the NHL, but the Oilers just haven't seen enough yet. He's a good skater and puckhandler and has a NHL calibre shot. He's also got excellent awareness and doesn't shy away from the physical part of the game.
5. Martin Gernat, 20, D, Edmonton (WHL)
Gernat is a 6'5″ defenceman who plays an offence-first style of game. He's an excellent skater with great offensive instincts. He displays good vision and is very adept at making a strong outlet pass or skating the puck out of the defensive zone.
He's a work in progress defensively as he still needs work on his positioning and needs to add bulk to his 6'5″ frame to handle opponents physically.
He is the most offensively talented of the Oilers blue line prospects and has 68 points in 83 regular season WHL games from the backend. He's currently averaging a point per game in the Oil Kings 2013 playoff run.
6. Olivier Roy, 21, G, Oklahoma City (AHL)/Stockton (ECHL)
Splitting the season between Oklahoma City and Stockton, Roy has been both spectacular and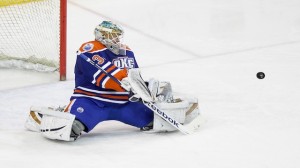 questionable at times this season. Blessed with outstanding athleticism and quickness, when he's on Roy can be one of the best in the business. He has a very quick glove hand and moves laterally very well.The problem for Roy is not his talent, but appears to be on the mental side. He can go from being completely unbeatable to allowing back breakingly weak goals.
The ability is certainly there, the key for Roy now is  solving his problem of inconsistency.
7. Curtis Hamilton, LW, 21, Oklahoma City (AHL)
Drafted in 2010 as the Oilers next power forward, Hamilton has struggled in adjusting to life as a pro. He had a very inconsistent first season in OKC with 11 points in 41 games and has followed it up with an even more disappointing year this year with just 9 in 61 games.
Projected to be a third line winger for the Oilers, Hamilton has excellent hockey sense and isn't afraid to go into the tough areas. A goal scorer in junior hockey, his offense hasn't translated to the next level.
He will need to bounce back next season to make a more favourable impression on the Oilers and keep from slipping further down the depth chart.
8. Mitchell Moroz, 19, LW, Edmonton (WHL)
Another prospect playing for the Oil Kings and the latest projected power forward drafted high by the Oilers. Moroz is certainly a player that displays all of the skills necessary to be a power forward. He has good size at 6'2″ 210 and plays a physical, aggressive game. The problem is that it has not translated into the results the Oilers have hoped for.
Moroz has scored 16 and 13 goals respectively in his last two WHL seasons and is far from the top of the depth chart on a deep Oil Kings squad. He is very raw as a prospect though and possesses still untapped potential.
Moroz will have another year of junior to continue his progression in the WHL and show the Oilers he has the power forward potential they were hoping for when they drafted him.
9. Tyler Bunz, 21, G, Stockton (ECHL)
Another Oilers prospect that has had a tough start to his pro career, Bunz has struggled in his second season. The primary starter in Stockton this season he had a GAA of 3.35 and save percentage of .886, not exactly stellar. He now finds himself the backup in the Thunder's playoff run as Olivier Roy was demoted earlier and has taken over the starter's role.
Bunz is a positionally and technically sound goaltender. No overly big or athletic, he plays the angles well and possesses a tough and mentally focused attitude. The former WHL goaltender of the year will very likely be in the ECHL again next year and will have to work hard not to fall further down this list.
10. Daniil Zharkov, 19, LW, Belleville (OHL)
Zharkov possesses possibly as much skill as anyone on this list. The issue has always been consistency and putting it all together. He's got good size and skates well, yet rarely puts that size to good use. He has an NHL calibre shot, but is often criticized for not shooting enough.
He's a streaky offensive player,  inconsistent at best defensively and has unfortunately fallen into the "Russian" stereotype. He put up 25 goals this season for Belleville, not bad numbers but far from what he is capable of.
Drafted in the 3rd round (91st), the Oilers aren't exactly sure what they have in Zharkov yet. All they know is they have a very talented, but very inconsistent player in their system.
HONOURABLE MENTION: Jujhar Khaira, 19, LW, Michigan Tech (NCAA), Andrew Miller, 24, C, Yale (NCAA), Colten Teubert, 23, D, Oklahoma City (AHL), Tony Rajala, 22, LW, Oklahoma City (AHL)