Now that the Kings have advanced to Round 2 of the Stanley Cup Playoffs, it is worth reviewing exactly how dire their situation appeared to be prior to Game 3 of their initial playoff series. They had just endured back to back losses to the St. Louis Blues in the most devastating fashion, and the 0-2 deficit that LA faced seemed even more cavernous than it was. Not only do 86% of the teams that carve out a 2-0 series lead ultimately capture that matchup, but the concept of winning four out of five contests against a very talented Blues team was excruciating. Plus, it would also require the Kings to overcome that deficit for just the second time in franchise history.
But three consecutive one goal triumphs vaulted LA into the series lead, with an opportunity to close out the Blues at the Staples Center in Game 6. And despite the fact that St. Louis demonstrated a massive dose of fortitude in the effort to prolong the series, the Kings managed to hold off the Blues, and registered their 10th consecutive on home ice. It also enabled LA to avoid an unwanted return trip to St. Louis for a deciding Game 7, and will instead allow them to garner some much needed rest before they encounter yet another tough opponent in Round 2.
Iit would be a mammoth challenge for any passionate fan of either the Kings or the Blues who has experienced every possible emotion during each of the six contests, to recall a more every matched and exhausting series to witness. And both teams should be commended for delivering an exciting, physical, yet cleanly played series.
Another Game Winning Goal For Penner
St. Louis outplayed LA at times during this series, and that was also the case in Game 6. Nevertheless, Dustin Penner's game winning shot evaded St. Louis goaltender Brian Elliott with just .02 remaining in the second period, and was fittingly symbolic of the razor thin margin that separated these two teams throughout their matchup. Penner's shot will forever be the final tally of this memorable series, and was his fifth playoff goal during his tenure as a King. It is noteworthy that the puck Penner placed beyond Elliott was actually his third game winning shot among those five tallies.
Quick's Numbers  Resemble The Stellar Results Of 2012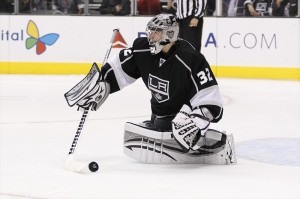 But any analysis of this series from the Kings perspective should focus on Jonathan Quick, as his actions played a predominant role in the outcome of each contest. First, because he ended an otherwise outstanding effort in Game 1 with a well-chronicled blunder that concluded the contest in shocking fashion. And it could have easily become the defining moment of the Kings' season.
This column was admittedly tough on Quick in the aftermath of that gaffe. While the obvious issue was that his mishandling of the puck during overtime literally handed the Blues Game 1, the mistake appeared to be even more catastrophic, because LA had been controlling the play during the extra period. This after being thoroughly outplayed during most of the encounter, and seizing momentum by tying the game with 31 seconds remaining in regulation. That occurrence had deflated the Blues, who appeared to be negatively impacted by their inability to close out the contest. However, St. Louis was suddenly rescued from what would have been a ninth consecutive loss to the Kings, and instead became instilled with a new wave of confidence that they could win the series.
But, Quick had also been the primary reason that the contest was close, since LA would have been further behind if not for his efforts. That should be remembered just as much as the game ending goal. And Quick also continued to deliver an exceptional performance from that point forward, providing the foundation for each of LA's four consecutive victories. That reestablished Quick as a goaltender who could lead the Kings deep into the postseason. Just as he did in 2012, when he became the well deserved recipient of the Conn Smyth Trophy.
Quick has now earned exhaustive accolades once again for his excellence throughout the series. And his brilliant goaltending is certainly the principal reason why the Kings will be skating in Round 2. He essentially has matched his stellar performance from last year's extended postseason run, and is currently second among all goaltenders during the playoffs with a 1.58 goals against average. That is nearly one full goal under his 2.45 average during the regular season. He is also third with a .944 save percentage, which is a sizable improvement from the .902 that he manufactured prior to the playoffs. Those numbers are extremely close to last season's memorable results, when he registered a 9.46 percentage and 1.41 average. And not only did Game 3 shutout also match his regular season total, but is just two behind the total of three that he amassed in last year's postseason.
Quick's performance overshadowed the commendable effort by Elliott, whose 1.90 goals against average and .919 save percentage were both respectable. He only allowed 12 goals to the Kings during their six encounters, which would normally have resulted in a much better fate for both Elliott and his teammates. But LA collected goals from seven different players, and they most often occurred at very opportune times. Jeff Carter paced the Kings with three goals, followed by Justin Williams, Slava Voynov and Penner with two each. Mike Richards did not register a goal, but his five assists enabled him to lead the Kings in scoring for the series.
The Kings are now 22-4-1 at Staples Center this season, where they will face another formidable opponent in either the Anaheim Ducks or San Jose Sharks in the next round. That will supply another major challenge for Darryl Sutter, his staff, and the players. However, it is a far more favorable scenario that having to watch the next round as spectators. And that appeared to be very possible, before they captured four consecutive wins. Regardless of which California franchise they meet next, their chances for success are excellent, if Quick can continue to excel.
Phil Clark has been an avid fan of the NHL since childhood, and has channeled
that passion toward writing about his beloved LA Kings for The Hockey Writers.
Phil also writes about the NFL for The Fantasy Knuckleheads.