The what if's for the Minnesota Wild will start to figure themselves out today, July 1, at noon ET. The Wild will have a lot of question marks coming into training camp, deciding which of their prospects will get their chance with the big club. However, their question marks start with free agency.
Chuck Fletcher has tried to sign that big name free agent every year he has been the Wild general manager, but has come up short with his only one, Martin Havlat. It's a slim free agent class, but the Wild seem to be in the running for all the big names.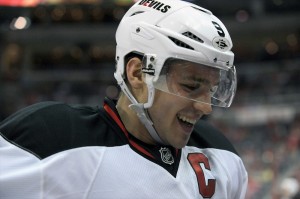 What if the Wild sign Minnesotan, and Cloquet native, Jamie Langenbrunner, as Michael Russo of the Minneapolis Star Tribune suggests would be a good starting point for the Wild's summer? What if Jamie Langenbrunner talks the Wild into signing Minneapolis native Zach Parise to 13 years, 100 million dollars? What if Parise and Langenbrunner talk their USA teammate Ryan Suter into signing with the Minnesota Wild? If Parise or Suter sign with the Wild, I'd bet my money that Russo will be the first to report it on Twitter, @Russostrib.
There are so many ties between the three free agents and Minnesota and with the way money talks these days, Minnesotans feel Parise and Suter are definitely coming to Minnesota. They've heard it on the radio from Lou Nanne, read it in their local newspapers, and talk about it with their friends. Would it be Miami Heat-like, minus the television shows, parades, and celebrations? Probably not. You're not getting the best player in the world and you don't already have one of the top-five players in the world.
The Wild need a proven star, not prospects. Prospects make the already fans excited and give them hope for the future. What the Wild need is to regain the momentum they had from their playoff runs and when hockey was coming back to Minnesota. That was over 10 years ago, it's time to give the fans a star and Fletcher is going to try everything in his power to put more people in the seats of the Xcel Energy Center. Parise and Suter do that. They're USA olympians and proven winners. They're all stars year in and year out, the Wild have only had one of those, Marian Gaborik. Parise is a Minnesota boy that would completely change Minnesota's view on their professional hockey team. It would create a buzz that hasn't been seen in Minnesota since their conference finals run. Parise can create and score goals, consistently, at a very high level.
There is one thing that contracts guarantee. It's not wins, it's not rings, it's not a beautiful wife, it's not a Cup, it's not a long and healthy career, and it's not heaven. It's money. The only thing contracts guarantee is money and the Wild will offer Parise the world. 13 years, 100 million dollars is what I might have heard from Nanne on KFAN radio earlier this summer. That's a lot of dough to pass up. Parise's dad, JP Parise played for the Minnesota North Stars and worked at a summer camp put on by Nanne and Phil Esposito according to my grandma. That's a true story. Nanne is a reliable source in my opinion. He sounded pretty confident that Parise was coming to the Wild. That is the main reason I think the Wild are the front runner to land Parise. You get Parise and pieces will really start to fall into place, ie Suter.
Parise has a lot of options, probably 30 of them if he really wanted to test the market. There is no doubt the Pittsburgh Penguins will be the toughest competition for the Wild when the clock strikes noon on the east coast today. 'Hey Zach, we got Sidney Crosby and Evgeni Malkin, just look at James Neal's numbers.' That's pretty tempting for a player, especially considering his relationship with Crosby at Shattuck St. Mary's in Minnesota when they were teenagers. That's Miami Heat like.
We also can't forget the Detroit Red Wings want both players and they have to be a tempting organization to play for as well. And I guess, the Predators will still try for Suter and the Devils will still try and keep Parise.
The Wild will offer the most money, period.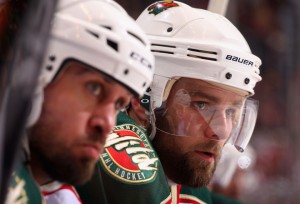 For the Wild if they don't hit big and strike gold, does it kill their momentum of rebuilding? This team was 20-7-3 at one point last season and on top of the National Hockey League before their abysmal collapse after the injuries to Mikko Koivu, Pierre-Marc Bouchard and Guillame Latendresse. Latendreese announced on Twitter last Thursday that he will be taking his talents elsewhere and testing the market, specuation points he'll be headed back to Montreal. It could've been a great trade for the Wild, but just never worked out because of injuries. That's life and that's sports.
It's not the worst thing in the world for the Wild to officially not have Latendresse anymore. No question their record was better with him in the lineup and that he can flat out score goals, but if you're not going to get a players heart and soul night in and night out then it's okay to part ways. Now the Wild don't have to go into the season hoping they'll get their second line goal scorer back and that he can fix their troubles, it's time to find a new one.
Let's just say the Wild win the lottery and all goes as planned, what do I think Mike Yeo's lines would like for the 2012-13 lockout prepared season?
1st line
Parise               Koivu              Heatley
2nd line
 Cullen              Granlund      Bouchard
3rd line
Setoguchi         Brodziak        Langenbrunner
4th line
Veilleux            Powe               Clutterbuck
Prospects competing for spots:
Zucker, Johnson, Coyle, Bulmer, Phillips, Larsson
Defensive Pairings:
Spurgeon Suter
Scandella Gilbert
Brodin/Prosser/Stoner/Falk/Dumba
If the Wild don't land any of the big names, that will give the young guns an even better chance of making the team and an even more intriguing training camp at the Xcel Center. They would still have massive cap room and wouldn't be locking up two of the highest paid free agents for a very long time. Signing Parise and Suter don't guarantee a Stanley Cup, not one bit. Sometimes not winning the lottery is the best thing in the world, because of the percentages that lottery winners end up bankrupt.
Would the Wild be better if they get Parise and/or Suter? Obviously. Is all hope lost if they don't land either of them? Not in my mind. Look, if you want to win the Cup, build your team up with youth and get a strong core and then when you're missing a few pieces, that's when you go out and land Mike Richards, Willie Mitchell and Jeff Carter. If the Wild don't land the big names, they will then know they need to prove their prospects are NHL ready before tempting a superstar to come play in the State of Hockey.
David H. Brown is a writer based out of Minnesota, the State of Hockey, where he was born and raised. He's covering the Minnesota Wild for THW. He graduated from California Lutheran University in Thousand Oaks, Calif., where he regularly attended Kings and Ducks games. His personal website is dhbrownsports.com and you can follow him on twitter @dhbrownsports and @dhbrownTHW. He likes pepperoni pizza.