During the offseason, the Blue Jackets bolstered their goaltending staff, but did they improve it?  Unless GM Scott Howson has other moves up his sleeve, the duo of recently-acquired Sergei Bobrovsky and four-season veteran Steve Mason will be manning the crease in Columbus for the 2012-13 season.
Columbus Welcomes Sergei Bobrovsky
Prior to the Entry Draft on June 22, Columbus acquired Sergei Bobrovsky from the Flyers, another move continuing on that well-worn path that follows I-70 from Philadelphia to the Capital City.  Bobrovsky, 23, played two seasons with Philadelphia. Coming over from the KHL, Bobrovsky was expected to start the the 2010-11 season in the AHL, but an outstanding training camp and preseason had him between the pipes for the Flyers on opening night.  Bobrovsky had a solid rookie season as the Flyers starting goaltender, claiming Rookie of the Month honors for November 2010 and ultimately finishing seventh in Calder Trophy voting for Rookie of the Year.  The playoffs, though, were a challenge; Bobrovsky dropped Game 1 of the opening round series against the Buffalo Sabres. He was replaced in Game 2 by Brian Boucher, who, in turn, was replaced in Game 5 by Michael Leighton. The Flyers goaltending carousel kept spinning through the second round, where the team was swept by the eventual Stanley Cup Champion Boston Bruins.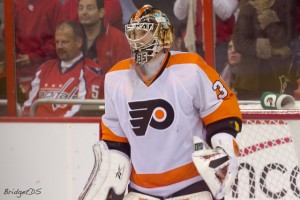 Less than two months later, the Flyers signed Ilya Bryzgalov to a nine-year, $51 million deal, effectively relegating Bobrovsky to backup goaltender with the Flyers. His performance suffered in the reduced role; in 29 games, including the 2012 Winter Classic, his goals against average swelled to over three goals per game, and his save percentage dipped below .900. In 83 career games with the Flyers, Bobrovsky posted a record of 42-23-10 with a save percentage of .909 and a 2.73 GAA.   Over the course of those two seasons, he's appeared in only two playoff games, both losses.
Despite his playoff struggles and decreased numbers last season, Blue Jackets goaltending coach Ian Clark is looking forward to bringing Bobrovsky aboard, saying, via Bluejackets.com: "He didn't have a long leash in Philadelphia. He's a skilled goaltender, and I'm certain that this is an opportunity he has been craving. We have high expectations for Sergei.  The three things that are hallmarks of his game and his personality are his work ethic, his competitiveness, and his athleticism. From a goaltending perspective, you play the most crucial position on the ice and you should, by default, have that level of work ethic and competitiveness. You always need that from your goaltenders, just given the significance of the position."
Through all the challenges backing up Bryzgalov in Philadelphia, Bobrovsky kept his head up, saying in an interview with Sam Carchidi of Philly.com, "I'm not frustrated. Just keep working hard. I just wait for my chance."  Hopefully, he will make the most of the chance he has now in Columbus.
The Return of Steve Mason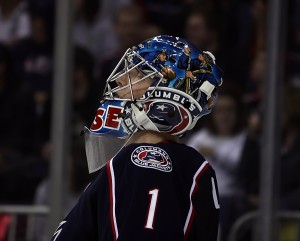 The Blue Jackets'  incumbent starting netminder has seen his star fall from its meteoric rise. Like Bobrovsky, Mason's first year in the league was his best.  Called up in November 2008 due to an injury to starting netminder Pascal Leclaire, Mason seized the opportunity, going 33-20-7  with a .916 save percentage, a 2.29 goals against average, and a league-leading ten shutouts. Due to his standout performance, Mason was a Vezina Trophy nominee.  He led the team to their first (and, to date, only) playoff berth. Despite losing to Detroit in four straight, it was an accomplishment for Columbus to have finally made the playoffs.  Unfortunately for Mason and for the team, the 2008-09 season would be his best.  The following seasons saw his save percentage decline and his goals against increase.   The 2011-12 season was, statistically, Mason's worst.  He started the fewest number of games, only 46, and finished with an .894 save percentage and 3.39 goals against average.
GM Scott Howson, as quoted, in the Columbus Dispatch, discussed the need to shake things up in net. "We need a different look in goal," Howson said. "We need better play from that position. I told Steve in our exit interviews that we're going to have a different look at that position next year, but that right now, nobody can predict what form that's going to take."
Trading Mason would be difficult, given his most recent performance and his $3.2 million salary. Howson's best hope may be that he and Bryzgalov push each other to help raise the performance of both netminders.
Who's Number One?
Bobrovsky and Mason have both been starting goalies  in the past, and both have an equal chance to do it again.  According to GM Scott Howson, it's up to the goaltenders to show who'll be the top netminder in Columbus.  "We don't have a No. 1," Howson said. "We will be more than happy to go to training camp – if that's all we do – then those two will fight it out to see who gets the most playing time, and I think that's a great competitive situation for our hockey team. It was a top priority to get (a goalie) either in trade or free agency. We had our eye on Sergei for a while, so it was just time to step up and make the deal."
It remains to be seen how coach Todd Richards will deploy his dynamic duo.   Will he name a number one goalie and stick with him over the course of the season?  Will he ride the hot hand, and make a change when one of them cools off?  Or will he manage a platoon, much like former Blue Jackets coach Ken Hitchcock has done in St. Louis, with balanced playing time between the two?
More Moves on the Way?
While having Bobrovsky and Mason might make it appear that the Blue Jackets have the net well-covered, rumors persist about possible additional moves.  Even Howson's quote, mentioned above regarding his starting goalie, hinted at the possibility of more moves.
Aaron Portzline reported on June 29 that the Jackets have interest in former Toronto Maple Leaf Jonas Gustavsson. The Winnipeg Jets acquired the rights to Gustavsson, a pending unrestricted free agent, from the Toronto Maple Leafs. At the time, the Jets were still in negotiations with Ondrej Pavelec, who was rumored to be consiering an offer to play in the KHL. The Jets hammered out the details, signing Pavelec to a 5 year, $40 million contract.  With Pavelec locked up in the starting role, the Jets have potential backups in Jonas Gustavsson and Chris Mason, both of whom will become unrestricted free agents on July 1.  Should Gustavsson walk, would Howson consider bringing him aboard?
Also according to Portzline, the team kicked the tires on Roberto Luongo prior to trading for Bobrovsky.  Assuming the team has interest and could put a trade package together, would Luongo waive his no-trade clause to come to Columbus?  Obviously, a major change like acquiring Roberto Luongo would change the Blue Jackets' goaltending landscape completely; given the price of such an acquisition, along with the limited movement enabled by Luongo's no trade clause, it seems very unlikely.  The free agent market doesn't appear to offer any major improvements over Mason and Bobrovsky, aside from possibly the aforementioned Jonas Gustavsson.
More than likely, the job of defending the net will be in the hands – and pads – of Sergei Bobrovsky and Steve Mason for the 2012-13 season.  While neither can claim to be a legitimate starting goaltender at this point, both have have the ability and the potential to do it again.  Bobrovsky and Mason are in the final year of their respective contracts;  playing for their next deals, they'll each be out to prove that they can be top goaltenders in the league.  Shared playing time, reduced workload, and competition from within the locker room could all prove to be beneficial to goaltenders and to their team.
Josh is a life-long hockey fan. He grew up as a fan of the New York Rangers, but thanks to their general mismanagement and years of mediocrity, has developed a great appreciation for every team across the league.
He's been writing about hockey on various sites since 1995. In addition to his work at The Hockey Writers, he also keeps tabs on the referees over at ScoutingTheRefs.com.