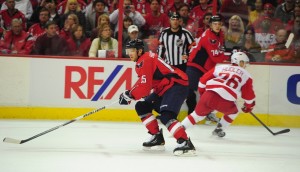 When the Washington Capitals were eliminated by the New York Rangers this past spring in the Eastern Conference Semi-Finals, it ended a season full of anxiety, early disappointment, as well as, a late season surge. High expectation are etched in stone year after year in the Nation's Capital.  A young talented team led by Alex Ovechkin and Nicklas Backstrom surely keeps the bar raised. But it's veteran leadership mixed in with the talented youngsters that is vital for Red Shirt success in the District of Columbia.
When Capitals General Manager George McPhee agreed to terms with center Jeff Halpern on a one-year contract in July of 2011, it was homecoming on several different levels. Not only did the well traveled vet return to the team where he started his NHL career fresh out of Princeton in 1999, he was also born and raised in Potomac, Maryland.
It was more of a veteran feel this time around though for the 36 year old forward, as the Capitals parent club surely became younger over the last several years, especially since his departure from the team in 2005.
Having stopped in Dallas, Tampa Bay, Los Angeles and Montreal before making his hometown return, the Capitals had quite the new look upon his arrival.
"I started my career in Washington, it was always a place that I hoped I could play at again at some point," Halpern said. "There was a transformation when I was gone, fans embracing a lot of the younger players there and really turning the city into a hockey town."
There is strong support indeed from the Capitals fan base, which makes playing at the Verizon Center attractive to NHL Players like Halpern.
"When I returned, I realized it had become one of the more lively buildings to play in, in the league. It was a great thing to come back and be a part of for sure."
Briefly looking back at the season with #15 of the Capitals, Halpern talked about the coaching change that occurred just 22 games into the season that saw former Capitals forward Dale Hunter take over for Bruce Boudreau, as well as, the expectations that followed.
"Anytime you bring a new coach in there is an instant jolt. Everybody has to impress the new coach and approach the game in a different way," Halpern said. "Expectations were already there though and we were trying to win a championship, so it didn't matter who the coach was. We had a pretty good group of guys in the room, that were able to identify what needed to be done to compete for the Stanley Cup."
Halpern had four goals and 16 points in 69 games played this season. Certainly not what the veteran had in mind, but accepted a different type of role.
"Anytime as a player, when your logging 3rd and 4th line minutes, you have a certain role and certain job you have to fulfill. I wanted to create good shifts and be reliable," Halpern explained.
That he did he indeed, along with supplying the Washington Capitals with solid veteran leadership.
When the 2011-12 season concluded however, the exit meeting Halpern had with General Manager George McPhee, ended his second stint with his hometown team. Although, Halpern leaves his heart in DC once again, he is ready for the free agent market to open.
"I took a couple weeks off after the season and recently got back into a normal routine," Halpern said. "With free agency, the hardest part is not knowing where you will end up. It's easier said then done, but I have to put that thought on the back burner and allow my agent to take over and handle those things, as far as finding a new team and signing a new contract."
30 NHL clubs will be shopping today as the market will open at Noon EST today. Jeff Halpern is a sure bet to attract attention. A hard working, versatile forward with great leadership qualities. A wise investment for his next employer.
 Follow me on Twitter @ DarrenCoslov  
Darren is the Washington Capitals correspondent. He spent the 2010-11 season covering the Atlanta Thrashers and the 2011-12 season covering the Columbus Blue Jackets. Feel free to contact him @ DKoz256@yahoo.com. You can also follow him on Twitter. DarrenCoslov