Vyacheslav Kozlov was a member of the famous Russian Five unit that helped the Red Wings winning two Stanley Cups in the late '90s and being one of the best team in hockey history. After a very succesful career in the NHL with more than 1,000 games played and 800 points scored, he got back to Russia to play in the KHL and added two Gagarin Cups to his already impressive CV. At 42, Slava Kozlov is still playing in the KHL for Atlant Mytischi. In this interview, originally appearing on the popular Russian website Sport Express, Slava Kozlov tells how the Red Wings wanted him in the States already in 1990, remembers his time within the Russian Five, and speaks about his family and personal life.
– You practiced for the new season alone. You look in great shape, therefore I have to ask you what's your secret.
– I won't unveil any secret and you won't find one. The reason is simple: there are no secrets. I managed to get to 42 still playing most likely due to my genes. There is nothing supernatural in my offseason regime. My father was a coach and I copied from him. I also got something from my experience in America. I decided for myself when I need to run or to lift weights. I do squats and press bench, like everyone else. You can work out for an hour even if you're on vacation. I also pay attention to my diet.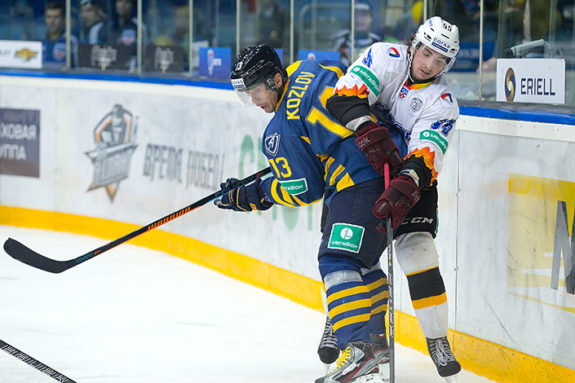 – When playing for Spartak Moscow, Dominik Hasek used to live near McDonald's and regularly eat there. It looks like you try to pass it by.
– I'm not a fan of those places. If I have a long way home, like 8 – 10 hours, then I may go and eat at a fast food restaurant. But only to save some time. I've got a big family, the dogs…
– The dogs?
– In Atlanta two German Shepherds guard the house outside, and two Dachshunds inside. They are a little bit older. I love dogs.
– What is the most intelligent dog you ever met?
– I used to work out with a conditioning coach. His Shepherd was outstanding. It amazed me a lot, it was like a robot! It was so well-trained that according to my coach, it was worth 50,000 dollars. He spent a lot of time studying and training his dog. He gave me some good advice in how to communicate with dogs.
– Did they work?
– Yes, they did. During the lockout I spent four months training my dogs. But I still have a long way ahead of me to become as good as that coach.
– You experienced Dynamo Moscow's pre-season camp in Pinsk. [It is notoriously known in Russia as the hardest KHL training camp by far.] You said that you never had a harder training-camp in your 20-year career.
– I wasn't used to such volumes of work. I was thinking something like "on Monday I'll work on my legs, on Tuesday I'll work on my arms and Wednesday I'll run". And then it was that in one day we worked on legs, arms and ran too!
– Is it really necessary?
– (Pause) Maybe it is, for younger players. Older players get tired faster, and it's easier to pick up injuries. But [Dynamo Moscow coaches] Znarok and Kudashov let us go from some practices. We didn't ask for it, they decided it themselves.
– When did you first think "it's time to quit"? Ten years ago?
– I have never thought about quitting! Not a single time! When it happens, I'll quit. By the way, in May I was asked to coach a team.
– Where?
– Not in Moscow. It was when I just started practicing for the next season. I said something like: "do you really want to stand up on the bench and regret quitting?" No! I talked with my friends and my family and pretty much everyone said: "Keep on playing until you can't anymore".
[…]
– Who are your hockey friends?
– Guys from [my hometown] Voskresensk. German Titov and Valery Kamensky. When we were in the States, we used to get in touch less frequently.
– Did you make friends with American players?
– It didn't happen.
– In the NHL, did some one hunt you down?
– In the NHL the ice surface is smaller, there is much more physical play. The single episode I remember the most was in 1995, during a game against the New Jersey Devils. [Scott] Stevens hit me and I was down on the ice with a concussion. I got back to the bench and back on my feet.
– Did you get back to the ice?
– Yes, I did. But in the next period someone hit me again and it was over. We lost that series 0-4. Now I know that in those situation it's better not to play. Having a rest is more important.
– Would you be understood if you said "Stop, I'll quit"?
– In the NHL they would have understood me. However, I reasoned like a player from Soviet hockey: we went to the Stanley Cup finals, you have to sacrifice your health. But at the same time, a player with a concussion is a weak link in a team.
– Against what NHL defenseman playing was the most hard?
– Nicklas Lidstrom. He had such a great vision. Skating, shot, all at the highest level. The Red Wings scouts have a phenomenal sense of hockey. They drafted Lidstrom in the third round, Datsyuk in the sixth, Konstantinov in the eleventh. It's not like Ottawa, who drafted Alexander Daigle with the first overall pick in the 1993 Draft.
 – Did you have a least favorite team in the NHL to play against?
– The Blackhawks, when they had Jeremy Roenick and Chris Chelios. There were always lots of fights. Then it was the same with Colorado. Always very rough games, especially after Claude Lemieux checked Kris Draper face-first into the boards.
[…]
– Did you know Brad McCrimmon, who passed away in the Lokomotiv Yaroslavl air disaster?
– He was my first room-mate!
– In Russia little people knew that he was an enforcer.
– I don't think he was an enforcer. He could fight like a true man, but he wouldn't hit the ice just to drop the gloves. He was still playing when I first got to the NHL. He helped both Konstantinov and me. Then, years later, he was my coach in Atlanta. He had a great attitude toward Russians. It's too bad that my English didn't allow me to talk more with such a great man.
– Ruslan Salei wrote his testament a few days before the fatal flight.
– Incredible. Or maybe he felt something? I played with Ruslan during the 2004 lockout, for Ak Bars Kazan. An easygoing fellow, good-hearted, always willing to help. Until the very last moment, I hoped that he didn't fly with the team, but that he went directly to Minsk with his own car…
– In Detroit you played with the legendary enforcer Bob Probert. Roenick wrote about him in his book: "off the ice he's a teddy bear, but on ice he turns himself into an animal". Is Roenick right?
– On ice Probert was incredibly aggressive. I can't really judge him as a person. We didn't play long together, and we had different friends. I heard that [Probert] was a bit over the line when he was young and that he spent three months in jail as they found him with cocaine at the Canada border. But he was always adequate with me and he didn't have any problem with alcohol or drugs.
– Did you read Roenick's book?
– No, I didn't. And I didn't read Probert's memories either. It's not that interesting to me.
– Will you write a book?
– I doubt it.
[…]
– In Detroit they used to give you a disk with your best playing moments as a medicine, when things went bad.
– It wasn't a disk, it was a tape! Those were the times. They told me: "If you can't score, have a look at it. Tomorrow you'll score". It's important to feel good to rebound back, to have your intuitions again. You've got to believe.
– Did it help?
– Yes, it did. You just watch the tape and you believe again in yourself. It's very useful.
– Once Scott Bowman allegedly said to the Russian Five: "I don't understand the way you play".
– He wouldn't talk me that way. He usually talked with Fetisov and Larionov, they are older. But I remember what Bowman told me in 1997. He called me right before a game. And I hear him saying: "You were an inch from being traded to Calgary for Valeri Bure. But I think you're better and I hope that you'll prove me right. I stopped this trade myself."
– Were you impressed?
– Of course. I didn't want to go anywhere else. But I still don't know if Bowman was right. Maybe it was some trick. That time was incredible, even during practices. Playing with Larionov, Fedorov, Fetisov, Konstantinov was a huge pleasure. We had a great chemistry since the very first game. We were together like a puzzle. It was like a magic. The year when the Russian Five played their best hockey, Detroit won 62 games in the regular season, still an NHL record to date. But we didn't win the Stanley Cup as we lost to the Avalanche. I still remember Fedorov scoring five goals to Washington.
– And you scored four goals on Patrick Roy.
– Yeah, it happened.
– Was it your best game?
– I wouldn't overrate that game. Three of those four goals were on empty net. Many of my goals were like that. Larionov could score himself, but then he passed me the puck. He told me that he felt more pleasure that way.
– Did Bowman use to get angry a lot?
– I never seen him angry. Many times he didn't even attend the morning skate. All the work was on his assistants Barry Smith and Dave Lewis. But of course Bowman is truly great, no doubts.
– Why?
– He was such a fine expert. He just needed a glance at a player to understand everything. I remember once of my first practices in Detroit. They split us: 10 players with Smith, 10 players with Lewis and the rest with Bowman. I hoped to get with one of the assistants; I was concerned that Bowman would tell me that I played bad.
– And how did it go?
– All of a sudden Bowman starts asking about my family, where I eat, and not a single word about hockey! At the end of the conversation, he wrote an address on a piece of paper and said: "Go to this restaurant. Mention my name."
– Did you go there?
– Yes. The owner was his friend. We became friends too. Once I told a newspaper that it was my favorite restaurant, and after that I never had to pay for a dinner.
[…]
– You also had a problem with car crashes. In October 1991 you suffered a heavy injury, and the passenger passed away.
– This topic is taboo for me. Like a book I read long time ago and I put on the farthest shelf.
– Who was with you on the car.
– [Hockey player] Kirill Tarasov. We were going to the practice. He was only 18…
– Was your career in danger?
– I had a skull and brain injury. There were no guarantees that I could keep on playing. I was lucky with the doctors. In Detroit, I got an offer I could not refuse. There I healed fully.
[…]
– Did agents try and fool you? You left Russia in a period when a lot of dubious persons tried to get around athletes.
– There was that guy Shevchenko, an agent from Ukraine. He tried to lure me to America at the 1991 WJC in Canada. During the fall he appeared in Voskresensk: "Detroit really wants you. The team's representatives will attend the WJC. You can get there". But I didn't act the right way.
– What do you mean?
– I should have said no right away. But I just mumbled something pretty vaguely. I kind of let him imagine that it was ok to me. So, we flew to Saskatchewan. It was December, -35 outside [-31°F], and we didn't get out. Shevchenko showed up: "A man from Detroit is waiting for you in the car". I rushed out still with the equipment on, without wallet and documents. "Sit down. We are at the airport. The plane is ready to go."
– What was your reaction?
– I wasn't ready to be in such a rush. I said: "I won't go anywhere. I can't let the team down. I don't even have my passport." So I said them that I'll run away after the tournament, but asked to bring me back. And they drove me back to the hotel.
– What happened next?
– We ended up on second place, I played terribly. [Note: still good for 11 points in 7 games.] I was worried, all this story put a lot of pressure on me. I was aware of the consequences if I agreed their offer. My father would have been kicked out of his job… And then the tournament ends. We go celebrating to someone else's room. And my agent offers me a ride to a disco, we were together in the car.
I look from the window, we're leaving the city. "Where are we going to?". "Winnipeg. And from there, to Detroit. Tell the press that I kidnapped you…" I had like a panic attack. "I'm not going anywhere! Push the brake, otherwise I'll open the door and jump out!" After these words, he reluctantly turned the car. On our way back, he kept on trying to persuade me, but I already decided for myself.
– Did you tell this story to anyone else on the national team?
– What are you talking about!? Only my parents knew what was going on. I took the right decision, I wouldn't have been playing for Detroit, but in the juniors or the minors. I was only 17.
– You lifted twice both the Stanley Cup and the Gagarin Cup. Which one is heavier?
– I think they weigh pretty much the same. [Note: The Stanley Cup weighs 35 pounds and a half, the Gagarin Cup weighs 41 pounds.] The Gagarin Cup isn't too comfortable to lift because of the handles, the Stanley Cup doesn't have handles, and it's easier to lift and carry.
– Each Stanley Cup winner can spend 24 hours with the Cup. How did you spend this time?
– Nothing special, I'm not a fan of these things.
– The Stanley Cup had her first trip to Russia in 1997, courtesy of Fetisov, Larionov, and you.
– On that day all the attention was on Igor [Larionov] and Slava [Fetisov]. It was like I only had to carry the Cup around. It was surprising to see that on the Red Square there were so many people. The reaction was a bit sluggish, people weren't understanding what the Stanley Cup was doing there. The schedule was stacked, a lot of travels, meetings, banquets, we hardly slept.
– Where will you settle down once your career will be over?
– I'm living in three houses for now. My daughter attends school in Atlanta. She spends the summer with us, now she's with her grandma. My wife and our two sons are in Spain.
– You live for four years away from your family. That's quite a test.
– We stayed put for 18 years in America. Now we have to be a bit patient. I don't intend playing until I'll be 50.
RELATED: Catching Up With Sergei Fedorov
A professional hockey writer and translator. Loves Russian culture, language, and hockey. Reachable on twitter @AlexSerenRosso