The Rangers have made some low profile moves over the off-season, in hopes of giving them some extra depth. With the season looming there is reason to believe that some of their prospects, and additions can be more than just filler, and actually push their way into a job with the big club.
Brian Gibbons
Age: 27
Height: 5'8″ Weight: 170
For the 27-year-old to make the Rangers he would likely have to do so in a top-nine role. Gibbons is small in stature, and he doesn't really play a grinding style. Last year the forward played 25 games for Columbus and threw 14 hits in the process while averaging 13:49 on the ice per game. Gibbons never found his groove as a Jacket, and by seasons end he had only recorded five assists. Still the forward has explosive speed, good hands, and can help on the penalty kill, as he averaged 1:50 on the ice while short-handed this past season. After losing Carl Hagelin this off-season, the Rangers will likely need someone to step up on the penalty kill, and this trait gives Gibbons an edge on some of his competitors. He's coming off a down year, but a really good camp could land him a job with the big club.
Fun Fact: Gibbons is a former Boston College Eagle; other current Rangers that used to be Eagles are Kevin Hayes and Chris Kreider.
Another Boston boy and BC eagle to New York. Congrats to Brian Gibbons on signing with the @NYRangers #BB #finsandduty

— Kevin Hayes (@KevinPHayes12) July 1, 2015
Jayson Megna
Age: 25
Height: 6'1″ Weight: 195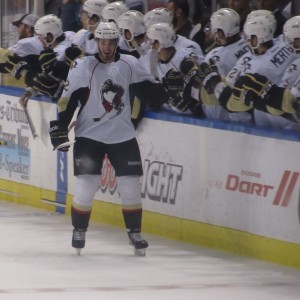 The 25-year-old center has 48 games worth of NHL experience with the Pittsburgh Penguins and he has a reasonable chance to crack the Rangers roster in a fourth-line role. Megna has some offensive upside, skates well, and can throw his body around. Last season through 12 games the forward had 40 hits while averaging 11:02 of ice-time. Even though the forward couldn't stay in the NHL, he was effective in the AHL notching 39 points in 63 games with the Wilkes-Barre Scranton Penguins.
If Megna hits with some authority then he could push a player like Tanner Glass for a spot. Megna isn't a fighter, but his game features a good mix of grit and skill, so he could be a better option for the Rangers on some nights. I get a Dominic Moore kind of feel from Megna, in that he can grind and be physical, but if you give him too much room he can also burn you with his skill. His diverse play could give the Rangers an offensive boost on their lower lines.
Oscar Lindberg
Age: 23
Height: 6'1″ Weight: 195
Lindberg has been knocking at the door to the NHL since last year. He played in one NHL game this past season, but his best work has been with the Rangers AHL affiliate, The Hartford Wolf Pack. The young center-man posted 44 points in 75 games in the AHL and was well-rounded for the club. Lindberg can play on both sides of the puck and could land a job on the third or fourth-lines depending on how camp goes. He isn't afraid to finish checks, has the frame to play in the big league, and sound vision to make plays. Gordie Clark who's the Rangers Director of Player Personnel, told Jim Cerny of Blue Shirts United before the Draft about Lindberg, "The way he played and what he did for us, he's definitely gonna be getting a crack at the NHL lineup."
Lindberg is young and not a defensive liability, if he proves during camp that he can add a bit of scoring, then he will likely have a spot on the club.
Ryan Bourque
Age: 24
Height: 5'9″  Weight: 170
Bourque was drafted back in 2009 with a third round selection (80th overall). He played 73 games for the Hartford Wolf Pack last season and logged 12 goals, 20 assists and was rewarded by being called up for his first NHL game. Bourque didn't seem out-of-place in his 11:49 on the ice and displayed that he could fill a depth role on the club. I see Bourque as a long shot to land a job with the Rangers this year, but it has more to do with the Rangers log jam of forwards than it has to do with his skill level.
Bourque has exceptional speed, decent hands, and is reliable in his own end. He plays the game with a high energy level, but is hurt by his size. He's similar to Gibbons in that he doesn't have the frame to throw heavy hits, the difference is that Gibbons has more scoring potential, where Bourque is a better defensive player. For Bourque to grab a spot, he would need a few guys to have bad camps while having a terrific camp himself. If he doesn't land a job, expect him to be called up at some point this season if someone gets injured.
My Prediction
While each guy on this list brings their own flavor to the club, I expect Lindberg to be the guy who cracks the lineup. He's a two-way player, he's only 23-years-old, and he has a solid frame to compete against bigger opponents. I think that one of Tanner Glass, Viktor Stalberg, or Jarret Stoll would end up on the bench to make room for Lindberg depending on how good he looks in camp. No matter how this whole situation shakes out, the Rangers will have some skill on their fourth-line.