While the upcoming playoff series against the Minnesota Wild is a certainty, the goalie who will man the pipes in game one is still very much in doubt for the Dallas Stars.
With a win in the final game of the regular season, Antti Niemi reached the 25-win mark. Kari Lehtonen is sitting at 25 wins as well. The last time two goaltenders each won 25 games on the same team was in 2010 with Cristobal Huet and…
Antti Niemi.
Niemi would win a Stanley Cup that season with the Chicago Blackhawks and he's hoping history will repeat itself. Will Niemi be the go-to guy for Dallas though?
It's going to be an interesting decision for Lindy Ruff. Traditionally, goalie tandems are thrown out the window come playoff time as the team commits to one player. I'm not so sure that will happen in this first-round series. All season long, Ruff has bounced back and forth between the two netminders and usually whoever gets hot would get a few extra starts in a row. The first goalie to get hot will likely take control of the net in the first round series against the Wild.
Who will get the first shot at it? There will be a lot of aspects to consider, let's break them down.
Who's Been Better Against the Wild?
In five games against Minnesota this season, each goaltender has made three appearances. Lehtonen had three starts but was pulled early in one of them while Niemi finished that game out and had two starts of his own. Overall, Niemi has played more minutes than Lehtonen against the Wild and for the most part has gotten the better of the play.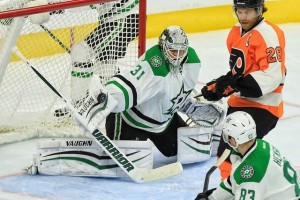 Looking at 5-on-5 play alone, Niemi has been significantly better than Lehtonen against Minnesota. In his three appearances, Niemi has posted a .922 save-percentage (SV%) at even strength against the Wild this season. That makes for a giant delta when looking at Lehtonen's .887 SV% playing 5-on-5 against the Wild this year. The strongest part of Niemi's game against Minnesota this season has been stopping the high-quality chances. Playing 5-on-5, Niemi has allowed just two goals on 28 high-danger shots faced, good for a .928 SV% against those shots. Lehtonen's SV% in the same scenario is just .789. When the Stars have needed a tough save against the Wild, Niemi has been more reliable.
The overall game-play tells the same story. Including non-even-strength minutes, Niemi has posted a .927 SV% versus Minnesota this season. That's a big jump over Lehtonen's SV% of .897. Overall, Lehtonen has given up one more goal against Minnesota this season than Niemi has despite Niemi facing 14 more shots against. Niemi has a combined 29 saves against in high-danger shots while giving up just two goals. Lehtonen has made 16 of those saves and given up four goals.
Without a doubt, Niemi has performed better against the Wild this season. That may very well factor into Ruff's decision for game one.
Who's Been Better at Home?
Once again, Niemi reigns supreme.
At even strength, Niemi has been impressive on home ice. He's put up a .937 SV% playing 5-on-5 in 25 appearances at the American Airlines Center this season. Of goaltenders who have played at least 500 even-strength minutes at home this season, Niemi ranks eighth in 5-on-5 SV%. Where is Lehtonen? Well, you'll have to scroll a bit. Lehtonen ranks 43rd in the same situation.
In close games, Niemi has been outstanding playing at the AAC. While the game is within one in the first and second periods or tied in the third, Niemi has posted a .943 even-strength SV%. Just like we've observed in some of the previous statistics, there is a big gap between Niemi and Lehtonen. Lehtonen has posted a .910 SV% playing 5-on-5 in close games at the AAC this season.
The Stars don't need Vezina-quality goaltending to win games. They need to get the right save at the right time. On home ice, Niemi has been the guy to do it more often than not.
Who's Been Better Recently?
Here we go. Lehtonen is finally going to show why he deserves to start in game one. It really feels like he's been the better player recently.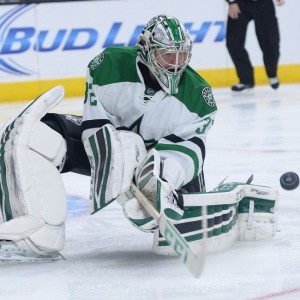 Wait. He hasn't been? Really?
Here comes Niemi showing that he deserves to be the game one starter against the Wild later this week. The key here will be the save-percentage at even strength. Although Lehtonen and Niemi have posted almost-even save-percentages over the past month, Niemi's has been largely brought down by giving up goals not playing 5-on-5 hockey. In the postseason, penalties are often called less-frequently allowing for most of the play to be at 5-on-5.
This gives Niemi a significant advantage over Lehtonen, especially lately. Since March 1st, Niemi has played in seven games while Lehtonen has appeared in 13. Niemi has put up a .935 5-on-5 SV% in his appearances while Lehtonen has posted just a .908 SV% playing 5-on-5 hockey. As we've seen, the difference once again comes when the two goaltenders face the high-danger shots. Niemi has given up just six goals on 42 high-danger shots since March 1st while Lehtonen has given up 18 goals on 57 high-danger shots in that same time period. Niemi has come up with the momentum-building stop significantly more often than Lehtonen over the past month.
Who's the Starter for Game One?
When looking at all of the key statistics that factor into it, Niemi looks to be the right choice to start game one of the postseason against the Wild. He's been better against Minnesota this season, he's been better at home and he's had the better of the play in recent games. Throw in the mass advantage he has over Lehtonen in playoff experience and it looks to be a no-brainer for Ruff and the Stars.
With that being said, you could easily see a situation play out where Niemi playing the home games and Lehtonen taking the road games. Lehtonen has been a better road goalie this season although his gap in SV% over Niemi on the road isn't as large as Niemi's gap over Lehtonen in home SV%. We'll see what Ruff decides but it will ultimately come down to whoever gets hot.
Jordan has been covering the Stars for The Hockey Writers since February 2015. He is originally from Iowa City, Iowa. You can follow Jordan on twitter @jordan_dix