A year after the divisional realignment has been put into effect, talk of expansion and relocation are heating up. According to a report earlier this off-season, by 2017, the NHL will expand to Quebec City, Toronto, Seattle and Las Vegas. Although deputy commissioner Bill Daly denies the report and says expansion is "not imminent", it seems like it is coming. The realignment of having 14 teams in the Western Conference and 16 in the Eastern screams out expansion.
With expansion teams comes an expansion draft. The last time the NHL held an expansion drafted was in 2000 when the Columbus Blue Jackets and Minnesota Wild were added to the League. Based on the rules from 2000, this is what the guidelines would be.
Option 1: Protect one goalie, five defensemen, and nine forwards. There is no experience requirement for the goalies left unprotected. One defenseman and two forwards left unprotected must have played at least 40 games in the year before, or 70 games combined over the last 2 years.
Option 2: Protect two goalies, three defensemen, and seven forwards. In this scenario, every goalie left unprotected must have played in ten games the previous season, or 25 games combined over the last two years. One defenseman and two forwards left unprotected must have played at least 40 games in the year before, or 70 games combined over the last two years.
In both scenarios, first and second year pros are automatically exempt from expansion draft eligibility. In addition, all unsigned draft picks are exempt unless they are from European clubs, and were drafted at least four years prior. The final rule was that only one defenseman or goalie could be taken from each existing team, and each existing team could lose a maximum of two players.
Predators in an Expansion Draft
Since the franchise came into existence, the stress has been on building the team from the back on up. Goaltending and defense has been credited with the major success of the team, especially as of late. Option 1 makes the most sense for the franchise because they are able to keep their star netminder while having two extra defensemen and forwards each, compared to Option 2. Before selecting the players to protect, let's eliminate the players that are automatically exempt:
Forwards: Pontus Aberg, Viktor Arvidsson, Chase Balisy, Daniel Bang, Zach Budish, Kevin Fiala, Filip Forsberg, Felix Girard, Max Gortz, Vladislav Kamenev, Justin Kirkland, Brendan Leipsic, Saku Maenalanen, Wade Murphy, Nick Oliver, Emil Pettersson, Juuso Puustinen, Miikka Salomaki, Colton Sissons, Zach Stepan, Tommy Veilleux, Jimmy Vesey
Defensemen: Johan Alm, Jack Dougherty, Jonathan-Ismael Diaby, Simon Fernholm, Aaron Irving, Seth Jones, Teemu Kivihalme, Joonas Lyytinen, Garrett Noonan, Jaynen Rissling, Mikko Vainonen
Goalies: Atte Engren, Janne Juvonen, Marek Mazanec, Juuse Saros
They are all either unsigned draft picks, or in their first or second pro season.
With nearly half of the organizational roster out of the way, it is time to make the tough decisions on who to keep and who to let go. Let's go ahead and protect the obvious players.
Forwards: Calle Jarnkrok, James Neal, Craig Smith, Colin Wilson
Defensemen: Mattias Ekholm, Ryan Ellis, Roman Josi, Shea Weber
Goalies: Pekka Rinne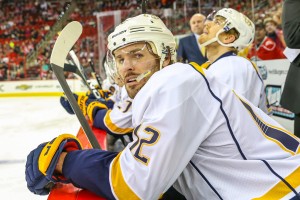 That leaves five forwards and two defensemen for the Predators to decide. Unsurprisingly, Nashville did not have any standout forwards that were a no-brainer to select, other than those four, which leaves plenty to talk about. Many will wonder why Mike Fisher was not one of the obvious players to protect. Keep in mind, Fisher is out until at least November with a ruptured Achilles and is 34-years-old. His days in the NHL are numbered. Nevertheless, Fisher would play a big role in Nashville. David Poile's bargain signings of Olli Jokinen, Mike Ribeiro and Derek Roy are a low-risk, potentially high-reward move for the club, so keeping them makes sense. Not only are their contracts inexpensive, they will help the scoring depth on the second and third lines.
Up front, the last spot was a wild card between Paul Gaustad, Gabriel Bourque, Taylor Beck, Matt Cullen, Eric Nystrom and Viktor Stalberg. From a contract standpoint, Gaustad is not the guy to select. However, he contributes enough defensively and in the face-off dot to gain favor over the other five.
The final spot on defense was going to either Anton Volchenkov or Victor Bartley. Because the defense core in place is inexperienced, selecting Volchenkov with 650 career NHL games under his belt is the best option.
With that said, here are the 15 protected players:
Forwards: Mike Fisher, Paul Gaustad, Calle Jarnkrok, Olli Jokinen, James Neal, Mike Ribeiro, Derek Roy, Craig Smith, Colin Wilson
Defensemen: Mattias Ekholm, Ryan Ellis, Roman Josi, Anton Volchenkov, Shea Weber
Goalies: Pekka Rinne
All of the following would be unprotected, and eligible to be selected in an expansion draft:
Forwards: Taylor Beck, Gabriel Bourque, Patrick Cehlin, Rich Clune, Matt Cullen, Konstantin Glazachev, Kevin Henderson, Eric Nystrom, Alexander Radulov, Grigory Shafigulin, Josh Shalla, Sergei Soin, Viktor Stalberg, Ryan Thang, Mark van Guilder, Austin Watson
Defensemen: Taylor Aronson, Anthony Bitetto, Joonas Jarvinen, Victor Bartley, Joe Piskula, Scott Valentine, Denis Kulyash, Anton Lavrentiev
Goalies: Magnus Hellberg, Carter Hutton, Rustam Sidikov
This option is compliant with all rules, as at least two forwards (Cullen, Nystrom, Radulov and Stalberg) and one defenseman (Bartley) fit the games played requirements.
With the players kept, prior to the expansion draft, this is what the lines could be.
Neal – Fisher – Smith
Jokinen – Ribeiro – Wilson
Jarnkrok – Roy – Forsberg
Fiala – Gaustad – Sissons
Weber – Josi
Jones – Ekholm
Ellis – Volchenkov
Rinne
Mazanec