Over a month since free agency started many teams are still dealing with a lot of holes in their roster. The Winnipeg Jets are no exception to this issue. The Jets barely dipped their toe into the free agency pool this year, Matt Fraser was their only signing, instead focusing on locking up some restricted free agents of their own, and focusing on the youth within their organization already. Still, the Jets have some holes that need filling and though many of the big fish of free agency are gone, there are still many good sized fish in the pool. At this point, many of the remaining players have been sweating out the summer, hoping for an acceptable offer to come there way. But, the longer players remain unsigned the bigger advantage general managers have. Money no longer needs to be so ludicrous, terms don't need to be as long. So let's take a look at some of the remaining free agents that could most help the Jets this upcoming season.
---
Brad Boyes
Boyes may be the biggest name still on the free agency list. He has spent the last two season with the Florida Panthers and in 78 games last season he manage 14 goals and 24 assists. That wasn't enough however, and the Panthers bought him out making him a free agent. Boyes was a former Leafs first round draft pick in 2000, and has been a bit of an NHL journeyman playing for five different teams already. Boyes has managed over 70 points one season, but he is more likely the 30-50 point player he has been for most of his career going forward. You do however get some size and skill, as well as a guy who has become a shootout specialist. At nearly 45% he is one of the better ones in the league, and it is still a skill that is necessary in the NHL. Boyes could fit in on the Jets third line, and could easily make the jump to a top six forward if he was needed.
Cap Hit Last Season: $2.625 million
Projection: Boyes will most likely get a similar deal money wise. If the Jets can keep the term to two or three years at most, he may fit in well with this group of players.
---
Curtis Glencross
The 32 year old had spent his entire career with the Calgary Flames before being traded to the Washington Capitals at the trade deadline last season. Glencross has battled injuries in his career and has never played a full 82 game season. That being said he can be counted on as a solid two way player and he will contribute around 40 points. Glencross has been a top 6 forward but can easily take a step back and be more of a third liner should he come to the Jets. Glencross also brings some more leadership, which on a young team is always a valuable asset.
Cap Hit Last Season: $2.55 million
Projected: Glencross is nearing the later stages of his career so most likely would like a long deal. It is unlikely the Jets would give him that, but after being a free agent so long he may be willing to sign a bridge deal for around $2 million a year.
---
Lee Stempniak
Sure Stempniak fits into the re-signing category in a way, but for over a month he has been without a job and I am unclear why. Last season his cap hit was just $900,000 and if you can get him on a similar deal he is a great 4th line option. Stempniak played 18 games for the Jets after the trade deadline last season and scored six goals and added four assists. He also added one playoff goal and made whichever line he was on a threat, a much needed third threat for the Jets down the stretch.
Cap Hit Last Season: $900,000
Projection: Stempniak will want a raise, but if the Jets can get him somewhere around $1.1 million a season it would be a great pick up.
---
Mike Santorelli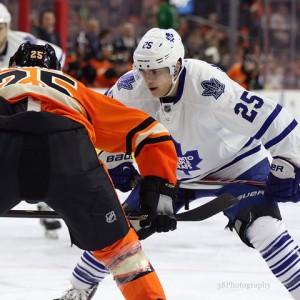 Santorelli has already had a stint in Winnipeg, but last year with Toronto may have been a career saver. The Leafs were the only team willing to give Santorelli a shot with a one year $1.5 million dollar contract, and he was one of the leagues pleasant surprises. 29 points in 57 games was good enough to interest the Nashville Predators headed into the stretch run and they acquired him at the trade deadline. He played a far smaller role with the Preds and only managed four points in 22 games, as well as chipping in a goal in four playoff games. Santorelli will be looking to join his sixth team in three years. You have to wonder why he continues to be passed over, but on the surface he is worth giving a shot. Santorelli has blazing speed and has some great hands around the net. He can provide goals and is not a defensive liability, he could really help out the Jets secondary or tertiary  scoring.
Cap Hit Last Season: $1.5 million
Projected: Santorelli deserves a contract and brings a lot of skill to the table. The second part of his season in Nashville probably brought down his value after spending his time in Toronto pumping it up. I see him between 1 and $1.25 million, most likely on another short contract.
Born and raised Winnipeg sports fan and contributor with The Hockey Writers.