Everybody has a nightmare scenario in their lives. A common one is going to work or school without pants on, or forgetting an important assignment or presentation at home.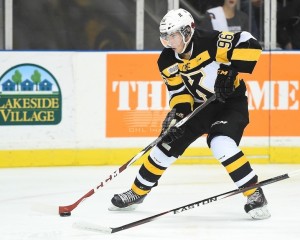 For young hockey players, one prominent nightmare involves going to the NHL's annual entry draft…and not being taken. That was almost the reality for Kingston Frontenacs right wing Spencer Watson back at the 2014 NHL Draft. The 59th-ranked North American skater by Central Scouting in that year's draft class, he watched Kingston teammate Sam Bennett go fourth overall to the Calgary Flames, another Frontenac in Roland McKeown go 50th overall to Los Angles, and then waited patiently for his name to be called.
And waited…
With the second-to-last selection of the draft, 209th overall, the Kings finally ended Watson's waiting. Their move saved Watson from becoming 2014's "Mr. Irrelevant" – the last player chosen in the draft. The honour went to Jacob Middleton, who the Kings took right after Watson.
"Certainly as the rounds went on it got a little nerve-wracking. It was great to hear my name at the end there, and a big weight lifted off my shoulders for sure. It was pretty nerve-wracking, but at the same time it was a great experience," Watson shared, noting that he was in Philadelphia for the event. "I stuck in it 'til the bitter end. I got to hear my name, and I got to experience the whole show there, so that was pretty sweet."
Watson has honed his ability to adapt to changing circumstances over the past year. After his draft experience, he returned to the Frontenacs and battled through injuries as well as adapting as the club spent the majority of the season without Bennett, who was in Calgary rehabbing from shoulder surgery.
"Any time you're missing a key guy like that, it's never a good thing for a team," said Watson. "But at the same time, it can be a positive. I thought our team, we pushed through and we worked hard, and for me as a player it was nice to get a bit of a bigger role on the team there. Everyone chipped in in little, different ways. When he came back, it was certainly a big help and I thought our team did very well adapting."
For their part, Los Angeles Kings brass – and likely Hockey Canada's for that matter – don't seem to care about when Watson was drafted, merely hoping he can help their team down the line.
"It's just a number, right?" said Watson, on feedback given to him from Kings management. "They just told me do you what you do. They drafted me for a reason, obviously, no matter what number it was. All I have to do is go out there and play my game and show them what I can do."
Watson admits that potentially making the Kings' AHL club in the future is a goal he has on the horizon. As an April 1996 birthday, though, he's got another year of junior eligibility remaining before that becomes a possibility. His goals for this season center around being busy: staying healthy for a full season in Kingston and potentially taking a trip to Finland with Team Canada over the Christmas holidays for the World Junior Championship.
If you put any stock in draft positions, there isn't a more unlikely potential member of Team Canada than Watson. However, his play has far out-paced his draft position, and if his strong performance during Canada's summer exhibition games in Calgary is any indication, he's a prime contender to wear the maple leaf this winter.
Not bad for the second-last guy picked at the 2014 Draft.